New York City Car Accident Lawyers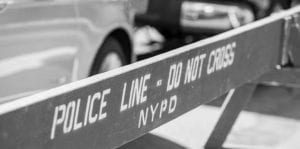 Car accidents are sudden, destructive, and something we all do our best to avoid, yet they happen every day. When you or a loved one has been in a car accident, it's hard to know what to do first. That's completely understandable – a car accident is a huge shock, and no one would expect you to handle it calmly. However, a quick, levelheaded response is imperative when dealing with an accident. It is critical in these situations to choose a qualified attorney to walk you through the next steps. An attorney who is well versed in handling car accidents will not only be able to guide you through the process, they will also know the many issues that may affect the case. In this article, we'll cover some of the most important issues you'll need to navigate when dealing with a car accident.
No-fault insurance law
General liability insurance
Excess sources of insurance
Joint and several liability
Underinsured and uninsured motorist benefits
The experienced New York City car accident lawyers at Hach & Rose, LLP have become a well-known and trusted name across the city, and they are prepared to help you and your loved ones recover after a car accident. The attorneys have over 100 years of combined legal experience, making them well-equipped to handle even the most complex car accident cases. They understand that a car accident may have a devastating impact on you and your family, both physically and financially. After a car accident, you may be facing significant physical injuries that require time away from work and months of physical therapy to assist recovery. Worse still, you may be suffering from the emotional trauma of losing a loved one in a car crash. Our firm understands this is a difficult time, we are prepared to help you receive the compensation you need in order to heal from this event.New York
Motor Vehicle Accidents for March 2020
According to the New York Police Department for March 2020, citywide, there were:
Number of motor vehicle collisions: 10,877
| Persons Injured or Killed: | Involved | Injured | Killed |
| --- | --- | --- | --- |
| Motorists | 21,488 | 1,408 | 2 |
| Passengers | 904 | 904 | 0 |
| Cyclists | 249 | 249 | 0 |
| Pedestrians | 541 | 538 | 3 |
| Vehicles by type: | No. of Vehicles: |
| --- | --- |
| Passengers | 8850 |
| Sport Utility | 7801 |
| Large Com | 880 |
| Taxi Vehicle | 790 |
| Pick-Up | 664 |
| Bus | 338 |
| Bicycle | 301 |
| Van | 130 |
| Small Com | 110 |
| Motorcycle | 103 |
| Ambulance | 81 |
| Fire Truck | 12 |
| All-Terrain | 5 |
| Other | 541 |
| Unknown | 541 |
| Contributing factors in injury and fatal collisions: | |
| --- | --- |
| Driver Inattention / Distraction | 3614 |
| Following Too Closely | 1033 |
| Failure to Yield Right-of-Way | 766 |
| Backing Unsafely | 497 |
| Passing or Lane Usage Improper | 489 |
| Passing Too Closely | 446 |
| Unsafe Lane Changing | 342 |
| Unsafe Speed | 266 |
| Turning Improperly | 258 |
| Driver Inexperience | 236 |
| Traffic Control Disregarded | 205 |
| Other Uninvolved Vehicle | 187 |
| Bike / Other Ped | 75 |
| Fell Asleep | 39 |
| Others (Road Rage / Alcohol / Drugs / Fatigue / Drowsy) | 246 |
What is New York's No-Fault Insurance Law?
New York is a "no-fault" state, which means that those with insurance are typically reimbursed by their insurance company for damages regardless of who the responsible party was in the car accident. When you register your car with New York State, you must provide proof of financial responsibility. Drivers either must show that they can pay out of pocket, or proof that they carry no-fault insurance of at least the minimum amount. A typical no-fault policy carries $50,000 of insurance coverage for expenses related to an accident that arises from "use and operation" of a motor vehicle.
The no-fault insurance law, also known as a personal injury or PIP, is set in place so that the economic losses of those who are injured in an accident will be covered, no matter who was at fault. The injured parties in the accident do not have to prove anyone was negligent when applying for their no-fault claim. It's important to note that no-fault is separate from a bodily injury claim. This is a common misconception. If a victim is injured in a car accident, they may have the right to file a lawsuit for their injury as well as for their pain and suffering and other damages.
The no-fault insurance claim can cover many types of expenses, such as the following:
Ambulance costs
Rehabilitation and physical therapy
Necessary x-rays, surgeries, and nursing care
Dental costs
Necessary prescriptions
Prosthetics
Mental health treatment
Other reasonable and necessary expenses, such as transportation costs to medical appointments
Lost wages, up to 80% of the victim's salary
Burial expenses, if applicable
Note that repairs to a damaged vehicle are not included on this list. No-fault claims are intended to cover economic costs related to an injury suffered during an accident and do not cover property damages.
No-fault benefits do have certain exclusions, which you should keep in mind. Motorcycle riders and passengers are not eligible to receive no-fault benefits. Uninsured vehicles, and the owners of those uninsured vehicles, are also not covered. There are also certain circumstances that would cause someone to not be covered: for example, if someone intentionally caused their injury, if they were committing a felony, or if they were intoxicated. There is separate coverage from the no-fault policy for a person to bring a lawsuit in these instances.
There are specific rules that dictate what insurance company is responsible for paying no-fault benefits. For example, if an automobile strikes a pedestrian, the insurance company covering the automobile will pay the pedestrian's no-fault benefits. While the same insurance company may make payment for pain and suffering in a lawsuit, these are completely separate claims. Furthermore, the two claims have different standards of proof, coverage, and compensation available.
The most important thing to remember when filing a no-fault claim is that there is a time limit. You must send in your claim within 30 days of the accident. This deadline is strictly enforced, and only rarely extended if the claimant can prove clear and reasonable justification for the failure to file within the deadline.
Umbrella and Other Supplementary Insurance Policies
In New York, the minimum coverage amounts are as follows:
$25,000/$50,000 for bodily injury per person
$50,000/$100,000 for death
$10,000 for property damage per accident
Umbrella policies serve to cover claims that exceed normal insurance policy coverage. For example, let's say you are hit by someone who carries insurance coverage less than the value of your damages in a personal injury lawsuit. If the person who struck you has an umbrella policy, it would cover your additional damages. It is important to note that umbrella insurance policies cover the household, not just the policy holder. So, let's say a teenager struck you but he/she lives with their parents, and their parents have an umbrella insurance policy. This policy could cover your additional expenses, even though the teenager who struck you is not the policy holder.
Joint and Several Liability
In many circumstances, the biggest issue with car accident claims is insurance coverage. Drivers in New York may carry as little as $25,000 in insurance coverage. In New York, we follow the joint and several liability rule, which can be to the plaintiff's benefit. This means that if the liable party is unable to pay the full amount of a jury verdict, and there is another party involved that is as little as 1% responsible but capable of paying the full amount of a judgment, that party is responsible for paying the entire amount. Article 16 of the Civil Practice Law & Rules states:
"…when a verdict or decision in an action or claim for personal injury is determined in favor of a claimant in an action involving two or more tortfeasors jointly liable or in a claim against the state and the liability of a defendant is found to be fifty percent or less of the total liability assigned to all persons liable, the liability of such defendant to the claimant for non-economic loss shall not exceed that defendant's equitable share determined in accordance with the relative culpability of each person causing or contributing to the total liability for non-economic loss; provided, however that the culpable conduct of any person not a party to the action shall not be considered in determining any equitable share herein if the claimant proves that with due diligence he or she was unable to obtain jurisdiction over such person in said action."
As this concept can be difficult to understand, a practical and real-world example may help. Michael Rose, Partner at Hach & Rose, LLP, has handled many cases that have benefitted from the joint and several liability rule. Michael represented a woman who was a passenger on a motorcycle, when the motorcycle hit another vehicle. The motorcycle only carried the minimum $25,000 in coverage, while the less responsible vehicle involved in the accident was insured for millions of dollars. Michael won the trial and the jury the jury awarded $8,000,000. Because the car involved in the accident was more than 1% responsible the injured victim recovered millions of dollars from the other vehicle's insurance company. This example also highlights why it is important to hire a competent trial attorney that is willing to take a case to trial.
The important takeaway from the joint and several liability rule is that the potential for your case is not necessarily limited to the insurance coverage possessed by the individual who struck you. Because of this rule, the attorneys at Hach & Rose, LLP have had accident cases where our clients were able to recover millions of dollars. It is critical to pick your attorney carefully – personal injury cases are highly specialized, and you'll need an attorney who is experienced in handling these types of cases.
Uninsured and Underinsured Motorist Benefits
In many cases, the person who struck you in an accident may carry insurance coverage less than the value of your personal injury case, or no insurance at all. However, this doesn't mean you have no recourse for compensation. In these instances, it is possible to make a claim against your own policy covering underinsured and uninsured motorists.
Uninsured motorist claims cover accidents where the driver at fault has no auto insurance, or is driving an unregistered or stolen vehicle. Uninsured motorist claims also cover hit-and-runs, or accidents where the at-fault driver cannot be found.
In order to file an uninsured motorist claim, your insurance company will need to determine that the driver at fault had no insurance for a certainty. You'll also need to provide "proof of physical contact" with the uninsured driver, as well as evidence that any injuries or property damage were a direct result of that contact with the uninsured driver.
For an underinsured motorist claim, funds recovered will vary depending on how much insurance the at-fault driver possesses, as the underinsured policy will only begin covering damages after the at-fault driver's insurance coverage is exhausted. For example, let's say you're in an accident and you suffer $500,000 worth of damages. The driver at fault has only the minimum coverage of $25,000. So, after receiving $25,000 from the driver at fault, you would then be able to receive the remaining $475,000 of damages from your underinsured or uninsured motorist insurance policy, if your household policy provides that amount of coverage. It is important to note that household automobile policies generally cover all household members, not just insured drivers.
Personal Injury Lawsuits: What Type of Compensation is Available?
Car accidents can have a devastating effect on not only your health but also your finances. Severe injuries, medical bills, lost wages, and lost earning capacity may all be among your concerns. The emotional trauma that comes with a car accident can leave you mentally scarred for the rest of your life. Fortunately, under New York laws, you have legal recourse.
When you have been seriously injured in a car accident in New York that was someone else's fault, you may be entitled to compensation. Economic damages and non-economic damages are the two main types of compensation.
Economic damages provide compensation for losses that can be easily quantified, such as:
Medical bills (past, present, and future)
Lost wages
Lost earning capacity
Property damage
Non-economic damages, which are more difficult to quantify, compensate you for more subjective losses, such as:
Pain and suffering
Emotional distress
Disfigurement
Loss of enjoyment of life
At Hach & Rose, our team of New York car accident attorneys will fight for the full and fair compensation you deserve. If the insurance company does not offer you a settlement that covers all of your expenses, we won't hesitate to bring your case to trial. Our highly skilled trial lawyers have helped secure millions in compensation for clients through jury verdicts and settlements.
Since its founding, Hach & Rose has recovered over $400 million verdicts and settlements for clients. A significant percentage of that is from personal injury claims stemming from car accidents. Listed below are some of our most notable car accident case verdicts and settlements.
$8,000,000 — Jury verdict obtained for the victim of a motorcycle accident.
$2,775,000 – Settlement for a woman struck by a vehicle during a police chase.
$2,600,000 – Settlement for a construction worker hit by a construction vehicle.
$2,300,000 – Jury verdict for a man struck by a bus.
$2,300,000 — Jury verdict obtained for a pedestrian who was struck by a New York City Transit Authority bus.
$2,200,000 — Jury verdict obtained for a man who suffered a back injury following a car accident.
$2,100,000 – Settlement for a person hit by a work vehicle.
$2,000,000 — For a family injured in an automobile accident.
$2,000,000 — Settlement for a homeless man hit by a police car.
$1,350,000 – For a person injured in an accident with a tractor trailer.
$1,300,000 — Settlement obtained during trial for a woman injured in an automobile accident.
$995,000 – For a family in an underinsured motorist arbitration.
$500,000 — For a woman injured in a car accident who had a prior injury to the same body part she injured in the accident.
$400,000 — Jury verdict for a woman injured in a car accident. She sustained a back injury but did not report it to her doctors for nine months following the accident.
$225,000 — For a woman injured in a car accident.
$135,000 — For a woman injured by an underinsured driver.
What to Do After a Car Accident in New York
Car accidents are usually sudden, violent events that can upend your life in an instant. In the aftermath of a crash, and particularly one that results in injuries, it is not uncommon to be disoriented and confused about what steps to take to protect yourself.
Our experienced car accident attorneys have provided the following information to help you know what to do after a collision in New York. By following these steps, you can make better decisions to help protect yourself and build a convincing property damage and injury case, if necessary:
1. Remain at the scene, check for injuries, and call 9-1-1
Drivers are required by New York law to stop immediately after an accident and remain as close to the scene as possible. Take the time to evaluate yourself for injuries, and keep in mind that some symptoms may appear later after the initial shock and adrenaline rush have worn off.
While New York does not require motorists or passengers involved in accidents to render aid to others who are hurt, you may wish to assist others who might need emergency attention.
Call 9-1-1 and immediately report the accident. The dispatcher will need to know precisely where you are and a description of the scene of the accident. Your description should include details about the scene of the crash and any injuries suffered so they know which emergency services should be sent to the scene.
2. Provide your information and gather information from other drivers
New York Vehicle and Traffic Law § 600 1 (a) 2 (a) requires you to provide the following information at the scene:
Name
Address
Drivers' license information
Vehicle registration
License plate number
Insurance information
3. Report Your Accident
New York State Vehicle and Traffic Law § 605 (a) 1 makes it a requirement that any driver who is involved in an accident that results in injury to a person or more than $1,000 of damage report the accident within ten (10) days to the New York State Department of Motor Vehicles. This can be done by using this form: MV-104 – Report of Motor Vehicle Accident.
The form can be mailed to:
Crash Records Center
6 Empire State Plaza
PO Box 2925
Albany, NY 12220-0925
You can also get a copy of any collision report filed by the other driver or drivers by visiting the New York State Department of Motor Vehicles' website.
If the accident is more than a minor fender-bender, a police officer will likely be dispatched to the scene. Be sure to get the officer's name, badge number, and precinct number so you can get a copy of their accident report later.
4. Take pictures and preserve evidence at the scene
Because vital evidence can be lost, cleaned up, or destroyed, it is crucial to secure as much evidence as possible while you are still at the scene. If you've been severely injured, try to make sure that someone close to you documents what happened. Some vital evidence that could significantly help your case could include:
Pictures and video of the scene, including the damage to vehicles, injuries suffered, and the conditions surrounding it
Contact information and statements from witnesses
Surveillance video from nearby businesses
After the crash, keep all documents related to the crash and your injuries, including medical bills, vehicle repair estimates and bills, wage statements and hours missed from work, out of pocket expenses for travel, prescription medications, and other items.
5. Seek medical attention immediately
If emergency services are dispatched to the scene and you are hurt, do not refuse medical treatment. Even if you are not transported to the hospital by ambulance for treatment, visit a physician as soon as possible after the accident to get a thorough checkup.
Some symptoms of injuries like mild traumatic brain injuries, internal organ damage, whiplash, and others may appear in the following hours or days, so don't assume you're not hurt just because you feel fine in the immediate aftermath.
Not seeking medical treatment could severely harm your injury claim if you need to file one later, so make sure that getting medical attention is at the top of your list after any collision.
6. Contact your insurance company to report the crash
After the crash, be sure to notify your insurer as soon as possible. Most insurance policies include a "Cooperation and Notice of Occurrence Clause," which requires that you notify them of any accident, regardless of who was at fault, and to cooperate with their investigation.
7. Speak with a knowledgeable New York car accident attorney about your rights
After the crash, you'll likely have to speak with your insurance company and representatives from the other driver's insurer. Keep in mind that insurance adjusters for the other side will be looking for anything they can to shift all or some of the blame for the crash onto you. Be careful, your conversations with insurance companies after an accident can and may be recorded. To protect yourself and to ensure that you get the fair compensation you deserve after an accident, be sure to hire a qualified and experienced car accident lawyer to represent you.
Your attorney will be looking out for your well-being and will be there to protect you from those who wish to deny or diminish your valid injury claim. Not hiring a lawyer could cost you significantly, so turn to an attorney you can trust to get you what you're owed.
Types of Car Accidents We Handle
Car accidents in New York come in many different forms, involving various causes, road conditions, types of vehicles, and the resulting damages. Your car accident could have occurred from one or more of the following factors: the other driver's negligence, unsafe roads resulting from a municipality's negligence, or vehicular defects. You may be facing costly medical bills and property damage, among other damages. We understand that this a very stressful and taxing time for you. Advice from a qualified attorney can help you determine the best next steps for you to take.
Common types of New York car accidents that we handle at Hach & Rose include:
Head-on collisions
Trucking accidents
Rear-end accidents
Wrong-way drivers
Side-impact crashes
Single-vehicle collisions
Drunk driving accidents
Distracted driving accidents
Uber/Lyft accidents
Limousine and taxi accidents
Car Accident Statistics in New York: By the Numbers 2018
According to the Insurance Institute for Highway Safety (IIHS), in 2018, there were 889 Fatal Crashes that resulted in 943 deaths. Out of those, 301 (33%) were drivers or passengers in a car, 262 (29%) were pedestrians, 163(18%) were in a pickup or SUV, 149 (16%) were motorcyclists, 29 (3%) were bicyclists and 8 (1%) were in a large truck.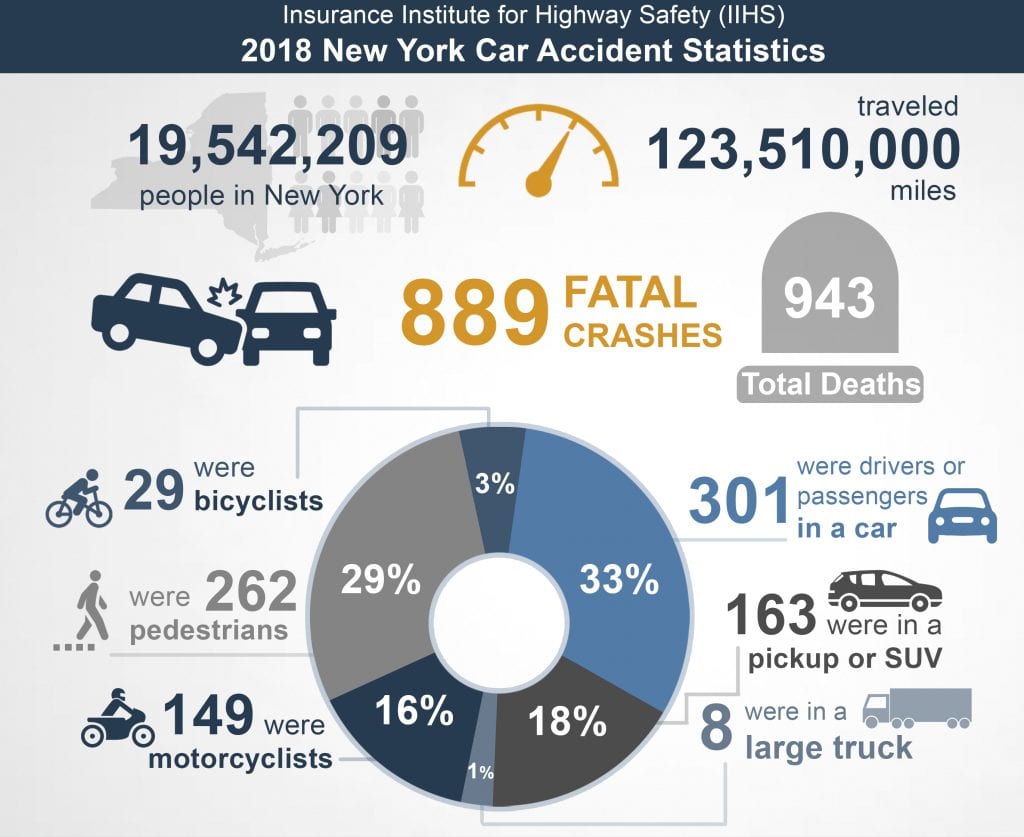 Hach & Rose, LLP Attorneys Working for You
he experienced New York car accident lawyers at Hach & Rose are committed to helping you receive fair compensation following your car accident. We are ready to help you throughout every step of the often-complicated legal process. Our skilled lawyers will be able to determine who was a fault and pursue all available compensation for you.
Our attorneys will work hard to protect your rights following your car accident, just as we have done for countless others over the last two decades. When handling a car accident case that can make the difference between financial security or ruin, you must leave your case to a knowledgeable and aggressive attorneys who are willing to fight to secure the compensation you're owed.
Michael A. Rose
Michael Rose has spent his career representing accident victims in New York. His numerous successful verdicts and settlements have resulted in significant compensation for his clients.
"It's meaningful work representing people who are injured and can't provide for their families and need a voice to speak for them," Rose says. "I became a lawyer because it gives me the opportunity to help people."
One year Mr. Rose was responsible for securing four of the top 100 personal injury results in New York for personal injury claims. He has been featured in New York Magazine's Top-Rated Lawyers in the New York Area, has been included on the New York Super Lawyers list from 2013-2019, and is a lifetime member of the Million Dollar and Multi-Million Dollar Advocates Forum.
Halina Radchenko
Halina Radchenko brings significant knowledge and experience in the area of car accidents, as well as other personal injury cases.
A proud member of the New York State Trial Lawyers Association (NYSTLA), she is the President-Elect of the association's automotive committee. Ms. Radchenko is actively involved in politics and she believes it is the duty of every attorney to inform the government of the cases they see day in and day out from car accident victims, in an effort to improve upon existing laws.
George W. Ilchert
George W. Ilchert is a product of Queens New York. He graduated from St. Mary's in Flushing, Archbishop Molloy HS in Briarwood, St. John's University in Jamaica, and the Cardozo School of Law of Yeshiva University in Manhattan. At Cardozo, he was the Managing Editor of the International Law Journal. He has worked at this firm since law school rising from clerk to managing partner.
If you were a client of this office in the past 30 years, he will probably recognize you when he sees you. George has handled all types of cases and concentrates on the severe injuries that can arise at construction sites. He is a member of the Association of the Bar of the City of New York, the New York State Trial Lawyers Association and the American Association for Justice. He is admitted to practice in New York State and federal courts.
Anthony Hirschberger
Anthony Hirschberger is a trial attorney specializing in high exposure and complex personal injury and medical malpractice cases. He has successfully litigated hundreds of medical malpractice and personal injury cases.
Selected as a two-time Super Lawyer and Top 40 under 40 trial attorney, Anthony is a graduate of Tulane Law School in New Orleans. He was an Editorial Member of the Tulane Law Journal of Technology and Intellectual Property, and a winner of the CALI Awards of Excellence for writing the highest scoring exams in Corporate Law, Patent Law and Evidence.
Hach & Rose, LLP Professional Memberships
New York State Bar Association
Association of the Bar of the City of New York
New York State Trial Lawyers Association
American Association of Justice
New York County Law Association
The American Bar Association
Contact a New York Car Accident Attorney Today
If you have been injured in a car accident in New York, it is critical that you hire an attorney you can trust to handle your claim. The New York car accident lawyers at Hach & Rose, LLP have earned the trust of countless clients over the last two decades by consistently helping car accident victims get results.
If you have been seriously injured due to the negligence of another party, our committed personal injury lawyers are ready to help. Call us today at (212) 779-0057 to schedule a free and confidential consultation.