Tailgating Car Accident Attorneys in New York
Have you been dealing with physical pain, emotional trauma, and financial strain because a negligent driver was tailgating you and caused a car accident that seriously injured you? Contact the experienced New York car accident attorneys of (212) 779-0057 right now to learn about how you may be owed compensation for your injuries and what we can do to help you pursue it.
What Is Tailgating?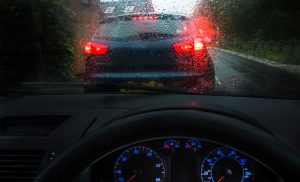 When a motorist drives too closely behind you, they're tailgating you. This is dangerous and leads to one of the most common collisions in the nation. In fact, a rear-end collision occurs on average about once every ten seconds! The tailgating motorist can crash into the vehicle in front of them if that vehicle suddenly brakes. There isn't only the risk of causing a rear-end collision with the car directly in front of them. The tailgating motorist could also cause a pile-up of multiple vehicles if they collide with the vehicle in front with enough force to cause that vehicle to crash into another vehicle, and so on.
Why Choose Hach & Rose, LLP to Help with Your Tailgating Car Accident Case
Since its founding, Hach & Rose, LLP has recovered over $500 million in damages to compensate our clients for their losses due to negligent individuals and companies. Partner and co-founder Gregory Hach has spent his career fighting for the rights of union members throughout New York City. He's won multiple million-dollar awards after litigating his clients' cases in court. Co-founder and partner Michael Rose is also a titan in the New York personal injury lawyer landscape. He's widely recognized for his success in winning some of the highest amounts of compensation for our clients, both in litigation and settlements.
We've produced significant and consistent results for our clients in the past. Our car accident attorneys have won cases and claims resulting in the following awards and settlements paid to our injured clients:
A $2.25 million settlement for our client's injuries
$2.2 million was awarded by a jury for our client, who sustained a serious back injury
$2.178 million was awarded by a jury for our client, who was a union member
$2 million in compensation for our clients, a family
A $1.3 million settlement for our client after a personal injury lawsuit was filed and the trial was underway
The results above are just some examples of the significant compensation we've obtained for our injured clients. While our skills and determination to get the best result for our clients have led to our success in many cases, we can't guarantee an outcome in your case. Your case will be judged by its specific facts. Though we can't predict the outcome, as your attorneys, we'll dedicate our resources and the legal knowledge we've gained over the past two decades to reach the most favorable outcome possible in your case. If you have further questions, contact us today.
Frequently Asked Questions About Tailgating Car Accidents
We understand that pursuing compensation for your injuries and hiring an attorney is a major decision. You may never have had to hire an attorney before, so that prospect may seem daunting.
We're here to ease your concerns and help you through filing a personal injury claim. Potentially we'll take legal action against the person responsible for harming you. We're available to answer any questions you may have to aid in your decision to move forward with seeking justice for your injuries. Throughout your case, you can find comfort in knowing that the lines of communication will always be open. So you'll know exactly what's happening with your case.
While you're considering what to do next, below are answers to some of your questions about seeking the compensation you deserve for your injuries.
Do I have to file a lawsuit?
You may not have to file a lawsuit. But it may be your only option to obtain just compensation for your injuries. If your insurance company refuses to offer you a fair settlement, you can file a lawsuit against the negligent driver personally.
How long do I have to file a lawsuit?
Every state has a statute of limitations concerning personal injury lawsuits. The statute of limitations is when you must take legal action against someone or an entity. In New York, the statute of limitations to recover compensation for an injury caused by someone else's negligence is three years. The clock on the three years starts on the date you were injured.
What if I was partly at fault for the car accident? Can I still be compensated?
You aren't barred from being compensated for your accidental injuries, even if you were partly responsible for the accident. New York law has a pure comparative negligence rule. This approach considers the injured party's fault when determining what compensation they might be entitled to. While you can still obtain compensation, your maximum compensation is reduced by your share of fault for the tailgating accident.
For example, if you were 40 percent at fault for the car accident, your maximum compensation of $100,000 would be reduced by 40 percent to $60,000. If you were 95 percent at fault for the accident, you would only receive $5,000 out of the maximum $100,000 you would otherwise be entitled to. Finally, if you were five percent at fault for the car accident and were entitled to the same maximum compensation, you would be eligible to receive $95,000 in compensation.
Contact a Skilled Car Accident Attorneys Now
Did an aggressive driver cause you to be seriously injured because they were tailgating you? If you answer yes, contact Hach & Rose, LLP in New York immediately. You don't want to delay receiving the compensation you might be owed for your injuries. Schedule a free consultation with our car accident attorneys with over 20 years of experience by calling (212) 779-0057 or contacting us online.
If you're concerned about affording a Hach & Rose, LLP car accident attorney, you'll be relieved to know that we don't require upfront payment for any charges or fees. We work on a contingency basis. That means we aren't paid for the top-notch legal services we provide you until you're compensated. Only after we win your claim or case are we paid a portion of your settlement or award to cover our fees.
Contact Hach & Rose, LLP today to learn about the next steps you should take to hold the negligent driver who injured you accountable for their actions.