Posted on Wednesday, December 15th, 2021 at 2:47 pm
When you pursue a personal injury claim after being hurt in a car accident, your treating doctor will often become one of your most important resources for proving your case. Your treating physician can provide evidence and testimony that can establish the extent of the injuries you suffered and conclusively connect your injuries to the car accident. Below are some important tips to keep in mind when talking to your doctor about your car accident injuries that can help ensure your physician can serve as an ally in your case.
Tell Your Doctor That You Were Involved in a Car Accident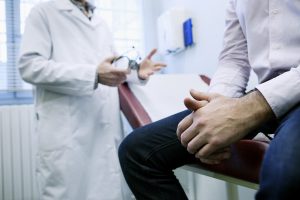 First, when you see your doctor after an accident, especially if you are feeling pain or other symptoms of injury, you need to tell them that you were involved in a car accident. If you go into a doctor's appointment simply to report that you are feeling pain, your doctor may not think to ask if you were involved in an accident and may not know that your pain and injuries are connected to a car crash.
Your treatment records may serve as evidence to connect the injuries you've claimed in your car accident case to the crash. But your medical records can only do that if your doctor knows that you were involved in an accident. By telling your doctor, they can include in their notes the fact that you were recently in a car
accident. Your doctor may also be able to offer a medical opinion that your injuries were caused by the accident.
Make Sure Your Doctor Has Your Full Medical History
You should also ensure that the doctor you see after a car accident has your full medical history. Normally this will not come up if you are seeing your usual primary care physician. But if you are seeking treatment from someone other than your regular doctor, you will want to make sure that they take your full medical history. Otherwise, if you ask your treating doctor for an expert opinion or testimony for your car accident claim, the credibility of their opinion or testimony may be called into question if they don't know about certain pre-existing conditions in your medical history that might be related to your claimed injuries.
Be Detailed and Specific
When discussing your symptoms or suspected injuries, you should always try to offer detailed, specific descriptions to your doctor. For example, rather than simply telling your doctor "my back hurts," you should identify where you are experiencing pain in your back and what kind of pain you feel (e.g. throbbing, burning, stabbing). You may also want to offer your doctor details about the car accident itself, such as discussing the type of car accident you were involved in, where your car was impacted, or where you were sitting in the car. This detail can help your doctor diagnose your injuries and link them to the crash.
Discuss Your Treatment Plan
You should also take the time to understand what your course of treatment for your car accident injuries will involve and your expected prognosis. This can particularly prove helpful to your car accident claim if your doctor expects that you may need months or even years of treatment and rehabilitation.
Ideally, you should wait until you finish treating your injuries before filing an insurance claim or a car accident lawsuit so that you know the full amount of your medical expenses. But if your treatment will last months or years, you cannot wait to start your claim. Instead, you will need to pursue a settlement or a verdict at trial that includes compensation for your future expected expenses for medical and personal care. Discussing your treatment plan and prognosis with your doctor can help you determine what fair and full compensation in your case may look like.
Ask Whether You Can Still Work
Finally, you should confirm with your treating physician whether you can still work while recovering from car accident injuries and whether you might need accommodations from your employer to return to work. Although you may want to "tough it out" and keep working despite your injuries, doing so may end up slowing the progress of your recovery or even possibly worsen your injuries. If you don't feel like you can return to work or full duty because of your injuries, your doctor can provide documentation to support you taking a medical leave of absence and later recovering compensation for lost wages.
Contact Us If You Have Been Hurt in a Car Accident
If you were injured in a car accident that wasn't your fault, call the New York City car accident lawyers of Hach & Rose, LLP at (212) 779-0057 or fill out our online contact form for a free, confidential consultation. We can go over your legal rights and options with a seasoned car accident attorney.