Hach & Rose, LLP Serves Car Accident Victims Across NYC
If you have been in a serious car accident in New York City, you can wonder, "What's next?". The NYC auto accident attorneys of Hach & Rose, LLP are here to help walk you through the car accident claims process or take your case to court. Contact us at (212) 779-0057 to schedule a free case review.
Our experienced New York City car accident lawyers have become a well-known and trusted name across the city, and they are prepared to help you and your loved ones recover after a car accident. The attorneys have over 100 years of combined legal experience, making them well-equipped to handle even the most complex car accident cases.
Why Choose Hach & Rose, LLP For Your Car Accident Case?
Our New York City car accident attorneys have decades of experience handling car accident cases. We have access to extensive resources to investigate collisions, gather evidence, and track down eyewitnesses. We know the tactics used by insurance companies to deny claims or offer low settlements. They only care about saving money, and we will not allow them to take advantage of you. We will work hard to see that they treat you fairly and provide fair compensation for your losses.
We will complete each step of the legal process on your behalf so you can focus on recovering. We know you've been through a traumatic experience, and you should not have to deal with a car accident case alone. While you're attending your doctor's appointments and focusing on your recovery, we will create a strategy to reach a favorable outcome in your case. We will work meticulously to collect the evidence to prove that the other party was responsible for the car crash and should pay you full compensation.
7 Steps You Should Take After a Car Accident
Our experienced New York City car accident attorneys have provided the following information to help you know what to do after a collision in New York. By following these steps, you can make better decisions to help protect yourself and build a convincing property damage and injury case, if necessary:
1. Call 911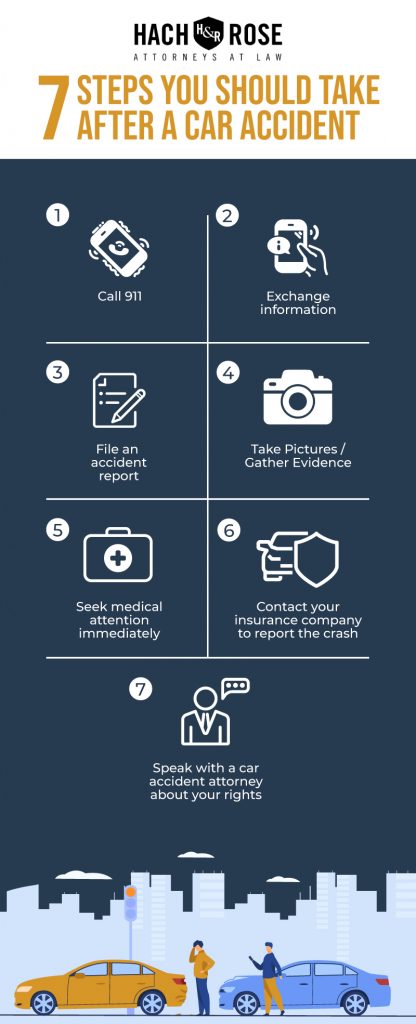 New York law requires anyone involved in a car crash to remain at the scene and notify law enforcement if there are injuries or fatalities. If you leave before an officer arrives to investigate, you could face a hit-and-run charge.
If possible, move your car to a safe location while waiting for help to arrive. If your car is not operational, move away from the road until an ambulance arrives.
You should also check on the occupants of other vehicles to inform the 911 operator of the medical care required. Determining the severity of everyone's injuries will ensure they send the appropriate personnel to the scene.
2. Exchange Information
Another law requires that you provide the following information to the investigating officer:
Name
Address
Driver's license information
Vehicle registration
License plate number
Insurance information
It's also a good idea to obtain the names, phone numbers, and auto insurance details of all drivers involved in the accident. If you choose to file an insurance claim, you will need that information, and more than one person could be at fault.
3. File an Accident Report
All drivers involved in the crash must file an accident report within ten days if anyone suffered injury, death, or over $1,000 in property damage. Be sure to completely and accurately fill out the Report of Motor Vehicle Accident form and submit it to the Department of Motor Vehicles. Failure to file a report is considered a misdemeanor offense, resulting in a driver's license or registration suspension.
The form can be mailed to:
Crash Records Center
6 Empire State Plaza
PO Box 2925
Albany, NY 12220-0925
You should also obtain a copy of the investigating officer's and other drivers' accident reports. You can submit your request online or by mail to the New York Department of Motor Vehicles.
4. Take Pictures and Preserve Accident Scene Evidence
Because vital evidence can be lost, cleaned up, or destroyed, securing as much evidence as possible while you are still at the scene is crucial. If you've been severely injured, ensure someone close to you documents what happened. Some vital evidence that could significantly help your case could include the following:
Pictures and video of the scene, including the damage to vehicles, injuries suffered, and the conditions surrounding it
Contact information and statements from witnesses
Surveillance video from nearby businesses
Keep all documents related to the crash and your injuries, including medical bills, vehicle repair estimates, bills, wage statements and hours missed from work, and out-of-pocket expenses for travel, prescription medications, and other items.
5. Seek Medical Attention Immediately
Don't refuse medical treatment if emergency services are dispatched to the scene. Even if you are not transported to the hospital by
ambulance for treatment, and visit a physician as soon as possible after the accident to get a thorough evaluation of your injuries.
Some symptoms of injuries like mild traumatic brain injuries, internal organ damage, whiplash, and others may appear in the following hours or
days, so don't assume you're not hurt just because you feel fine in the immediate aftermath.
Not seeking medical treatment could severely harm your injury claim if you need to file one later. You should follow their orders if your doctor refers you for imaging tests, surgical procedures, physical therapy, or other treatment. A gap in treatment is significant evidence insurance companies can use to deny claims. They might argue that the accident didn't cause an injury or that your injury isn't severe enough to require medical intervention.
6. Contact Your Insurance Company to Report the Crash
After the crash, be sure to notify your insurer as soon as possible. Most insurance policies include a "Cooperation and Notice of Occurrence.
Clause," which requires that you notify them of any accident, regardless of who was at fault, and to cooperate with their investigation. However, stick to the facts related to the accident when you speak to the insurer. You don't want to go into too much detail and say something that could hurt your chance of recovering the maximum available settlement amount. Or better yet, let your attorney communicate with them on your behalf.
7. Speak with a Knowledgeable New York City Car Accident Lawyer about Your Rights
After the crash, you'll likely have to speak with your insurance company and representatives from the other driver's insurer. Remember that the insurance adjuster will look for any information they can use to shift all or some of the blame onto you. To protect yourself and ensure that you get the fair compensation you deserve after an accident, hire a qualified and experienced car accident lawyer to represent you.
Your attorney will look out for your well-being and be there to protect you from those who wish to deny or diminish your valid injury claim. Not hiring a lawyer could cost you significantly, so turn to an attorney you can trust to get you what you're owed.
What Happens During an Accident Investigation?
Multiple investigations will occur after your car crash. The first will involve law enforcement. If injuries or fatalities occurred, an officer would show up at the scene to investigate what happened. They will take photos, speak to witnesses, and piece together the events leading up to the collision. They will write their findings on an accident report to file with the Department of Motor Vehicles. Typically, the report will include who they believe was at fault and any citations they issued against the at-fault driver.
If you hire a New York City car accident attorney from Hach & Rose, LLP, we will investigate. To determine who was responsible for your injuries, we will gather as much relevant evidence as we can, such as:
Accident reports
Statements from eyewitnesses
Video surveillance footage
Accident scene photos
Auto insurance policies for all drivers involved
Your medical records and bills
Drivers' cell phone records
Repair estimates for all vehicles involved
The insurance company will also investigate. They will review the evidence we provide and the evidence they find to determine who was at fault. They might ask for additional documentation and statements from all parties involved in the accident to support their theories or disprove ours.
Proving someone else was entirely responsible for the car crash is critical in this case. If there's sufficient evidence, it will be challenging to dispute it.
However, New York follows a pure comparative negligence rule that could diminish compensation. If you share any degree of fault, a jury can reduce the total available compensation by your percentage of the blame. For example, if you incurred $100,000 in losses but were 20% at fault for the accident, you would only be entitled to a maximum of $80,000.
Damages Available in a Car Accident Case
Car accidents can have a devastating effect not only on your health but also on your finances. Severe injuries, medical bills, lost wages, and lost earning capacity may be among your concerns. The emotional trauma of a car accident can leave you mentally scarred for the rest of your life. Fortunately, under New York laws, you have legal recourse.
When you have been seriously injured in a car accident that was someone else's fault, you may be entitled to compensation for your damages. Damages fall under two main subcategories: economic and non-economic.
Economic damages provide compensation for losses that can be easily quantified, such as:
Medical bills (past, present, and future)
Lost wages
Lost earning capacity
Property damage
Non-economic damages, which are more difficult to quantify, compensate you for more subjective losses, such as:
Pain and suffering
Emotional distress
Disfigurement
Loss of enjoyment of life
At Hach & Rose, LLP, our New York car accident lawyers team will fight for the full and fair compensation you deserve. If the insurance company does not offer a settlement covering your expenses, we won't hesitate to bring your case to trial. Our highly skilled trial lawyers have helped secure over $300 million in client compensation through jury verdicts and settlements. A significant percentage is from personal injury claims stemming from car accidents.
Most Common Causes of Car Accidents
Human error is among the most common causes of motor vehicle-related crashes in the United States. Many behaviors drivers exhibit behind the wheel result in severe injuries and fatalities. The most common causes of car accidents include:
The Most Dangerous Intersections in New York City
Several factors, including traffic lights, amount of traffic, number of pedestrians, and more, make certain intersections in NYC more dangerous than others. Here is a map of New York intersections with the most accidents.
Common Injuries Associated with Car Accidents
The injuries people sustain in vehicle collisions can range from minor to severe. Some only require a few weeks of medical treatment, while others have permanent disability or impairment. The extent of your injury will likely depend on the type of accident you were in and associated factors, such as speed and weather conditions.
The most common injuries accident victims suffer include:
If your injury impairs your physical or mental ability to return to work, complete routine tasks, or care for your family, you deserve to hold the at-fault party liable for your damages. Long-term effects from car crashes can interfere with anyone's life and lead to expensive medical bills and associated costs. You should not have to pay out-of-pocket for the expenses you incur. The party that caused the accident should be financially responsible for your losses.
How Much Does Hire a New York City Car Accident Lawyer Cost?
At Hach & Rose, LLP, we understand the financial strain you might face after the accident. When treating your injuries, the last thing you want to consider is the cost of hiring a lawyer. We want our clients to have the opportunity to pursue compensation without the burden of upfront legal fees.
That's why we take cases on contingency. That means you won't have to pay us initially to represent you. We won't collect fees or costs unless we secure an insurance settlement or favorable jury verdict. If we lose, you won't owe us any money.
Car Accident Laws in New York
New York is a no-fault state when it comes to car insurance. That means you must file a claim with your insurance company to get compensation for your medical bills, out-of-pocket expenses, and other costs. Personal injury protection (PIP) covers all registered vehicle owners, and drivers must purchase it.
When you file a PIP claim, you can cover many types of expenses, such as the following:
Ambulance costs
Rehabilitation and physical therapy
Necessary X-rays, surgeries, and nursing care
Dental costs
Necessary prescriptions
Prosthetics
Mental health treatment
Other reasonable and necessary expenses, such as transportation costs to medical appointments
Lost wages, up to 80% of the victim's salary
Burial expenses, if applicable
Note that repairs to a damaged vehicle are not included on this list. PIP claims are intended to cover economic costs related to an injury suffered during an accident and do not cover property damages. You cannot seek compensation for non-economic damages, such as emotional distress, through no-fault insurance.
The most important thing to remember when filing a no-fault claim is that there is a time limit. You must submit your claim within 30 days of the accident. This deadline is strictly enforced and rarely extended if the claimant can prove clear and reasonable justification for failing to file within the deadline.
If you also want to seek non-economic damages or your coverage doesn't compensate you for your economic damages, you might be allowed to file a claim with the at-fault driver's insurance company. Every motorist is required by state law to purchase liability coverage with a minimum of $25,000 for bodily injury and $10,000 for property damage.
Eligibility for this type of claim is subject to the serious injury threshold, which requires your injury to include at least one of the following:
Permanent and significant disfigurement or scarring;
Significant and permanent loss of a vital bodily function;
Permanent injury other than disfigurement or scarring; or
Death.
Hach & Rose, LLP is familiar with PIP and liability insurance policies. We will review all policies to determine the available coverage and whether you are eligible for compensation.
Are There Any Special Laws I Need to Know About in New York if I am Involved in a Car Accident?
New York City car accident lawyer Michael Rose discusses "joint and several liability" and how it can result in full coverage for your losses.
Filing a Car Accident Lawsuit in New York
Lawsuits are complex, time-consuming, and require complying with strict deadlines and procedures. However, the attorneys at Hach & Rose, LLP are well-equipped to handle even the most complicated cases, and we'll walk you through every step of the process.
Car accident lawsuits begin with preparing legal documents. Hach & Rose, LLP must prepare the complaint and summons first. A summons notifies the defendant of the suit and the requirement to appear in court on a specific date. A complaint provides the details associated with the case.
After we file the complaint and summons, the defendant will have 20 or 30 days to respond by filing an answer with the court. The answer will include their responses to the allegations contained in our complaint and whether they intend to file a counterclaim against you.
Discovery begins after the defendant files their answer. It is a lengthy process that involves both sides obtaining and exchanging documents associated with the case, such as medical records, emails, witness statements, and other evidence. This part of a lawsuit could include scheduling depositions, where each party must answer questions about the case under oath.
At some point, we might schedule a mediation and attempt to settle the case before it goes to trial. This is an opportunity to meet with the defendant and their attorney to discuss the monetary damages and agree to compensation. We won't have to argue the case in court if we can settle. If we can't reach a settlement agreement, we will have to proceed with preparing for trial.
New York Car Accident Stats
# of Vehicles Involved in Accidents by Contributing Factor – New York 2020
| | |
| --- | --- |
| Aggressive driving | 79 |
| Alcohol use | 162 |
| Unsafe backing up | 293 |
| Driver inattention/distraction | 2,718 |
| Illegal drug use | 8 |
| Failure to yield right-of-way | 690 |
| Fatigued/drowsy | 16 |
| Tailgating | 723 |
| Improper passing or lane usage | 388 |
| Unsafe speed | 341 |
Handling the Insurance Claim After Your Car Accident
While injury claims may have fewer steps than lawsuits, investigating the accident, gathering comprehensive evidence to support your case, and aggressively negotiating for your recovery require knowledge and skill.
Hach & Rose, LLP has decades of experience dealing with insurance companies. Insurance companies, unfortunately, are not on your side and will look for any valid reason to deny your claim. We will protect your rights and aggressively negotiate for the maximum settlement you deserve.
Typically, insurance claims involve the following steps:
File claim
Investigate accidents and gather evidence
Determine the full value of the compensation you're due
Send a demand letter to the insurance company
Negotiate settlement
If the insurance company refuses to settle for an amount we believe is fair, we can move forward with filing a lawsuit.
Car Accident Articles
April 28, 2023
Should I Get a Lawyer for a Minor Car Accident?
Hiring a lawyer after a car accident can be a smart decision if you suffered…
Read More
Speak to a Dedicated New York City Car Accident Lawyer
Car accidents can be devastating for everyone involved. When you're in pain and suffering the aftermath of an injury, pursuing legal action against another person might seem like a daunting task. You can depend on us to spearhead the process and guide you through every step from start to finish. We will be by your side to advocate for your rights and fight for the maximum compensation you deserve.Don't leave your future in the hands of an insurance adjuster that doesn't have your best interests in mind. Let
Hach & Rose, LLP
prepare a strong case that reaches your legal goals. Our New York City car accident attorneys will meet with you for a free consultation to determine how we should proceed. We will assist you in your recovery and do everything we can to get you back on your feet. Call us at (212) 779-0057 today.
Personal Injury Attorney Testimonials
What Our Clients Say About the Attorneys at Hach & Rose, LLP
"
Excellent lawyers! Top notch!!!
- Becca
"
"
Great lawfirm, with some truly amazing people working. Treat you like family even if that means tough love sometimes. Honest, professional, and thorough. I'll be back if ever needed.
- Thomas Badzio
"
"
I have worked with Ms. Constance Cooper on a number of cases and I have quite literally never met an attorney who gets as invested in a case as Ms. Cooper. She is passionate about getting her clients exactly what they deserve and is willing to put in any amount of time, effort, and research to ensure a case is handled not just with professionalism, but with perfection.
- Katryna Spearman
"
"
Hello folks, I hire this company in 2021 but because It was a hit and run which the company had to find the person (thank goodness I took a picture of the car plate) who did this and everything else it took time. The staff were prompt kept me informed on what was going on with my case. Mr. Rose personally called me quite often within the time frame to advise on the stages of my case which was favorable. I would highly recommended this company for representation you will not be disappointed!
- Carmen Horton
"
"
- Ronit Levin Delgado
"
"
- Different DEP Management, LLC
"
"
Amazing group. Will fight for you.
- Jennifer C
"
"
Great Service, Recommended.
- Pedro Caquias
"
"
A Very Great Law Firm Thank You "Jon Connery"
- Alex Phill
"
"
Everything was handled incredibly professionally and all expectations were more than exceeded.
- Justin Parker
"
"
Had the greatest experience with these guys. They're honest lawyers, a rare find in NYC.
- J Rozen
"
"
GREAT LAWYERS they REALLY work for they're clients. Would HIGHLY RECOMMEND for anyone who needs representation.
- DYCKMAN DREW
"
"
Helpful during the entire process, and Very informative. Helped through entire process and answered any questions I had!
- Alejandro Echeverri
"
"
This law firm is the best they are customer service oriented, they treat their clients like gold
- Lani Lapkin
"
"
I will keep it simple ,great law firm, I truly recommend them,
- pat fludd
"
"
Mike Rose is a very trustworthy person. Can't think of anybody I'd prefer to represent me.
- Marc DeGirolami
"
"
Hach and Rose was very professional in helping me handle my legal issues. Nothing was ever too difficult for them. Thanks guys!
- Stefanie Settle
"
"
Hach and Rose was very professional in helping me handle my legal issues. Nothing was ever too difficult for them. Thanks guys!
- Stefanie Settle
"