7 Steps You Should Take After a Car Accident
Our experienced New York City car accident attorneys have provided the following information to help you know what to do after a collision in New York. By following these steps, you can make better decisions to help protect yourself and build a convincing property damage and injury case, if necessary:
1. Call 911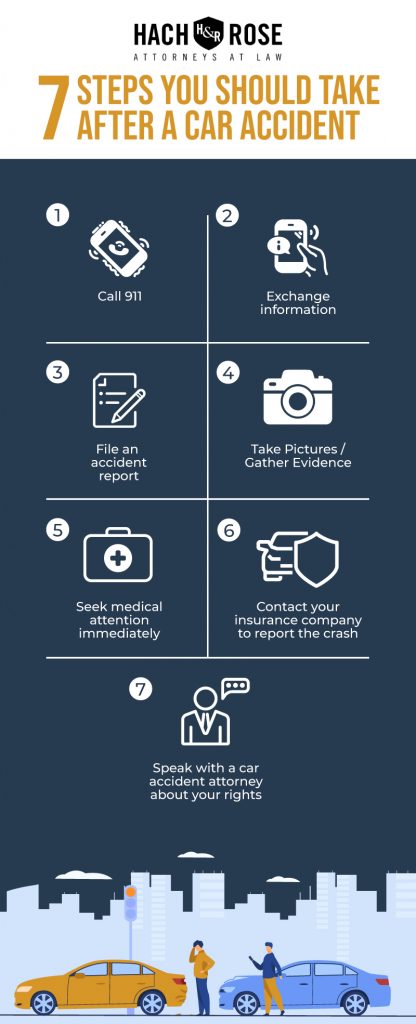 New York law requires anyone involved in a car crash to remain at the scene and notify law enforcement if there are injuries or fatalities. If you leave before an officer arrives to investigate, you could face a hit and run charge.
If possible, move your car to a safe location while you're waiting for help to arrive. If your car is not operational, move away from the road until an ambulance gets there.
You should also check on the occupants of other vehicles to inform the 911 operator of the medical care required. Determining the severity of everyone's injuries will ensure they send the appropriate personnel to the scene.
2. Exchange Information
Another law requires that you provide the following information to the investigating officer:
Name
Address
Drivers' license information
Vehicle registration
License plate number
Insurance information
It's also a good idea to obtain the names, phone numbers, and auto insurance details from all drivers involved in the accident. If you choose to file an insurance claim, you will need that information, and more than one person could be at fault.
3. File an Accident Report
All drivers involved in the crash must file an accident report within 10 days if anyone suffered injury, death, or over $1,000 in property damage. Be sure to completely and accurately fill out the Report of Motor Vehicle Accident form and submit it to the Department of Motor Vehicles. Failure to file a report is considered a misdemeanor offense, resulting in the suspension of a driver's license or registration.
The form can be mailed to:
Crash Records Center
6 Empire State Plaza
PO Box 2925
Albany, NY 12220-0925
You should also obtain a copy of the investigating officer's and other drivers' accident reports. You can submit your request online or by mail with the New York Department of Motor Vehicles.
4. Take Pictures and Preserve Accident Scene Evidence
Because vital evidence can be lost, cleaned up, or destroyed, it is crucial to secure as much evidence as possible while you are still at the scene. If you've been severely injured, make sure someone close to you documents what happened. Some vital evidence that could significantly help your case could include:
Pictures and video of the scene, including the damage to vehicles, injuries suffered, and the conditions surrounding it
Contact information and statements from witnesses
Surveillance video from nearby businesses
Keep all documents related to the crash and your injuries, including medical bills, vehicle repair estimates and bills, wage statements and hours missed from work, and out of pocket expenses for travel, prescription medications, and other items.
5. Seek Medical Attention Immediately
Don't refuse medical treatment if emergency services are dispatched to the scene. Even if you are not transported to the hospital by
ambulance for treatment, visit a physician as soon as possible after the accident to get a thorough evaluation of your injuries.
Some symptoms of injuries like mild traumatic brain injuries, internal organ damage, whiplash, and others may appear in the following hours or
days, so don't assume you're not hurt just because you feel fine in the immediate aftermath.
Not seeking medical treatment could severely harm your injury claim if you need to file one later. If your doctor refers you for imaging tests, surgical procedures, physical therapy, or other treatment, you should follow their orders. A gap in treatment is significant evidence insurance companies can use to deny claims. They might argue that the accident didn't cause an injury or your injury isn't severe enough to require medical intervention.
6. Contact Your Insurance Company to Report the Crash
After the crash, be sure to notify your insurer as soon as possible. Most insurance policies include a "Cooperation and Notice of Occurrence
Clause," which requires that you notify them of any accident, regardless of who was at fault, and to cooperate with their investigation. However, be sure to stick to the basic facts related to the accident when you speak to the insurer. You don't want to go into too much detail and say something that could hurt your chance of recovering the maximum available settlement amount. Or better yet, let your attorney communicate with them on your behalf.
7. Speak with a Knowledgeable New York City Car Accident Lawyer about Your Rights
After the crash, you'll likely have to speak with your insurance company and representatives from the other driver's insurer. Keep in mind that the insurance adjuster will look for any information they can use to shift all or some of the blame onto you. To protect yourself and ensure that you get the fair compensation you deserve after an accident, hire a qualified and experienced car accident lawyer to represent you.
Your attorney will look out for your well-being and be there to protect you from those who wish to deny or diminish your valid injury claim. Not hiring a lawyer could cost you significantly, so turn to an attorney you can trust to get you what you're owed.