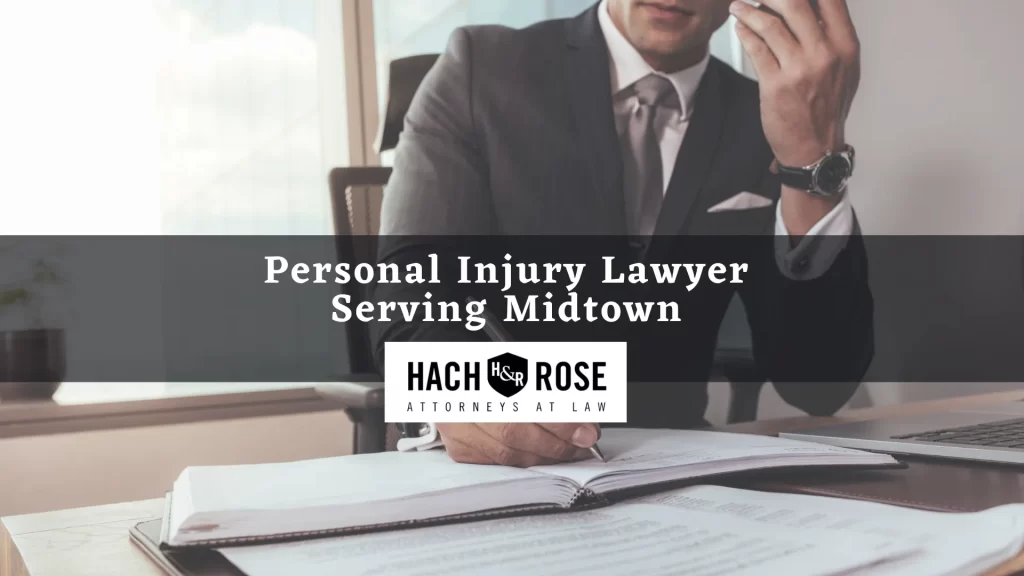 Were you injured in an accident in Midtown? If so, a Midtown personal injury lawyer from Hach & Rose, LLP can help you to pursue financial recovery and accountability from those at fault for causing the accident and your injuries. Our firm is dedicated to advocating for the rights of those who the negligence of others has harmed. We firmly believe that you should not bear the financial consequences of injuries and losses you suffered due to no fault of your own.
After an accident, contact Hach & Rose, LLP for a free, confidential case evaluation to discuss your legal rights and options with a knowledgeable Midtown personal injury lawyer from our legal team. Our staff offers our clients multilingual support; when you contact our firm after hours, you can expect us to respond quickly. Call us at (212) 779-0057 or fill out the contact form on our website.
Our Firm's Personal Injury Practice Areas
At Hach & Rose, LLP, we have extensive experience representing clients in personal injury cases involving:
What You Can Expect When Working with a Midtown Personal Injury Lawyer from Hach & Rose, LLP
When you turn to Hach & Rose, LLP after being injured in an accident, you can expect the deepest personal commitment from our Midtown personal injury attorneys. This includes:
Not owe us any fees unless we win compensation for you in a settlement or at trial
Having your case thoroughly investigated, including identifying all liable parties, sources of compensation, and legal options for financial recovery
Receiving honest, easy-to-understand advice about your case, including your rights and options and the best path for moving forward at each stage
Having your calls and emails promptly answered or responded to
Pursuing every available avenue to recover compensation in your case, including going to court and trial if necessary
Why Choose Hach & Rose, LLP for Your Personal Injury Case?
If you believe you may have a personal injury claim, why should you choose Hach & Rose, LLP to help you prepare and pursue your case? For nearly 20 years, our firm has been dedicated to protecting the rights and interests of injured New Yorkers. Our attorneys strive to fulfill our firm's goals of providing personalized attention to each client and putting the interests of our clients before everything else.
Hach & Rose's legal team's collective expertise and our firm's resources allow us to successfully pursue maximum compensation for our clients, even in the most complex personal injury cases. Our dedication to our clients is reflected in our firm's track record, which includes having recovered over $500 million on behalf of our clients over the past two decades.
Pursuing Financial Recovery for Personal Injury
In a personal injury claim, you may be entitled to receive compensation for expenses and losses you incurred due to your injuries, including money for:
Medical expenses, including hospital bills, co-pays and deductibles, prescription costs, and purchases of medical devices or equipment
Costs of long-term personal and medical care for permanent disabilities suffered due to your injuries
Lost wages or income if you've missed time from work while recovering from injuries.
Lost future earning ability and employment benefits if you have been permanently disabled from working
Physical pain and emotional distress/suffering
Reduced quality of life due to disability or scarring/disfigurement
Frequently Asked Questions about Personal Injury Cases
Questions that our personal injury clients often have include:
How long do I have to file a personal injury lawsuit?
Under New York's statute of limitations, you typically have three years from the date of an injury to file a lawsuit against those liable for your injuries and losses. Several exceptions may change how long you must file suit in your case. A Midtown personal injury lawyer from Hach & Rose, LLP can advise you on how long you must file in your particular situation. However, if you file suit after the statute of limitations has expired, you risk the court permanently dismissing your claim for being untimely.
Do I still have a claim if I was partially responsible for causing my injuries?
Yes. In New York, personal injury claims are subject to the comparative negligence rule. Under this rule, an injured person is not barred from pursuing a claim for compensation even though they share some fault for causing their own injuries. However, any settlement award or court judgment may be reduced in proportion to the percentage of fault the injured plaintiff bears for their injuries and losses.
What can I do to protect my rights after being injured?
Following an accident, you can help preserve your rights to pursue compensation by taking photos of the accident scene, seeking medical attention as soon as possible, following any treatment instructions you receive, keeping records of all expenses and lost wages that you incur, and speaking to a Midtown personal injury lawyer as soon as you can after the accident.
When should I talk to a Midtown personal injury lawyer from Hach & Rose, LLP?
You should contact Hach & Rose, LLP immediately after being hurt in an accident. By quickly having our firm start work on your personal injury case, you can recover all available evidence before it is lost or destroyed. You also ensure that you have the opportunity to pursue the full scope of legal options that may be available to you in your case.
Contact Us
Don't put off starting a personal injury claim to recover compensation for injuries and losses you incurred because of someone else's actions. Call Hach & Rose, LLP at (212) 779-0057 today for a free, no-obligation consultation to learn how our Midtown personal injury lawyers can help you seek the financial recovery and justice you deserve for the harm you have suffered.