New York Attorneys for Car Accidents Caused By Speeding
The congested city of New York can make getting to where you need to go frustrating for many drivers. But when some drivers choose to forgo safe driving by speeding, they lack the care they're supposed to have for other motorists, passengers, and pedestrians. Negligent, impatient drivers who speed increase the risk of causing a serious collision.
Most serious car accident injuries require immediate medical treatment, which can be expensive. And the considerable financial cost to you doesn't end there. You'll likely need to take time away from work to get the medical care you need and to recover from your injuries. You may lose income as a result. None of this even accounts for the emotional trauma you experienced because of the devastating accident you were in.
The speeding driver needs to be held responsible for your injuries, and you should be compensated for them. The New York car accident attorneys of Hach & Rose, LLP are experienced in obtaining settlements and awards for our clients after they were seriously injured in car accidents. We put our clients and their needs first.
To schedule a free consultation with top car accident attorneys in New York, contact us online, or call Hach & Rose, LLP at (212) 779-0057 immediately. Don't delay pursuing the compensation you deserve
Why Speeding Causes Car Accidents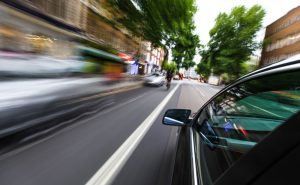 Safe driving requires motorists to be cautious, focused, and in full control of their vehicles. When a driver speeds, or drives above the legal speed limit, it can cause several domino effects.
When a driver is speeding, they're more likely to lose control of their vehicle. This can lead to the speeding driver swerving into oncoming traffic and causing a head-on collision, the most dangerous type of collision. Speeding also reduces a motorist's ability to stop in reaction to an unexpected event, in part because the speeding motorist needs more time and space to brake and come to a stop fully.
Additionally, accident injuries caused by speeding can be severe. A speeding vehicle can collide with another vehicle or a pedestrian with extreme force. The speed of the vehicle and the force of the impact can cause a motorist and the occupants of their vehicle to suffer severe injuries like head trauma or spinal cord injuries.
Commonly Sustained Car Accident Injuries
Motorists and passengers involved in car accidents due to speeding often suffer serious injuries because of the increased impact speeding causes on the vehicles in the collision. These serious injuries include:
Head trauma
Brain injuries
Spinal cord injuries
Paralysis
Neck injuries
Back injuries
Lacerations
Burns
Loss of limb
Broken bones
Hearing or vision loss or impairment
Abrasions
Internal bleeding
Organ damage
Mental health disorders, such as anxiety and post-traumatic stress disorder (PTSD)
Potential Compensation for Car Accident Injuries
The insurance company or court could offer you a settlement or award. This compensation, called "damages," could cover your financial and psychological losses from the car accident. Economic and non-economic damages could cover your:
Medical expenses
Loss of future earnings
Loss of income or wages
Property damage
Emotional effects as a result of scarring, disability, or disfigurement
Mental anguish
Pain and suffering
Loss of enjoyment of life
Loss of quality of life
You might also be awarded punitive damages if you're awarded economic and non-economic damages in your personal injury lawsuit. These damages punish the negligent driver. However, they're only awarded in particular cases of extreme negligence. Contact us right away if you have further questions.
What to Do After a Car Accident Caused by Speeding
The most important thing to do after being seriously injured in a car accident is to receive the medical care your injuries require. Many injuries must be treated right away because they can be life-threatening, and your life and recovery could depend on medical professionals treating you right away.
Not only do you need immediate medical care to potentially save your life and improve your chances of recovering, but you also need to preserve your right to obtain any compensation you may be entitled to. Your medical records detail your injuries, diagnoses, and treatment you obtained. They will strongly support your personal injury claim and possible personal injury lawsuit. You'll need to show that you were injured in the accident, and these documents can be used to help calculate the value of your claim.
Gather evidence
Additionally, you should begin collecting and saving any potential evidence for your claim or case if you can. Documents like a police accident report, medical bills, and hospital records are evidence that will be a part of your case. If you can, collect the names and contact details of any witnesses to the accident and information about the negligent driver. These details could be helpful for your claim or case.
Finally, you should hire an attorney as soon as you can after the crash so you can focus all of your attention on recovering from your injuries and adjusting to any resulting changes in your life. The car accident attorneys of Hach & Rose, LLP will investigate and manage your case so you don't have to worry about the complicated process of seeking compensation for your injuries. With our significant experience handling cases like yours, you'll maximize your chance of getting the justice you deserve when you hire our car accident attorneys to advocate for your interests.
If you have concerns about being able to afford an attorney, Hach & Rose, LLP can ease them. We don't require you to pay us any upfront fees for our services. In fact, we don't get paid unless and until you're compensated for your injuries.
Contact Hach & Rose, LLP for a Car Accident Attorney
Were you injured in a car accident caused by a negligent driver who was speeding? You can hold the negligent driver responsible for your injuries by pursuing compensation that you may be owed. Contact the New York car accident attorneys of Hach & Rose, LLP today at (212) 779-0057 to schedule a free consultation so we can discuss your legal options.