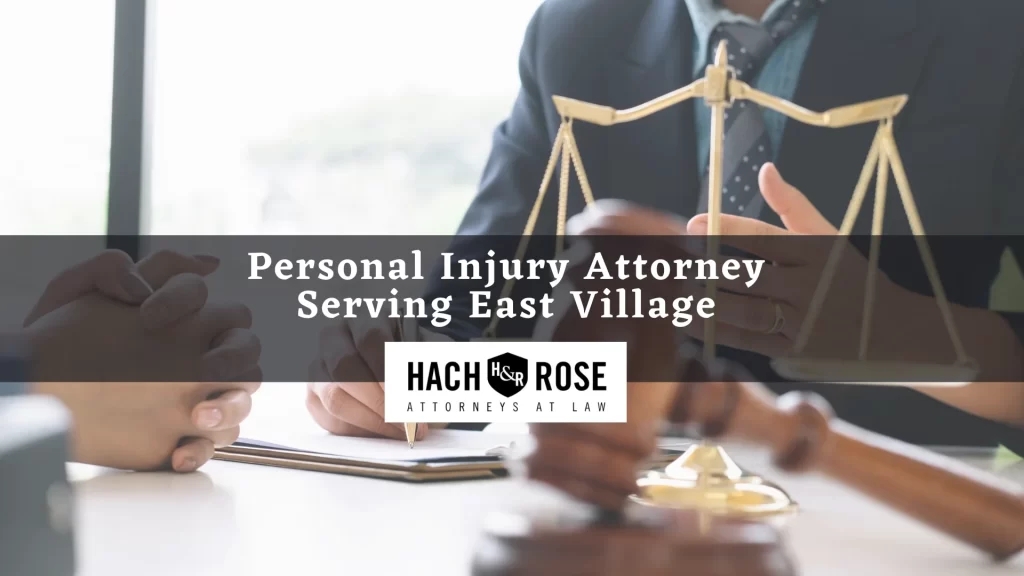 The East Village personal injury attorneys of Hach & Rose, LLP dedicate themselves to fighting passionately for people who have suffered injuries because of another party's recklessness or negligence. For over ten years, Gregory Hach and Michael Rose have devoted themselves to protecting the rights and interests of New Yorkers, and they have joined forces to create a legal firm that has recovered well over half a billion dollars for their clients. If you have experienced an injury that was somebody else's fault and is considering filing a personal injury claim, the legal professionals of Hach & Rose, LLP are here to help you.
Hach & Rose, LLP is a team of seasoned and knowledgeable personal injury attorneys who collaborate to deal with personal injury lawsuits and personal injury insurance claims. Our East Village law firm provides multilingual support, and we proudly offer free consultations to our clients with no obligations and no strings attached. Call us today at (212) 779-0057 or fill out our online contact form, and we will be happy to discuss your legal options with you. Our dedication to our clients means we commit to responding to you as quickly as possible, even if you contact us outside of office hours.
Helping Victims Get Justice in the East Village
A personal injury case can arise when a person suffers injuries because of the wrongdoing of another party. These injuries may occur for many reasons, including slip/trip and fall accidents, medical malpractice, and defective products. They can also happen anywhere, such as at your job, automobile, or even a nursing home.
In the immediate aftermath of a serious injury, the priority is to seek medical care as soon as possible. Recovery can take a long time, often requiring rehabilitation and missed time from work. Sometimes an injury can even prevent you from returning to work at all. The financial burden of the amount you need to spend on medical care and what you miss in lost wages can be overwhelming.
In instances such as this, you may be able to pursue compensation by filing a personal injury claim against the responsible party. Having an experienced East Village personal injury lawyer on your side means working with someone who understands how to recover the full and fair amount that you deserve so that you can put your full focus on your recovery.
Common Personal Injury Claims in East Village, NYC
Our lawyers have experience in a wide variety of personal injury cases, including:
What You Can Expect When Working with Our East Village Personal Injury Attorneys
While it's possible to pursue a case like this on your own, you'll benefit from having an attorney who has been through all of this before. Once you've decided to engage a lawyer, you should always interview multiple attorneys to choose the right person for the job. Make a list of what's important to you, and ensure the lawyer you choose ticks all the boxes.
Here are some of the benefits of working with us.
We will answer or return your calls promptly.
We will provide a straightforward, honest assessment of your personal injury case.
Our team will make informed decisions about any settlement offers with your input.
We will conduct a thorough investigation into all the facts that relate to your personal injury case.
You will have knowledgeable and skilled lawyers at work on your personal injury case.
You will not pay anything unless and until we recover your financial damages.
You may not know what to do or where to turn for help when you have a personal injury claim. Many people are overwhelmed by the pain of their injuries and the cost of obtaining the medical care they need. You may also be out of work because of the accident and worrying about how you'll pay your usual bills, let alone all those new medical bills pouring in.
Here at Hach & Rose, LLP, we don't want to add to your burden. We believe everyone deserves high-quality representation, no matter the condition of their bank account. If we agree to work together, you won't be obligated to pay us anything upfront. We will do all the work on your case, including investigating the accident, determining who was at fault for your injuries, engaging expert witnesses if necessary, engaging in settlement negotiations, and taking your case to trial should settlement become impossible. You will not owe us a dime until we obtain compensation for you. If we don't get you money, you owe us nothing.
Timeframe for Filing a Lawsuit
In New York, you have three years from the accident date to file a personal injury lawsuit or two years to file a wrongful death claim. The statute of limitations sets these deadlines. Should you file your claim after the statutory deadline, your claim may be dismissed. If that occurs, you will have lost the ability to pursue compensation for your losses through the court system.
Contact Our East Village Personal Injury Attorneys Today
If you have been injured and believe another party is liable for your losses, do not hesitate to contact our legal team today. The East Village personal injury attorneys of Hach & Rose, LLP have the necessary knowledge and experience to help you pursue compensation for injuries someone else's wrongdoing has caused. We have successfully obtained more than $500 million in compensation for our clients. We are ready to work diligently for you, too.
If you or a loved one has suffered harm because of the recklessness or negligence of another party, contact the seasoned legal team of Hach & Rose, LLP today. Contact us online, or call (212) 779-0057 for a cost-free evaluation of your personal injury case. Don't go through this on your own. Put our skills to work for you.