New York Attorneys for Concussions from Car Accidents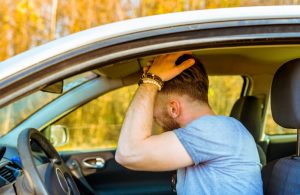 Concussions are one of the most common types of injuries suffered in car accidents. The forces involved in a crash can easily cause a vehicle occupant to become concussed. A car accident victim may not initially realize they have suffered a concussion. Although many concussion injuries heal by themselves with enough time, some victims of concussions may end up with debilitating injuries that last for weeks or even months following a car accident. Call our attorneys for concussions from car accidents today to discuss financial compensation if you were injured in a car accident that wasn't your fault.
The New York car accident lawyers of Hach & Rose, LLP have fought to recover compensation and justice for clients who have suffered concussions and other serious injuries in motor vehicle wrecks. Our firm is dedicated to putting our client's interests at the forefront of everything we do. You can trust us to secure the best possible outcome for you. Whether through a settlement reached at the negotiating table or winning your case in court.
If you have suffered a concussion in a car accident caused by a negligent or reckless driver, call us today at (212) 779-0057. You'll get a free initial case review to learn more about how our experienced car accident attorneys can help you pursue a claim for financial recovery for your injuries.
How Do Car Accidents Cause Concussions?
A car crash can cause vehicle occupants to suffer concussions in several ways. For example, a driver or passenger in a car may hit their head on a side panel, on the steering wheel or dashboard, or on the vehicle's roof. Alternatively, objects inside the vehicle may be sent flying in an accident, striking a driver or passenger in the head.
However, the forces involved in a car accident alone can cause a concussion without needing a car accident victim to hit their head or be hit in the head. The sudden deceleration of a vehicle in a car crash will cause occupants' bodies to jerk forward or to the side violently. When this occurs, a victim's brain may also impact the inside of the skull, causing a concussion.
Signs of a Concussion
Signs and symptoms that someone may have sustained a concussion include:
Headache
Nausea and vomiting
Ringing in the ears, blurred vision, changes in the sense of smell, or a bad taste in the mouth
Fatigue or drowsiness
Dizziness
Confusion
Loss of memory of the accident
Slurred speech
Concentration or memory problems
Personality changes, such as depression, anxiety, or irritability
Sensitivity to light or noise
Problems sleeping
Long-Term Effects of Concussions
Although the symptoms of a concussion usually resolve within a few days, some concussion victims can experience effects that last for weeks or even months, such as:
Vertigo, or feelings of dizziness and spinning that can persist for months after a concussion
Persistent headaches
Continued issues with concentration, thinking, and memory, typically classified as post-concussion syndrome when continuing for three or more months after a concussion
Brain damage due to the cumulative effects of multiple concussions/brain injuries
How to Protect Your Rights After a Car Accident
When you have been involved in a car accident, you can take steps to protect your legal rights to pursue compensation from the at-fault party for your injuries and losses. You will want to:
Document the accident scene by taking photos or video of car damage, traffic controls, or skid marks on the road
Seek medical attention as soon as possible to get examined for signs or symptoms of a concussion, especially if you hit your head or were hit in the head in the collision
Follow your doctor's instructions for recovering from a concussion
Keep copies of your medical records, as well as bills and invoices for treatment and other expenses after the accident
Document your recovery from your concussion, including how it negatively impacts your quality of life
Finally, see a car accident attorney from Hach & Rose, LLP to learn the next steps to pursue your rights to recover compensation for your concussion injury.
Recovering Compensation After Suffering a Concussion in a Car Crash
You may be eligible for compensation for your injury and other losses after you suffered a concussion in a car wreck that wasn't your fault. You might try to recover money for:
Medical expenses, including emergency care and hospitalization, medications, doctor's appointments, and therapy
Lost wages/income, if you must take time off work after being concussed
Loss of future earning capacity, if you suffer long-term or permanent debilitating effects from a concussion
Physical pain and emotional distress, including depression, anxiety, and other mental health effects from a concussion
Reduced enjoyment or quality of life, especially if you cannot participate in activities you previously enjoyed
What Can an Attorney Do to Help You Pursue a Car Accident Concussion Case?
You should hire a lawyer when you've been injured through no fault of your own and want to pursue a claim or lawsuit to recover money for your injuries. You can expect your attorney to assist with the following:
Investigating the accident to secure the evidence needed to prove the other driver's fault for the crash and your concussion.
Document your expenses and personal losses you have incurred because of your concussion.
Discussing your legal options with you and advising you about what you can expect at each stage of your case.
Filing your claims for compensation with the insurance companies and pursuing negotiations with adjusters to get a fair financial recovery for you in a settlement if possible.
Going to court or to trial if needed to fight for maximum compensation on your behalf.
Contact Us to Speak to a Car Accident Attorney About Your Case
A concussion can leave you with long-term or lasting impacts on your quality of life. If you were injured in a car accident that wasn't your fault, contact Hach & Rose, LLP today for a free, no-obligation consultation. Call us at (212) 779-0057. You can talk to one of our car accident attorneys about your legal rights and options for recovering compensation for your injuries and losses.