Bushwick Personal Injury Attorneys
If you were injured in an accident caused by someone else's negligent actions, you might be entitled to recover damages. The Bushwick personal injury attorneys of Hach & Rose, LLP understand that no amount of money can compensate for your physical injury or property damage.
However, compensation can help pay your bills and make the path to recovery smoother. This is a challenging time, and you should not have to face it alone. The compassionate and experienced Bushwick, New York, personal injury attorneys of Hach & Rose, LLP can help protect your rights and fight for fair compensation.
Don't let an unexpected accident or injury destroy the plans you have for your future. Call us at (212) 779-0057 or online to schedule your free consultation. We will explain your rights and review your case.
How Long Do I Have to File a Lawsuit?
New York law's statute of limitations dictates the amount of time you have to file a personal injury lawsuit. You have three years from the accident date in New York to file. If you go beyond these three years, your case will likely be dismissed, and you'll lose your chance to pursue compensation through the court system.
Your personal injury attorney will use this time wisely to gather evidence to support your claim, negotiate with the insurance company, and file the necessary paperwork for a personal injury lawsuit. Since several steps in a lawsuit can take several months, this time can go by quickly. You must contact a personal injury attorney as soon as possible after your injury to begin the process.
How Working with a Bushwick Personal Injury Attorney Can Benefit Your Case
The weeks and months after an accident are challenging. You may feel as if your world was turned upside down as you dealt with the physical and emotional injuries from the traumatic event. The legal team at Hach & Rose, LLP wants you to know we are here to fight for you.
Choosing the right attorney to protect your rights and fight for fair compensation is important. You might feel that all attorneys are equally skilled. Yet, like other professionals, attorneys have varying abilities, experience, and success levels. Your selection can significantly impact the outcome of negotiations with an insurance company or legal action in court.
Not long after an accident, the at-fault party's insurance company may send an insurance adjuster to ask questions about the accident or to offer you a settlement. Although the insurance adjuster may act like they want to be a friend of the victim, their goal is to gather evidence to disprove your claim.
Insurance adjusters are skilled negotiators representing the insurance company's financial interest. You should have someone representing your financial interest, too. When the insurance company notices they are dealing directly with the victim, they may delay settling a claim in the hope that you will become discouraged and accept a lowball offer.
The case may get delayed so long that it goes beyond the statute of limitations deadline for filing a lawsuit. The process of recovering compensation, or damages, for your injuries and losses, is not often simple. You may be hospitalized or unable to leave home because of accident-related injuries. Working with skilled and experienced attorneys who will fight to protect your rights is important.
Contact us to find out how we can help.
Type of Cases Our Bushwick Personal Injury Attorneys Handle
After an injury caused by someone else's negligent behavior, you want an attorney with experience in your type of accident and injury. Slight variations in case law can make the difference between successfully recovering fair damages or not. Our legal team is skilled in the following areas:
Common Injuries from Accidents
Accidents can cause several types of injuries. While some are immediately obvious, others can take weeks to show up. You may experience physical, emotional, mental, and or psychological injury. Medical attention will document your injuries and demonstrate your interest in maintaining your health. We represent clients who have experienced injuries that include:
Types of Compensation Available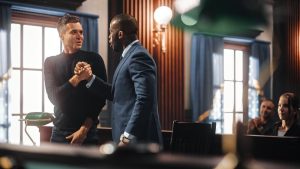 After an accident that was not your fault, you may be entitled to several types of compensation. These normally fall under the category of economic or non-economic damages. Economic damages are compensation for objectively verifiable financial costs for which you can usually produce a receipt. These expenses include medical expenses, lost wages, future earnings, and property damage.
Non-economic damages are compensation for subjective losses for which you may not be able to produce a receipt. These losses can include emotional pain and suffering, emotional distress, loss of companionship, and loss of consortium.
Reclaim Your Life After an Accident
After an accident, you are likely facing uncertainty and a long list of things to do. The added doctor's visits, pain, and medical costs greatly demand your time and finances. In the short term, this can lead to mounting bills you cannot pay.
An accident can also leave you with emotional and mental scars that are not visible from the outside. You may feel as though your life is out of control. By working with an experienced Bushwick, New York, injury attorney, you might find the accident does not have to ruin your life. You can reclaim control and significantly impact your future when you work with us.
Call the Bushwick Personal Injury Attorneys of Hach & Rose, LLP Today to Schedule a Free Consultation
If you were injured in an accident that wasn't your fault, call Hach & Rose, LLP or contact us online to schedule a free consultation. Our attorneys are aggressive negotiators and skilled litigators with the goal of protecting your rights and fighting for fair compensation on your behalf. It's our mission to fight for you inside and outside the courtroom.
We believe you should spend energy recovering from your accident-related injuries and leave the negotiation and litigation to us. Call our office today at (212) 779-0057 or contact us online to schedule your free consultation. You will meet with an experienced attorney to review your case and advise you on your next best steps.