New York Lawyers for Loss of Limb in a Car Accident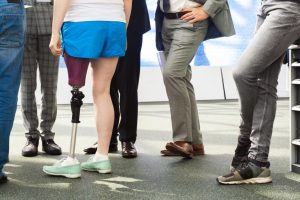 Were you involved in a car accident caused by someone else's negligence? Did you lose a limb in the collision or require amputation surgery? If so, contact Hach & Rose, LLP to discuss your legal options. We could help you hold the at-fault party liable and seek the compensation you need for your recovery.
Losing a limb in a car crash can be a traumatic experience. When two vehicles collide, the forces placed on the body are extreme and violent. The body can't withstand the sudden shift in momentum or blunt force trauma from the steering wheel, shattered glass, or flying debris. A leg could become trapped beneath the crushed metal, or a large shrapnel could sever an arm.
At Hach & Rose, LLP, we understand the devastation of losing a limb from a car wreck. Emergency surgery is required to repair the damage and stop the bleeding. If the surgeon can't reattach the limb, you'll have various challenges with learning to walk, drive, and perform basic tasks again without that body part. Many people suffer long-term psychological trauma from what they go through and never fully heal.
For a free consultation to learn more about what the New York car accident lawyers of Hach & Rose, LLP can do for you, call us today at (212) 779-0057.
How Loss of Limb Occurs in Car Accidents
Severed limbs often result when an object penetrates the skin, bone, and tissue in the arm, leg, or another body part. When two cars crash into each other, the impact can send debris flying everywhere. A sharp piece of glass or metal can cut through a person's body at a high velocity, amputating a limb.
A person can lose two limbs during a car crash – the arm or leg. Loss of a limb can be partial or total. Depending on the body part affected and where the amputation occurs, there are multiple types.
Common amputation injuries of the leg include:
Below the knee – Loss of the area of the leg below the knee
Transfemoral – Loss of part of the leg above the knee
Hip disarticulation – Loss of the entire leg below the hip joint
Hemipelvectomy – Loss of the whole leg, including part of the pelvis
Common amputation injuries of the arm include:
Transradial – Loss of part of the arm below the elbow joint
Above the elbow – Loss of the arm above the elbow
Elbow disarticulation – Loss of the forearm at the elbow
Shoulder disarticulation – Loss of the shoulder blade, collar bone, and whole arm
Complications of Loss of Limb in Traumatic Accidents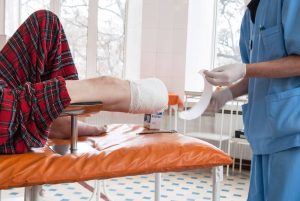 When the occupant of a car suffers significant damage to their arm or leg, part or all of the limb can become severed or torn off entirely. Complications can arise without prompt and adequate medical attention.
The most common complications of losing a limb include:
Blood clots – After surgery to repair damage to the nerves, tendons, tissue, and muscles, recovery can take a long time. The patient sits or lies down for significant periods, increasing the risk of developing blood clots.
Heart attack – The extreme trauma a person experiences from losing a limb in a car crash can lead to a life-threatening heart attack.
Infection can occur at the wound site and travel throughout the body.
Psychological injuries – Post-traumatic stress disorder (PTSD), anxiety, depression, and other mental illness can develop after a catastrophic experience such as an amputation.
You must seek immediate treatment for any injury sustained in a car accident, especially if it involves a severed or lost limb. Depending on the circumstances, a surgeon could reattach the arm or leg or need to amputate it.
Compensation for a Loss of a Limb
When you're injured in a car accident, state law requires you to file a claim with your own auto insurance carrier first. Personal injury protection (PIP) is a form of coverage that compensates for lost wages, medical bills, and other necessary and reasonable expenses.
If you want to pursue compensation from a third-party claim for additional losses suffered in the accident, you must meet the requirements of the serious injury threshold. A serious injury includes at least one of the following:
Significant disfigurement
Permanent loss of use of a body organ, member, system, or function
Dismemberment
A fracture
A significant limitation of the use of a body system or function
Permanent consequential limitation of use of a body member or organ
Medically determined non-permanent injury or impairment preventing the ability to perform daily activities
Death
Loss of a limb is considered a serious injury according to state law. You could file a claim with the at-fault driver's liability insurance company to compensate for your losses, such as:
Lost wages
Lost earning capacity
Scarring or permanent loss of limb
Emotional distress
Loss of enjoyment of life
Unfortunately, a limb loss can lead to the accident victim's death. If your family member died from their injury due to the negligent actions of another driver, you could pursue a wrongful death case. The compensation you receive could compensate you for the various losses you and your family suffered, such as:
Funeral and burial expenses
Lost inheritance
Loss of financial support the deceased might have contributed if they were still alive
Reasonable medical costs related to the loss of a limb
Value of care, parental nurturing, and guidance surviving children can no longer receive
Value of services and support provided to the family
Pain and suffering the deceased experienced due to the loss of a limb and any other accident-related injuries
Filing a Lawsuit for Loss of Limb
You could file a lawsuit if the insurance company denies your claim or offers a low settlement. The statute of limitations for car accident cases is three years. That means you must initiate your lawsuit within three years of the crash date if you want to sue for compensation.
Contact Us
Hach & Rose, LLP has represented injured clients in New York for nearly two decades. We know how to fight insurance companies and aggressively pursue the money owed to accident victims. We will protect your rights and fight for the justice and compensation you deserve when you hire us.
If you suffered a limb loss in a car accident someone else caused, call us at (212) 779-0057 for your free consultation with a dedicated and trusted New York loss of limb injury lawyer.