Have you or someone you love been injured in Central Harlem? Was this injury caused by another party's reckless or negligent behavior? If so, you should immediately contact the attorneys at Hach & Rose, LLP. We may be able to help you get compensation for your losses through a personal injury claim or lawsuit. Call  Our Central Harlem personal injury today at (212) 779-0057 for a free, no-obligation consultation. Let us help you get the compensation you deserve after an accident. Call Hach & Rose, LLP today.
What Is a Personal Injury Claim?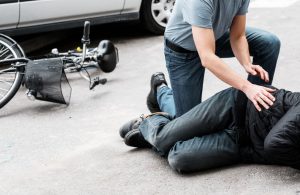 Personal injury (PI) is the law that resolves disputes from one party causing harm or injury to another. Personal injury claims are handled in civil court rather than criminal court. The goal of a personal injury claim is not to convict anyone of a crime but to restore you to the condition you were in before the injury through monetary compensation.
We help our clients obtain this compensation through claims and sometimes PI lawsuits. A PI claim is usually handled like other insurance claims: we demand compensation for your losses from the responsible party's insurance company.
The process usually goes as follows:
After your accident, you ask an attorney to review your case to determine whether you're eligible for compensation. Many factors affect eligibility, such as the availability of compensation, the severity of injuries, and the circumstances leading to the accident. If your attorney believes you have a valid claim, we will sign to represent you and start building your claim.
Your attorney will interview you about your experience. We will listen to your story and gather as many details as possible to support your claim. We will then thoroughly investigate the accident to determine who was at fault and collect evidence to corroborate your story. This evidence may include medical bills, accident reports, surveillance footage, or witness testimony.
Once we gather enough evidence, we will draft and submit a demand letter to the responsible party's insurance company. The insurance company will investigate the accident to determine whether your claim is valid. If it is, they may offer a settlement, a lump sum intended to compensate you for your losses as long as you drop any legal claim against the party responsible for the accident.
Settling your case
If you and your attorney agree on the settlement amount, you collect, and the process ends. Should you not agree or the insurance company doesn't provide adequate compensation, your attorney may recommend filing a lawsuit against the responsible party in New York Civil Court. Your case would then go before a judge, and they would decide whether you should receive compensation for your losses.
The majority of PI claims are handled without a lawsuit. It's in both parties' interest to avoid going to court for several reasons. Court is expensive, and litigation costs can be high for both sides. Also, if a judge rules against you, you collect nothing. Your lawyer may use the lawsuit threat as leverage to negotiate a higher settlement for you.
Types of Personal Injury Claims Our Central Harlem Personal Injury Lawyers  Handle
If you've suffered injury or harm due to another party's carelessness, chances are you're eligible for a PI claim. Some of the various claim types we handle include the following:
Why Do I Need a Lawyer for My Injury Claim?
Hiring an attorney is necessary to make the claims process more manageable. Building a valid claim and gathering the evidence to support it is a laborious task, and trying to handle it without the help of a lawyer can quickly become overwhelming. Not hiring a lawyer may also lower the compensation you may obtain.
Your Hach & Rose, LLP lawyer will handle all the work, so you don't have to. We will investigate your accident, gather the evidence needed to support your claim and act as your representative to anyone requesting information about your case. Our skills, connections, and experience with PI law make these tasks routine for us.
We can help you get more compensation. Understanding how damages work is crucial in PI claims. Damages are the losses you sustained due to the accident. Some damages are tangible and easy to tally, while others are not. Your attorney will help ensure you're demanding compensation that makes up for all your losses, not just the visible ones.
Insurance companies work hard to deny or reduce payment on claims to protect their bottom line. They will use underhanded or even dishonest methods to convince you not to hire an attorney or accept a settlement that is less than your accident is worth. Your attorney is also your chief negotiator. We will do everything we can to protect your rights, secure the maximum possible payout from the insurance company, and keep them from taking advantage of your inexperience.
With over 100 years of combined experience across our team of legal professionals, we have the skills and knowledge to get the outcomes our clients demand while providing personalized, individual service.
We know what it means to be injured in Central Harlem because we've dealt with almost every injury imaginable. We've seen it all, from slip and fall accidents to multi-million dollar lawsuits, and we understand the strain an accidental or malicious injury puts on a family. We genuinely want to provide the support our clients need to weather the storm. Head to our Testimonials page to learn more.
You'll pay no fee for our services unless we successfully get you the compensation you need. If we fail, we don't get paid. We're good at what we do. We've obtained over $400 million in settlements and awards for our clients. We're ready to go to work for you.
Call the Central Harlem Personal Injury Lawyers of Hach & Rose, LLP Today
If a negligent or careless person injured you or a loved one in Central Harlem, call Hach & Rose, LLP today. We only take payment if we are successful, and the first consultation is free, so there's nothing to lose. Call (212) 779-0057 today, and let us help you get back on your feet after an injury.