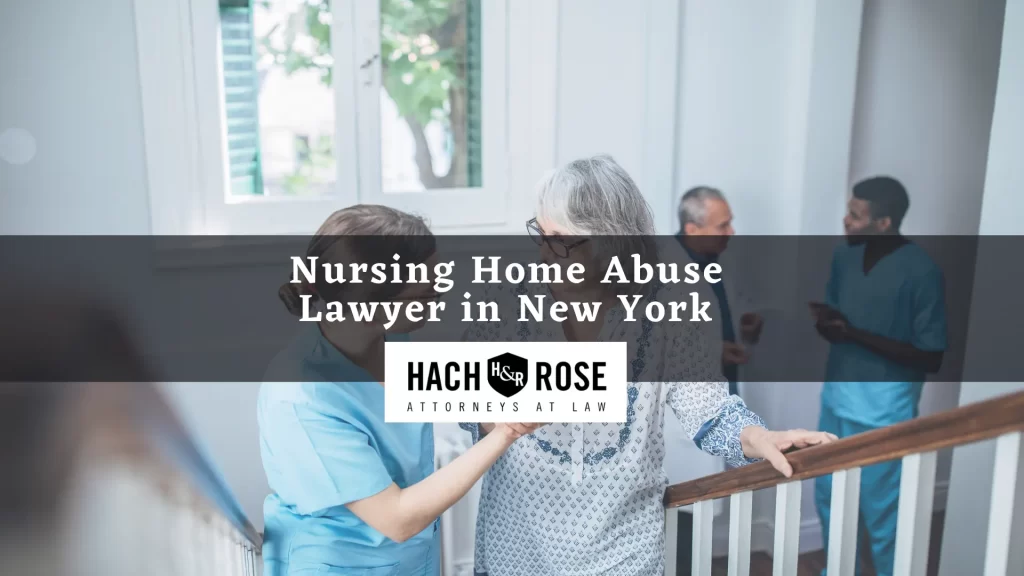 Choosing to place a loved one in the care of a nursing home is often time-consuming and difficult. You will do your best to find a location that will provide an enriching environment and quality care you can't provide alone. Unfortunately, many nursing homes across the country still face significant cases of nursing home abuse and neglect, as these locations create environments that leave the elderly vulnerable to their caretakers. At Hach & Rose, LLP, we take nursing home abuse seriously. We will fight for the justice your loved one deserves so you and your family can move forward.
According to statistics collected by the World Health Organization, roughly one in six people over the age of 60 has experienced abuse in a community setting. Studies suggest that the abuse rate in institutions like nursing homes is even higher. Even when the consequences are not fatal, nursing home negligence robs victims of their dignity and sense of security. If your loved one has suffered abuse or other indignities in a nursing home, contact the New York nursing home abuse lawyers of Hach & Rose, LLP at (212) 779-0057 today.
Why Hire Hach & Rose, LLP?
The Hach & Rose, LLP abuse and neglect attorneys have well over 100 years of combined legal experience. We are among the top-rated attorneys in New York and, together, have been selected for the New York Super Lawyers list, the New York Super Lawyers Rising Stars list, the Top 40 under 40 trial attorneys list, and have also been named to the elite Multi-Million Dollar Advocates Forum. We have built an excellent reputation and helped hundreds of clients recover significant damages through successful settlements and verdicts.
It's important to know that federal and state laws protect a resident's rights. In fact, New York public health laws have specific provisions protecting nursing home residents from abuse and neglect. Our knowledge and understanding of these laws allow us to approach each case with a strategy that serves our client's interests and reaches their legal goals.
We can help you recover compensation for medical costs, pain and suffering, and loss of quality of life. You and your family should not be financially responsible for the associated costs of nursing home abuse. We will help you hold the facility or staff member accountable for their actions.
Follow These Steps If You Suspect Your Loved One Is the Victim of Nursing Home Abuse
If your family member shows signs of abuse or neglect, don't hesitate to act. You should initiate a legal case immediately to protect their rights and ensure you don't miss any deadlines. Follow the steps below if you plan on filing a claim or lawsuit for financial compensation for your loved one's losses:
Transfer your loved one to another nursing home or have them admitted to the hospital. You want to ensure their future safety and adequate treatment of injuries. If necessary, move them in with a family member while dealing with your legal case.
Request resident and medical records – Obtain copies of all records associated with the case, including records from the nursing home and medical documentation of their treatment.
Keep detailed notes – Track any possible signs of abuse and neglect you notice toward your family member, including the severity and frequency of injuries. Signs of abuse and neglect may vary widely, including bedsores, bruises, cuts, medication errors, poor nutrition, and unclean rooms. Emotional signs of abuse and neglect may include withdrawal from social interactions, depression, and sudden behavior changes. Experienced attorneys can help you determine if signs you're seeing could indicate abuse or neglect.
Take pictures – Photos of visible injuries could be useful evidence in your case. You should also take pictures of the living conditions. For example, if someone from maintenance failed to repair a damaged handrail that caused a fall, having evidence could improve your chance of recovering compensation.
Call the New York State Department of Health – File an official complaint with the New York State Department of Health, which may be used as evidence in your case. The health department will investigate the complaint. They will potentially visit the facility, conduct interviews, review records, and, if warranted, make a citation against the nursing home.
Call an attorney – The abuse and neglect attorneys at Hach & Rose, LLP strongly believe that every nursing facility resident has a legal right to a safe environment. Our attorneys will help clarify the steps needed to protect your loved one, from learning to recognize the signs of abuse and neglect to contacting the proper authorities and providing a clear assessment of your case. The sooner you contact our attorneys, the sooner we can begin collecting evidence to make a strong case against all potentially responsible parties, including the nursing home and staff members.
How Hach & Rose, LLP Will Handle the Investigation
Our New York nursing home abuse attorneys have helped many clients in situations like yours get the justice and accountability they deserve. When you hire us, we will review all the information you provide and investigate your allegations.
First, we will need to establish who was at fault. Just because a nurse, resident, or another party abused your relative doesn't necessarily mean they are the only person to blame. The nursing facility could also bear liability if they negligently hired an unqualified employee or knew about the abuse but did nothing to stop it.
 While investigating your case, we will obtain relevant evidence proving abuse occurred, who the perpetrator was, and what injuries your loved one sustained. Some of the evidence we will collect includes:
Police/incident report

Statements from witnesses

Patient records

Hospital and treating physician records

Billing statements, invoices, prescriptions, and other costs

Policies and procedures for the hiring and training of nurses

Photos of injuries and conditions at the nursing home

Security video footage of the incident

Employee records

Maintenance and repair reports

Incidents of reported abuse to other residents
Once we have this information, we will build a compelling case and pursue compensation from the liable parties. This process involves the following steps.
Step 1

– Send the demand letter. We will explain our allegations to the liable parties and demand they compensate you accordingly.

Step 2

– Negotiate a settlement. If the liable parties do not acquiesce to our initial demand, we will start discussing a compromise figure. This process could involve mediation to facilitate negotiations.

Step 3

– Go to court. Sometimes, liable parties refuse to offer a fair settlement. If this happens, we will not hesitate to take them to court and put our argument before a judge and jury.
Our legal team won't allow the nursing home to get away with what they have done to your loved one. The abuse of a vulnerable person is unforgivable and should never have happened. You can count on Hach & Rose, LLP and our dedicated New York nursing home abuse lawyers to build a strong case aimed at getting the results you deserve.
Compensation Available for Victims of Nursing Home Abuse
When someone becomes the victim of abuse, they often suffer physical, emotional, and financial losses. These losses are known as damages. They include economic damages, which refer to actual expenses, and noneconomic damages, which include the physical and emotional pain and suffering caused by an injury.
The damages you can pursue in a nursing home abuse case include the following:
Past and future medical bills
Out-of-pocket expenses
Emotional distress
Pain and suffering
Loss of enjoyment of life
Permanent disfigurement or disability
Loss of consortium (only applicable to spouses)
The compensation you receive from an insurance company, or jury will depend on various contributing factors. Hach & Rose, LLP will review those factors to determine a fair value for your loved one's total damages. They could include the following:
Type of injury and how severe it is
Duration of necessary medical treatment
Total expenses incurred
Development of disability, impairment, or permanent medical condition from the abuse
Whether sufficient evidence proving fault exists
Effect of the Incident on Quality of Life
Estimated cost of future medical care
Length of the recovery period
Emotional or psychological trauma, such as post-traumatic stress disorder (PTSD) or anxiety
Coverage available on the facility's insurance policies
Insurance companies are notorious for denying claims or providing lowball settlement offers. They will not be on your side throughout the legal process. We will communicate with the insurance adjuster on your behalf and aggressively pursue the compensation your family member deserves. We won't allow them to exploit you or violate your rights. If they refuse to settle for an amount we believe is fair, we are fully prepared to take your case to court.
Most Common Causes of Nursing Home Abuse
The cause of abuse and neglect will depend on multiple factors, such as the facility's procedures, nurses' qualifications, maintenance schedules, and available resources to provide adequate care. When a resident sustains injuries, the employee or nursing home could face legal ramifications depending on what led to the abuse.
The most common causes of abuse in nursing homes include:
Understaffing – One of the most common reasons for abuse and neglect. Nurses and other workers must take on extra responsibilities to complete their tasks, often leading to extra hours, exhaustion, and frustration that causes abuse.
Inadequate training and supervision – Management should train new employees on policies and procedures to ensure every resident receives an adequate standard of care. Failure to do so could result in staff members cutting corners or making an error that leads to injuries.
Unqualified or inexperienced employees – Nurses must have the experience, qualifications, and education to provide healthcare and assist each patient. Understaffed facilities will hire whoever is available without checking on their experience.
Underpaid staff – Nurses who don't make fair wages might take out their anger on their patients. They might feel their work isn't appreciated, leading to inadequate care.
Negligent hiring practices – It's crucial that nursing facilities perform thorough background checks on all new employees to ensure proper licensing, qualifications, and experience. They should also check for a criminal background or prior instances of abuse.
This list doesn't include the potential causes of nursing home abuse and neglect. If there was another reason that your loved one suffered physical or emotional harm, contact Hach & Rose, LLP. We will review the case and determine if the facility or an employee should be liable.
Nursing Home Abuse Video FAQs
Most Common Types of Nursing Home Abuse
When you think of abuse, you probably think of the physical aspects. However, physical abuse is not the only form of abuse that occurs in nursing homes. Staff members, nurses, and other residents could abuse your loved one emotionally, financially, or sexually.
The most common types of nursing home abuse are:
Physical abuse – Using force against another person, causing an injury or physical pain. Kicking, punching, slapping, shaking, and shoving could result in severe injuries, such as broken bones, dislocated shoulders, and traumatic brain injury.
Emotional abuse – Inflicting psychological pain, distress, or anguish through verbal and nonverbal actions. Common examples include yelling, humiliating, intimidating, and harassing.
Sexual abuse – Use of force, coercion, or threats to engage in non-consensual sexual contact. Warning signs are difficult to notice and often include bruising around the genitals and thighs, trouble walking or sitting, and emotional withdrawal.
Financial exploitation – Illegal or improper use of someone's assets, money, or personal property. Perpetrators might exploit a resident by forging their signature on a financial document, using credit cards without permission, or tricking them into signing over a will or power of attorney.
Neglect – Failure to provide the victim with basic needs. This can result in malnutrition, dehydration, bedsores, severe conditions, and injuries.
Abandonment – Desertion of a resident by a person who assumed responsibility for providing medical care. Leaving an immobile patient unattended for long periods, failing to administer necessary medication, and ignoring a patient's call for help are all examples of abandonment.
If you believe your loved one has become the victim of abuse, Hach & Rose, LLP will review the evidence to determine if you have a case we can pursue.
Common Injuries Suffered from Nursing Home Abuse
The injuries sustained in a nursing home will depend on the type of abuse that occurred. Some injuries will heal with proper medical treatment, while others result in long-term disabilities or medical conditions. The most common injuries that could indicate nursing home abuse include:
Broken or fractured bones
Concussions
Internal bleeding and organ failure
Infections
Tooth loss
Asphyxiation
Burns
Cognitive impairments
Lacerations, bruises, and scratches
Dehydration and malnutrition
Loss of vision or hearing
Depression, anxiety, and other psychological injuries
When someone you love requires ongoing medical care, the cost can cause significant financial strain. Some severe injuries need surgery or months of physical therapy to heal. Hospital and physician bills are expensive, and you should not have to pay out of pocket for any of them. The at-fault party should provide the necessary compensation so you can afford all the damages your family member incurred at the hands of someone else.
% of reported elder abuse by type
How Much Does A Nursing Home Abuse Attorney Charge In Legal Fees?
Hach & Rose, LLP works on a contingency fee basis. That means we do not charge upfront legal fees or costs when we take on nursing home abuse cases. We won't expect our fees unless we win a settlement from the insurance company or reach a favorable jury verdict in a lawsuit. You won't have to pay us if we lose your case.
We also provide initial consultations for free. There's no risk in speaking with us about your case and receiving the advice you need to make an informed decision.
Body parts bruised from physical abuse
New York Laws Associated with Nursing Home Abuse Cases
State and federal laws regulate the operation of nursing homes to ensure the proper care, health, safety, and well-being of all residents. That includes the size of the facility, the number of beds they must provide, and the licensing they must hold. Staff members are also responsible for following certain regulations when interacting with patients, administering medical care, and carrying out their duties.
There are rights afforded to every nursing home resident in New York, such as:
Receive information in writing about services and fees before moving into the facility
Have respect, dignity, and a comfortable living environment
Freedom from being restrained
Ability to choose activities, schedules, and other preferences
Freedom from suffering all types of abuse
Freedom to make independent decisions
Access to quality care and treatment without discrimination
Secure storage of money, property, and belongings
Freedom to choose the day and time to have visitors
Complaint procedure that is easy to use
Exercise all rights without fear of retaliation
The Patient Abuse Reporting Law requires all healthcare professionals in nursing homes to report neglect and abuse. The Department of Health must investigate any allegations they receive and issue sanctions against facilities and individuals found guilty. They can also administer sanctions against anyone they discover did not report abuse or neglect.
How to Navigate the Insurance Claims Process
Whether you choose to file a claim alone or with the help of a lawyer, there are critical steps you need to take. Nursing homes and nurses will purchase liability insurance to cover an injured party's damages. Before you file your claim, you must obtain a copy of the appropriate insurance policy. We can review it to determine how much coverage is available and if it will be enough to compensate for your losses.
Evidence is essential in any insurance claim. You will need to provide proof that abuse occurred and resulted in injuries. Hach & Rose, LLP has the resources to locate relevant evidence and request copies of all records and other documentation associated with the case.
If your loved one is still getting treatment, you should ask the doctor for an estimated cost of future treatment. This will be useful in determining how much money you should demand from the insurance company.
File your claim and submit all the evidence you found. The insurance company will review everything and provide a settlement offer. They will likely offer a low amount in an attempt to save money. This is where a New York nursing home abuse lawyer's experience and knowledge will be useful. We won't allow them to violate your family member's rights to adequate compensation. We can file a lawsuit if they still refuse to settle for a fair amount after negotiations or deny the claim altogether.
Nursing Home Abuse Articles
October 2, 2023
Hach & Rose, LLP Partner John Blyth Discusses the Importance of Supervision for People Who Are Fall Risks
According to the Centers for Disease Control and Prevention, nearly half of all traumatic brain injury-related…
Read More
Speak to A Dedicated New York Nursing Home Abuse Lawyer
At Hach & Rose, LLP, we have an experienced legal team that will fight hard to hold the nursing home accountable for the harm they caused. Your loved one should have peace of mind knowing they will have a safe and healthy future ahead of them. We will use our knowledge of state laws and regulations to prove wrongdoing and restore you and your family's financial security. You will not be alone during this devastating experience. We will remain by your side until the very end.If you suspect a nursing home of abuse or neglect, call the New York nursing home abuse attorneys of Hach & Rose, LLP for a free consultation at
(212) 779-0057
or contact us online.
Personal Injury Attorney Testimonials
What Our Clients Say About the Attorneys at Hach & Rose, LLP
"
Excellent lawyers! Top notch!!!
- Becca
"
"
Great lawfirm, with some truly amazing people working. Treat you like family even if that means tough love sometimes. Honest, professional, and thorough. I'll be back if ever needed.
- Thomas Badzio
"
"
I have worked with Ms. Constance Cooper on a number of cases and I have quite literally never met an attorney who gets as invested in a case as Ms. Cooper. She is passionate about getting her clients exactly what they deserve and is willing to put in any amount of time, effort, and research to ensure a case is handled not just with professionalism, but with perfection.
- Katryna Spearman
"
"
Hello folks, I hire this company in 2021 but because It was a hit and run which the company had to find the person (thank goodness I took a picture of the car plate) who did this and everything else it took time. The staff were prompt kept me informed on what was going on with my case. Mr. Rose personally called me quite often within the time frame to advise on the stages of my case which was favorable. I would highly recommended this company for representation you will not be disappointed!
- Carmen Horton
"
"
- Ronit Levin Delgado
"
"
- Different DEP Management, LLC
"
"
Amazing group. Will fight for you.
- Jennifer C
"
"
Great Service, Recommended.
- Pedro Caquias
"
"
A Very Great Law Firm Thank You "Jon Connery"
- Alex Phill
"
"
Everything was handled incredibly professionally and all expectations were more than exceeded.
- Justin Parker
"
"
Had the greatest experience with these guys. They're honest lawyers, a rare find in NYC.
- J Rozen
"
"
GREAT LAWYERS they REALLY work for they're clients. Would HIGHLY RECOMMEND for anyone who needs representation.
- DYCKMAN DREW
"
"
Helpful during the entire process, and Very informative. Helped through entire process and answered any questions I had!
- Alejandro Echeverri
"
"
This law firm is the best they are customer service oriented, they treat their clients like gold
- Lani Lapkin
"
"
I will keep it simple ,great law firm, I truly recommend them,
- pat fludd
"
"
Mike Rose is a very trustworthy person. Can't think of anybody I'd prefer to represent me.
- Marc DeGirolami
"
"
Hach and Rose was very professional in helping me handle my legal issues. Nothing was ever too difficult for them. Thanks guys!
- Stefanie Settle
"
"
Hach and Rose was very professional in helping me handle my legal issues. Nothing was ever too difficult for them. Thanks guys!
- Stefanie Settle
"
"
unbelievable team of lawyers who made my settlement as easy and smooth as possible. I definitely would recommend this firm.
- Steven Medina
"
"
Very nice people to deal with and Dave was very easy to work with he did a great job on my case.
- greg jardine
"
"
Wonderful staff! Really respectful, nice, and honest attorneys. The waiting room always smells amazing!
- Marianna Krupitsky
"
"
Professional, Caring and Honest David Chevri was my Lawyer and at no point did he not answer my questions or concerns I would highly Recommend Hach & Rose to anyone
- daniel moore
"