What is No-Fault Insurance in New York?
New York State is a No-Fault state. No-Fault insurance is provided through every automobile policy issued in the state of New York to cover your medical expenses and lost wages resulting from a motor vehicle accident.
Even with private health insurance, you must use No-Fault insurance when involved in a motor vehicle accident. New York requires every insured vehicle to carry a No-Fault policy with a minimum of $50,000 to cover medical expenses, lost wages, and other benefits regardless of who is at fault for an accident.
Every motor vehicle which is insured in the state of New York carries a policy of No-Fault insurance. You are covered by the insurance of the motor vehicle you are operating or riding as a passenger in when the accident occurred if you are involved in a motor vehicle accident and require medical treatment. If you are a pedestrian or bicyclist, you are covered by the insurance of the motor vehicle that hit you. Motorcyclists are excluded from no-fault benefits.
Who is at fault for the accident does not matter. As long as the injuries arise from using or operating a motor vehicle, you are eligible for No-Fault insurance coverage.
When you are involved in a motor vehicle accident in the state of New York, you should always go to a hospital. Your medical bills will be covered by No-Fault insurance.
No-Fault can also cover a portion of your lost wages if you cannot work for a period of time following the motor vehicle accident. No-Fault will pay 80% of your monthly wages, up to $2,000 monthly.
How do I Qualify for No-Fault Insurance?
There are certain requirements for qualifying for New York No-Fault benefits:
The accident occurred in the state of New York
The injured party is either the driver or passenger of an insured vehicle, a bicyclist, or a pedestrian struck by the vehicle.
The vehicle is registered in New York.
The vehicle is covered by New York's No-Fault Law (cars, trucks, taxis, buses, etc.)
The vehicle's insurance policy is either offered in New York or issued by a company licensed to conduct business in New York.
Who Does Not Qualify?
There are exclusions to those who may receive No-Fault benefits. The most commonly excluded are:
Notify the Insurance Company
You must first notify the relevant insurance provider if you are injured in an auto accident. Typically that's the driver's insurance provider. If you are the vehicle's driver, inform the insurance company of any injured passengers. Injured pedestrians and bicyclists must call the striking vehicle's insurance company to receive no-fault benefits. If you are a passenger, pedestrian, or bicyclist and you or anyone in your home owns an insured vehicle, you should also notify that insurance company since you might be eligible for further coverage.
One thing you should keep in mind is what you say to the insurance company, whether it's your company or the other side's. Representatives from insurance companies act in favor of their company and intend to limit their exposure and liability for your injuries as much as possible. It is very common for injuries caused by a crash to manifest themselves days or even weeks following the accident. For this reason, you must get evaluated by a doctor and contact an attorney before speaking with any insurance companies.
Is there a time limit to apply for No-Fault?
You must file a No-Fault application within 30 days or a reasonable time thereafter. You should do so if you can file your No-Fault application within 30 days. There is a limited set of circumstances where you will be allowed to file the application after the expiration of the 30-day period.
Exceptions to the 30-day rule include being incapacitated in the hospital for 30 days. Or if you could not obtain the insurance information for 30 days, despite trying to do so.
You must be very careful as insurance carriers rarely accept a No-Fault application after the expiration of the 30-day period. As a rule of thumb, you must file within the 30 days following the accident. Insurance companies can deny your claim if they do not believe your excuse for failing to submit the application within 30 days is reasonable.
Medical bills must be submitted within 45 days of treatment. Claims for lost wages must be submitted within 90 days.
Where do I find the information I need?
Insurance information can be found on the Police Accident Report. New York State Police Crash Reports have a section for each vehicle involved in the motor vehicle accident. There is a small box marked Ins. Code where the officer will indicate a code to identify the insurance carrier. These codes can be found on this website.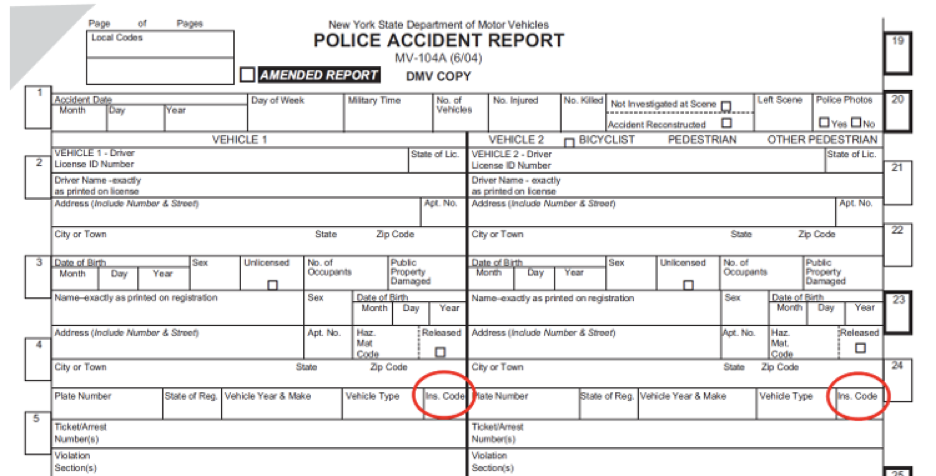 You must complete the No-Fault application and mail it back to the insurance company. You can find the application here. Always keep a copy of your completed No-Fault application for your records.
There are many pitfalls in filling out the application, so consulting an attorney can be helpful. If you have been involved in a motor vehicle accident, we recommend contacting a personal injury attorney to ask for help filling out this application.
How will the No-Fault Insurance Company Receive My Medical Bills?
When you visit a medical professional or receive a medical bill from a medical professional for treatment in connection with a motor vehicle accident, you must take the following steps:
When you visit a medical office, you must provide them with the insurance carrier's name and the claim number associated with the claim. The medical professional will ask you to sign an assignment of benefits form. Once you sign the assignment of benefits form, the medical provider is responsible for submitting medical bills in connection with your treatment. Even if you don't have all the information, always give the medical office what you have.
If you receive a medical bill, you should call the medical provider immediately and tell them that this treatment was connected to a motor vehicle accident. Simply tell them, "This is a No-Fault claim." You should provide them with the insurance information, claim number, and insurance adjuster information (if you know it). Also, you should call the insurance company and tell them you received a bill. You should mail, email, or fax the medical bill to the insurance carrier to ensure that they receive it in a timely manner. Keep a record of all bills you submit.
If you retain an attorney in connection with your accident, the attorney will help you ensure that your bills are submitted and paid promptly.
How do I Submit a Claim for Lost Wages in a No-Fault Application?
To submit a claim for lost wages, you will need to make sure that the claim is submitted no later than 90 days after the date you missed time from work. This is in addition to your No-Fault application.
You must submit three separate forms to the insurance carrier to collect lost wages. The first form is a DB 450, which the injured party fills out. That form can be found here.
Your employer will be required to submit an NF-6 form to verify your wages and employment and the time missed from work. The NF-6 form can be found here. Often, the insurance carrier will require that the NF-6 form be mailed directly from your employer to the insurance carrier.
If you are self-employed, you will instead submit an NF-7 form, found here.
Finally, your medical provider must submit a disability note verifying that a medical professional has stated that you cannot complete your work-related duties. The disability note must be updated every 30 days to continue receiving lost wage payments through No-Fault. Because of this, it is critical to talk to your doctor about your ability or inability to return to work.
What is an Independent Medical Examination (IME)?
When you receive medical benefits through No-Fault insurance, you must attend periodic medical examinations with a medical provider designated by the insurance carrier.
The insurance company hires a doctor to perform the exam to determine the severity of the injury, whether further medical treatment is required, whether you can return to work, etc. The examination is short (about 3-10 minutes), and the doctor will ask you to move your body to measure your range of motion. If the doctor determines that your range of motion is within a normal range, he could conclude that you no longer need medical treatment.
While this may sound fair and reasonable, it can be anything but. The insurance companies pay these doctors, and they are paid well. To keep receiving these lucrative referrals from insurance companies, these doctors are incentivized to make the insurance companies happy. Insurance companies are happy when they minimize or deny a claim, and IMEs are their means to do so; if their doctor decides you no longer require medical treatment, insurance companies can deny medical expenses coverage.
It is very important to attend the IME. If you fail to appear for the IME and reschedule it, the insurance company has the right to terminate your benefits, and you may become financially responsible for your outstanding medical bills.
If it is determined that you do not need further treatment, you will receive a form known as a "Denial of Benefits." The "Denial of Benefits" will provide you with a copy of the medical examination and the date your benefits will be terminated. The cutoff date is the last date for the carrier to pay for medical treatment and lost wages. A "Denial of Benefits" may apply to a certain benefit or type of treatment but may not apply to other benefits.
You should discuss this with your attorney and medical provider if you receive a denial. There are legal options your attorney and medical provider have to force the insurance company to continue payment.
How to Act During an IME
You must remember in an IME; the insurance company hires the doctor. They can look for an opportunity to downplay your injuries so the insurance company can deny your claim and stop paying for medical benefits. There is no physician-patient relationship, which means anything you say and do can be held against you. If you are able, you should bring a family member or friend with you and have them take notes on what is discussed and keep track of the time to help avoid and resolve any discrepancies. To protect yourself and your medical benefits, you should talk with a Personal Injury attorney before attending an IME.
What is an Examination Under Oath (EUO)?
When you use No-Fault insurance to pay for medical treatment and lost wages, the insurance carrier can conduct an examination under oath to investigate the claim (EUO). The EUO is a question-and-answer session between an attorney representing the carrier and the claimant. The insurance carrier can ask you a wide array of questions. The topics can include how the accident happened, the mechanism of injury, the specific medical treatment you received, and many others.
If you do not attend this examination, your benefits will be terminated, and no bills will be paid. Refusal to respond to certain questions at this examination can also lead to a denial of benefits.
If you have a lawsuit pending in connection with the motor vehicle accident, defendants have a right to see the testimony (or transcript) from your EUO. Your responses at the EUO are very important and can affect your lawsuit. It is imperative to be represented by an attorney at this proceeding.
Can I use my Private Health Insurance after a Motor Vehicle Accident?
If you have exhausted the No-Fault insurance policy, meaning you have spent all of the money under the policy, your private health insurance policy must provide payment for ongoing medical treatment.
In New York State, the minimum amount of a no-fault insurance policy is fifty thousand ($50,000) dollars. In some circumstances, auto policies carry more than $50,000 in No-Fault coverage.
Once you have used the entire policy amount, you will receive a denial that states that the no-fault policy limits have been exhausted. When that occurs, you should give your medical provider a copy of your private insurance information and direct them to bill your private carrier. The private carrier will require a copy of the denial of benefits based on exhaustion. They will then continue paying the bills upon receipt of the denial.
When you receive No-Fault benefits, the automobile insurance company can conduct Independent Medical Exams (IMEs) to determine if benefits are necessary. If the independent doctor (who is not really independent) determines benefits are unnecessary, your coverage can be cut off.
You can also use private health insurance when the doctor conducting an independent medical examination determines that you do not require further medical treatment and no-fault refuses to pay for further treatment. Always listen to the advice of your treating physician. If your physician prescribes medical treatment after the IME doctor denies it, you should continue with your medical treatment.
You must be careful when using your private health insurance to pay for medical treatment related to a motor vehicle accident. You may be responsible to reimburse your private health insurance carrier for any payments made in connection with your medical treatment if you collect money from the at-fault party. Consult with a car accident attorney to ensure you do not owe any repayment if you have used your private health insurance. Contact an attorney of Hach & Rose, LLP at (212) 779-0057 for a free consultation.