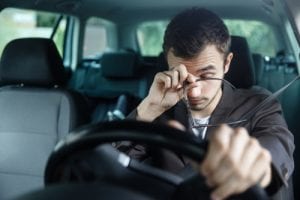 According to a 2016 AAA Foundation for Traffic Safety study, car crashes caused by drowsy drivers are eight times higher than the previously accepted national estimate. AAA conducted the study by analyzing dashcam footage of 700 average American drivers. Drowsy driving tends to be an underreported cause of car accidents because it can be hard to document and prove.
Jake Nelson, the director of Traffic Safety Advocacy and Research for AAA, said, "Missing just two to three hours of sleep can quadruple your risk for a crash, which is the equivalent of driving drunk." A AAA Foundation survey found that nearly 29% of American drivers recently drove while almost too tired to keep their eyes open.
Being aware that you're overly tired and can't keep your eyes open is important in keeping yourself and others safe on the road. If you notice that you keep drifting from your lane or can't remember the last few miles you have driven, you should pull over and at least take a 20-minute nap. AAA experts say that short-term remedies for sleepiness, like chugging coffee or singing with the windows down, won't outsmart your body's need for sleep.
Still, AAA recommends that drivers always get the recommended 7-8 hours of sleep before getting in the driver's seat, especially if they have a long trip ahead. To avoid driving while drowsy, drivers should try to drive during a time of the day when they're usually alert and avoid eating heavy foods before the drive.
If you are prescribed a medication that makes you drowsy, talk to your doctor about the best times to take it or ask if you can take it before bed.
Contact a New York Drowsy Driving Accident Lawyer
You might be entitled to compensation if you were injured because of a drowsy driver. The New York car accident lawyers of Hach & Rose, LLP will be ready to get you the fair compensation you deserve. Call us at (212) 779-0057 or reach out online to discuss your rights and legal options today.