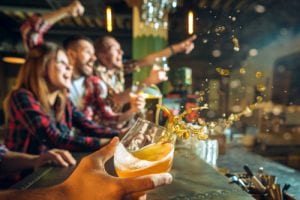 If a drunk driver causes an accident, the victim could be eligible to file a personal injury lawsuit against the drunk driver for the harm they've suffered and damage to their vehicle. But sometimes, there are instances when the injured individual can also file a lawsuit against a third party that provided alcohol to the impaired driver. Keep reading for more information about third-party liability, dram shop laws, and social host liability claims. 
How Dram Shops Incur Third-Party Liability
Under section 11-101 of the New York General Obligations Law, dram shops (establishments that serve liquor) are legally forbidden from serving alcohol to a visibly drunk patron. It is up to the server's discretion to determine whether the patron is substantially intoxicated. But the most obvious signs are a flushed face, slurred speech, uncoordinated movements, and bloodshot eyes. 
If the visibly intoxicated patron leaves the Dram shop and injures another person by physically assaulting or hitting them with their car, the Dram shop could be held at least partially liable. 
Section 11-100 dictates that selling alcohol to people under 21 is illegal. In this case, the vendor unlawfully provided alcohol to someone they had reason to believe was under 21. If the underage drinker left the establishment and injured someone due to their intoxication, then the third party could be held liable. 
How Dram Shop Liability Works
There are three elements to this type of case that must be proven to hold the dram shop liable:
The person who caused the injury was inebriated

The dram shop sold or provided liquor to the intoxicated person

The dram shop also caused or contributed to the person's subsequent drunkenness 
Contact a New York City drunk driving accident attorney
If you have been injured because of the reckless actions of an intoxicated individual, those who overserved them might also be responsible for the harm you've suffered. Over 27,000 people were arrested for driving under the influence in New York in 2017. With so many intoxicated people on the road, severe injury accidents, unfortunately, are quite common. When a drunk driver injures you, or if you've lost a loved one in a tragic crash, call our office at (347) 318-9604 or contact us online to schedule a free case evaluation.