Following a car accident, you will be expected to talk to the other driver or drivers involved. The police that respond to the crash scene. And adjusters from the insurance companies. In all these discussions, you must care about what you say. Certain statements you might make may later come back to adversely impact your rights and options for pursuing a legal compensation claim. Below we have compiled four things you should never say after being involved in a car accident.
"I'm sorry"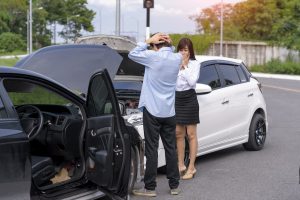 After a car accident, you might inadvertently apologize to the other driver or drivers involved. Even if you don't think you bear any responsibility for causing the accident, saying "I'm sorry" can seem like a way to offer sympathy or empathy to the other driver, especially if their vehicle has been badly damaged or someone in their car was injured.
But you should never offer words of apology after an accident, even if you try to be nice. Your words may later be used in a car accident claim to try to argue that you knew you caused the accident.
"I didn't see you"
Sometimes a driver involved in an accident may blurt out something like "I didn't see you." A driver may say something like this when trying to piece together what happened in the crash. Much like words of apology, trying to offer sympathy after a devastating accident.
Even if you think you bear responsibility for causing an accident because you never saw the other car before the collision, you should avoid discussing what you saw or didn't see in the moments leading up to the crash. You likely don't have all the facts about what happened in the crash minutes after a car accident.
Just because you did not see the other vehicle before the collision does not necessarily mean you caused the crash. The facts may later show that the other driver's actions caused the accident. But saying things like "I didn't see you" may later be offered as evidence that you admitted to fault for the crash.
"I'm not hurt"
The law requires drivers involved in an accident to check on all other parties involved to see if they require medical assistance. But if the other driver or drivers ask you, "Are you okay?" immediately after the crash, you should avoid saying something like "I'm not hurt" or "I'm fine." If you require emergency medical attention, you can ask someone else to call 911. Otherwise, you should refrain from discussing possible injuries you may have suffered.
Even if you aren't feeling pain or other injury symptoms, that does not mean you were not hurt in the accident. Many injuries can take days or even weeks to begin manifesting noticeable symptoms. However, telling others at the crash scene that you were not injured can impact your credibility if you later file a personal injury claim for the car accident. Based on your statements at the scene, insurance companies may try to argue that the injuries you are now claiming were caused by something other than the accident.
"Let's settle this between ourselves"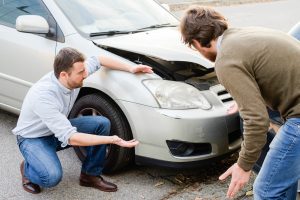 If the car accident you were involved in seems like a minor fender bender, you might want to avoid the time and hassle of calling the police. Or getting the insurance companies involved by simply having you and the other driver agree on fault for the accident and exchange cash to pay for vehicle repairs. But doing this can have serious repercussions.
First, New York law requires that any auto accident that results in more than $1,000 of apparent damage be reported to the police or the DMV. If your accident has this level of damage, not involving the authorities constitutes a crime. Suggesting not to get the authorities or insurance companies involved may later be used as evidence that you knew you caused the accident and wanted to avoid more serious consequences.
In addition, you may later discover that your car sustained more costly damage than you originally thought. Or that you suffered injuries from the crash. By settling with the other driver at the scene, you may have inadvertently given up your rights to pursue a formal car accident claim later.
Contact Hach & Rose, LLP
After you have been involved in a car accident that wasn't your fault, call the New York City car accident lawyers of Hach & Rose, LLP at (212) 779-0057. Or fill out our website's contact form for a free, confidential consultation about your legal rights and options. Let's talk about what our car accident attorneys can do to help you claim compensation for the injuries and losses you may have suffered.