"Sharps" is a term that is often used in the medical field to refer to needlesticks, scalpels, and other medical instruments that are used to penetrate the skin. When these medical instruments are improperly disposed of, they can become a serious biohazard — even a small nick, cut, or puncture wound could have devastating consequences.
This is because used medical instruments can potentially carry several different types of bloodborne pathogens, such as the Human Immunodeficiency Virus (HIV), Hepatitis B Virus (HBV), Hepatitis C Virus (HCV), and more. According to a report from the United States Department of Labor, researchers estimate that "5.6 million workers in the healthcare industry and related occupations are at risk of occupational exposure to bloodborne pathogens."
Anyone who works in or with a medical facility is at risk of sustaining a sharps injury, including medical professionals, custodians, waste management workers, and more. There are several procedures in place for correctly disposing of used medical instruments, and if those procedures are not followed, this could constitute negligent behavior on behalf of several parties. Proper procedures for disposing of and containing sharps include:
Discarding used sharps into their appropriate containers as soon as possible
Disposal containers must be sealable, puncture-proof, and leak-proof on all sides
Disposal containers must be upright, accessible, and regularly emptied
Used sharps must be properly labeled according to OSHA biohazard regulations
Contact a New York Workplace Injury Attorney
Medical facilities and professionals have a legal obligation to properly label and dispose of any materials that may be a potential biohazard. If you or someone you know was hurt due to the improper disposal of a medical instrument, contact Hach & Rose, LLP to discuss your rights and legal options. We will sit down with you to discuss your case when you call (212) 779-0057 or fill out a contact form on our site to schedule a free and confidential consultation.
---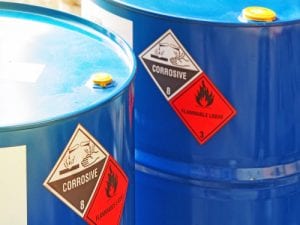 According to a report from the New York State Department of Health, a toxic substance can be defined as any substance that causes "harm [when it] enters or contacts the body." Exposure to toxic substances can result in a number of long-term, life-threatening illnesses — and even fatality. In a 2018 study from the United Nations (UN), researchers estimated that one worker dies from toxic substance exposure every 30 seconds. On a global scale, this amounts to almost 2.8 million worker deaths per year.
Despite the presence of clear laws outlining the obligation that employers have to maintain a reasonably safe work environment, many laborers are still routinely exposed to toxic substances that could have long-term negative effects on their health. According to the UN report, one of the most common illnesses that exposed workers develop is cancer, which amounts to approximately 70% of all diseases in the workplace.
Some of the most common toxic substances that laborers are exposed to are:
Toxic industrial chemicals

Pesticides

Paint

Petroleum products

Radiation

Solvents

Glues

Acids

Caustic substances

Heavy metals like mercury, lead, cadmium, and aluminum
While exposure to some of these listed substances can almost immediately result in negative health effects, it may take years before those effects are discovered. In many tragic cases, workers do not even realize they are sick before it is too late. However, even in these cases, workers — as well as their families and loved ones — deserve their right to pursue legal action.
Contact a New York Toxic Substance Exposure Lawyer
If you or a loved one has developed a long-term, life-threatening illness as a result of being exposed to toxic substances in the workplace, turn to an experienced work injury lawyer to discuss your rights. Our experienced and compassionate attorneys will guide you through the necessary steps to determine liability and get you the compensation you deserve. To discuss the potential merits of legal action in your case, contact our offices by calling (212) 779-0057 today.
---