Posted on Friday, January 17th, 2020 at 2:59 pm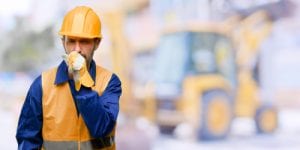 According to the National Heart, Lung, and Blood Institute, occupational asthma is a bigger problem than many people realize. Occupational asthma, also referred to as workplace asthma, develops because of workplace conditions and causes wheezing, shortness of breath, coughing, and chest tightness. It is the most common workplace lung disease in the United States. 
Who is at risk?
The workers who are most at risk of developing occupational asthma are the ones who are exposed to a group of harmful chemicals called isocyanates, according to OSHA. These jobs include:
Car manufacturers

Textile workers

Painters

Printmakers

Furniture manufacturers

Rubber and plastic manufacturers

Electric cable insulators
What are the signs?
Coughing

Wheezing

Chest tightness

Difficulty breathing

Burning of the eyes

Nasal congestion

Runny nose
How to prevent occupational asthma
Employees can work to avoid developing occupational asthma by avoiding exposure to harmful chemicals and allergens when possible, though this may not always be a viable option for every worker. If you notice signs of asthma, such as shortness of breath or wheezing, report it to your employer and get help from your doctor immediately. Occupational asthma is treatable if it is caught early.
Employers can protect their employees from developing occupational asthma by adhering to the safety guidelines developed by OSHA, eliminate harmful allergens and chemicals from the workplace, and offer employee training on how to recognize workplace hazards.
Because occupational asthma is a lung disease that may develop over months or years, a worker may not recognize their symptoms until much later. But occupational asthma is a condition that, if left untreated, could severely impact the worker's quality of life and productivity.
Contact a New York workers' rights lawyer
If you developed occupational asthma as a result of improper working conditions, you may be owed worker's compensation benefits and other forms of compensation. The workplace illness lawyers of Hach & Rose, LLP understand New York labor laws and will help you get the workers' compensation benefits or third-party injury compensation you might be owed. Call us at (347) 318-9604 to schedule your free consultation today.