Top ten most commonly violated OSHA standards
Posted on Wednesday, January 15th, 2020 at 6:35 pm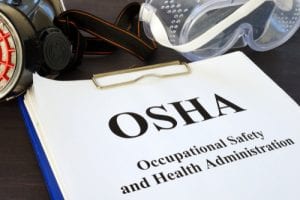 The Occupational Safety and Health Administration, also known as OSHA, dictates certain workplace guidelines and standards that must be met by employers. Of course, employers break these rules and fall short of these standards constantly, which is why there are so many workplace accidents in America.
Each year, OSHA rounds up the standards that employers most commonly violated during the past fiscal year and publishes them. The 2019 list was published in Safety and Health Magazine.
Below is OSHA's top 10 list, which remained basically unchanged from the 2018 list. Numbers 1, 3, 6, and 10 on the list apply specifically to construction sites, while the other items relate to employers in general.
Fall Protection, Standard 1926.501
Hazard Communication, Standard 1910.1200
Scaffolding, Standard 1926.451
Lockout /Tagout, Standard 1910.147
Respiratory Protection, Standard 1910.134
Ladders, Standard 1926.1053
Powered Industrial Trucks, Standard 1910.178
Fall Protection – Training Requirements, Standard 1926.503
Machine Guarding, Standard 1910.212
Eye and Face Protection, Standard 1926.102
Time and again, employers violate the same OSHA standards, putting their employees at risk. According to the U.S. Bureau of Labor Statistics, "There were 2.8 million nonfatal workplace injuries and illnesses reported by private industry employers in 2018." According to the report, construction was the third most-dangerous occupation, following agriculture, fishing, and hunting and mining, quarrying, and oil and gas extraction.
Contact a New York City construction accident attorney
If you have been injured on the worksite because of your employer's carelessness or reckless actions, know that you have a right to compensation. The construction accident attorneys at Hach & Rose, LLP are prepared to represent you and win you the compensation you deserve. We handle scaffolding accidents, crane collapses, unsafe worksite conditions, and more. In the past, we won $13,000,000 for a client who fell from a ladder and suffered a TBI. Let us handle your case so you can focus on your physical and emotional healing. Call our office at (347) 318-9604 to discuss your legal options today.