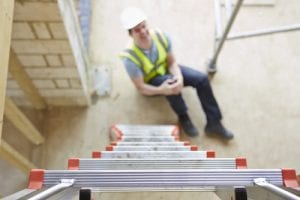 Working on a construction site naturally comes with a significant risk of injury. Though it would benefit the injured construction worker to report the accident, both to get workers' compensation and to push for a safer work environment, many injured workers never report their injuries. In 2013, the Center for Construction Research and Training conducted a survey of 135 construction workers to determine why they don't always report their injuries. At least ¼ of them said they suffered a workplace injury but chose not to report it.
It is important to remember that reporting your injuries will not backfire on you in any way, especially if you hire a personal injury attorney to represent you during the process.
Reasons why construction workers choose not to report workplace injuries
Employees fear retaliation from their employers such as loss of benefits or even loss of their job
Many construction workers consider pain and injury to be a natural part of their job
They didn't want their supervisors or coworkers to view them as weak
Many people do not understand how to fill out or file the paperwork associated with workers' compensation
Undocumented workers often fear deportation or legal repercussions if they report an injury (regardless of immigration status, injured workers will not be deported)
Workers often downplay the severity of their injuries
Workers feel that they cannot afford missing work to go to a doctor, undergo surgery, and take time to recover
Generally speaking, workers have two years to file a workers' compensation claim after the date of their accident. It's important to file a report with your site supervisor as soon as the accident occurs so you can claim compensation and have a paper trail in case you need to go to court later. A personal injury attorney will help you through the process and ensure that your employers don't take advantage of your injury.
Contact a New York construction accident lawyer
If you were injured at a construction site, you are entitled to workers' compensation and may be able to file a civil lawsuit for additional damages. No injured worker should face intimidation or any other roadblock to seeking compensation. Contact a New York construction accident lawyer to discuss your rights and legal options. Our number is (347) 318-9604 or you can reach out to us online 24/7.