While most personal injury claims are settled out of court, you might need to file a lawsuit if negotiations do not end satisfactorily. In the discovery phase of a lawsuit, you will likely have to sit for a deposition. You might have many questions about ensuring that your deposition goes well and keeps your claim as strong as possible. Following a few key guidelines can help you maintain your focus and boost your chances of success.
What Is a Deposition?
A deposition is a part of the pre-trial discovery process in a civil lawsuit. Anyone directly involved in a personal injury case could be required to answer questions under oath from the opposing party's attorney at a specified time and place. How well your deposition goes will depend on your ability to provide the defense lawyer with thorough and accurate information that supports your claims. Your deposition has probably gone well if you can answer "yes" to the following questions.
Did You Know the Facts of the Accident?
Many people feel anxious when facing questions under oath, and it can be easy to forget information you know. You should take time to go over the facts of the accident with your attorney before the interview occurs so that you are thoroughly familiar with the relevant information. As you go into the deposition, you should feel confident enough to communicate:
The date and time of the accident
The location of the accident
Any relevant road and weather conditions in the case of a car accident
Information about other automobiles or equipment involved in the accident
Relevant information from the police report, if applicable
You may find it helpful to know that your lawyer will be present with you during the deposition. They can prepare you in advance to help you answer the questions without inadvertently assuming any liability for the accident.
Were You Able to Communicate Your Medical History Accurately?
You will also need to be able to convey the facts and circumstances of your medical treatment. Become as familiar as possible with:
Your medical records
Your medical bills
The number of times you went to see doctors, specialists, surgeons, etc.
How much money you have spent thus far on your treatments
The pain your injuries have caused
The way your injuries or resulting disabilities have affected your daily life
Were You Familiar with Your Work History?
The defense attorney will ask you questions about your past and current employment. Be prepared to answer questions about:
Your work history for the past ten to 15 years
How much work you have missed due to your injuries
How much money you have lost because of your missed time at work
Did You Tell the Truth?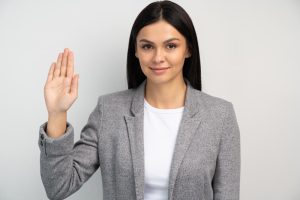 Because you will be under oath, providing true and correct answers to the best of your knowledge is essential. If you have answered the questions honestly, the court will see you as credible, which will benefit your case. On the other hand, if you have been dishonest or exaggerated any aspect of your answers under oath, your lack of credibility may damage your case irreparably.
Keep in mind that the other side's attorneys will have thoroughly researched you and your situation before the deposition. They will know immediately if you are not being honest at any point.
Contact an Experienced New York City Personal Injury Attorney
Suffering injuries in an accident that was not your fault can turn your life upside-down in an instant. In addition to the physical pain, there is also the stress of medical bills, lost income due to missed time at work, and the sense of injustice that another party's negligence has made it impossible to enjoy your life the way you used to. A personal injury claim can help you recover compensation for all these losses.
If your personal injury claim is headed to trial and you will be sitting for a deposition, you need an excellent lawyer on your side. The experienced New York personal injury attorneys of Hach & Rose, LLP will help you through every aspect of your case. Our legal team will work to ensure that you feel as prepared and confident as possible for your deposition. We will focus on fighting for the full and fair compensation you deserve at every step.
Contact us online today or call us at (212) 779-0057 for a free and confidential case review to find out what your legal options are.
Related posts: