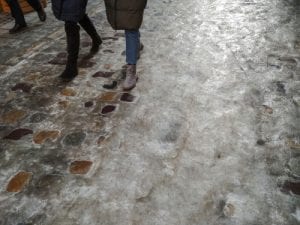 The owner may be liable for your injuries if you fell on someone else's property. Two slip-and-fall laws in New York State will likely apply to your claim. So it is essential to be aware of them.
Slip and fall statute of limitations
As with most other personal injury cases, there is a statute of limitations regarding slip and fall cases. In New York, you must file a claim within three years after the incident, or the court will refuse to hear your case. This applies to a personal injury case, like if you broke your arm after falling, or to property damage, like if your expensive glasses broke because of the fall. Even if you feel confident that your case will quickly and easily settle out of court, giving yourself as much time as possible in case you need to go to court is best.
"Shared fault" rules
New York has "shared fault" rules regarding slip and fall cases. So if you bring a suit against a property owner, they will likely argue that you are also somewhat at fault. The defendant may say that you were on a forbidden part of their property, wearing inappropriate footwear, or going into an obviously dangerous area.
If a jury finds that you were somewhat responsible for your fall, your court reward could be reduced by whatever that percentage is. So if it is determined that you are 30% at fault for the accident, your compensation will be reduced by 30%. Even if your case doesn't go to trial, the property owner's insurance company will likely take into consideration your own role in the accident and offer a settlement based on that estimation.
How to prove fault in a slip and fall case
It can be challenging to prove that a property owner was at fault for your injury because proving fault usually boils down to common sense. To prove that your fall was someone else's fault, you must prove one of the following:
The property owner caused a surface to be slippery, rough, worn down, or otherwise dangerous
The property owner knew that a surface was dangerous and did nothing to repair it
The property owner should have known that a surface was dangerous because another person with common sense would have known and done something to repair it.
It can be challenging to prove what a property owner may or may not have known, so an expert slip-and-fall attorney comes in. Call an experienced New York slip and fall attorney at Hach & Rose, LLP to discuss your rights if you have been an accident victim due to a property owner's negligence.