Slip and fall accidents can happen anywhere, anytime, and to anyone. If you were injured because of someone else's negligence, you deserve to hold that party responsible for the dangerous conditions that caused the accident.  At Hach & Rose, LLP, we are here to defend your rights while you focus on recovering from your slip and fall injuries. Contact us today if you were involved in a slip-and-fall accident on someone's property and need to conduct a slip-and-fall investigation.
When an Adjuster Calls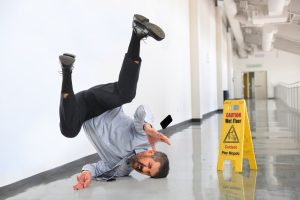 Getting a phone call from an insurance agent is a little like seeing a police car in the rearview mirror. An insurance company aims to pay you as little as possible. Because of this, an insurance agent's goal is to get you to settle for a low offer or admit some fault. Let a skilled attorney speak to any insurance agents on your behalf is essential.
Insurance companies want to resolve cases quickly and with a minimum payout to you. If it seems like the agent is trying to trip you up or get you to confess to something, that's exactly what they are doing. New York follows the "pure" comparative negligence rule in assigning fault in an accident. This means that your percentage of fault reduces your compensation. Although you can still recover some compensation, you won't be able to get all of it.
For instance, suppose your total losses are $50,000. If you are not at fault, you could collect full compensation. But if you are 50% at fault, you can only collect $25,000 of those damages. That would leave you with another $25,000 to pay out of pocket.
The insurer wants you to give them some way to deny all or part of your claim or to give their attorney a way to discount your claim in court.
To avoid that, there are things you should not do during the investigation after your slip and fall accident.
Don't admit fault — It's common to be embarrassed and say things like "I'm so clumsy" after you slip, but you should try not to do that. Don't say anything that puts the blame back on you.
Don't speculate about the reasons for the accident — As humans, we hate to think we don't know everything. Insurance agents use this tendency to catch us making things up. Speculating can be turned against you in court as possible fraud. If you slipped on a puddle on the floor, don't guess how the puddle might have gotten there. Just say you don't know.
Don't minimize your injuries — Don't exaggerate them, either. It's best not to discuss your injuries with an insurance agent. Although we often say, "I'm fine," when someone asks how we're doing, an insurance agent will take it to mean you're recovered and can return to work. On the other hand, overplaying your injuries isn't good either.
Don't label any medical diagnoses, even if the doctor has described your injury to you — If you say something wrong. Insurance companies can use this to deny a claim if it contradicts the doctor's official report. Simply tell the insurance agent they can get their answers from the medical records.
Do not agree to be recorded — You should only be recorded in a sworn deposition with your attorney present. Recorded statements can be used against your testimony later in court.
Do not agree to sign anything, even over the phone — It is not uncommon for the at-fault party to send you a check immediately if you agree not to sue or something similar. Never agree to anything that sounds like a settlement until you consult an attorney.
How We Can Help With Your Slip And Fall Investigation
The best way to avoid concerns with your claim is to retain experienced legal counsel immediately. Once you have a lawyer, the insurance agents and their attorneys must speak to your attorney, and any correspondence will go through your legal team. With the skilled lawyers at Hach & Rose, LLP taking care of the case, all you need to focus on is healing from your injuries.
Contact Hach & Rose, LLP at (212) 779-0057 if you have suffered a slip and fall accident and need good legal representation to pursue the compensation you deserve. Let us handle the insurance companies, their agents, and every case detail for you. We'll fight for your rights so you can get back to your life. Don't hesitate to reach out today.