Preventing Slips, Trips, and Falls in the Workplace
Posted on Monday, December 16th, 2019 at 7:29 pm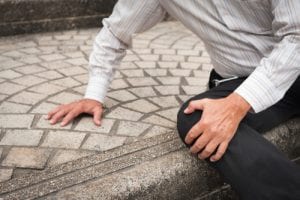 According to the Centers for Disease Control (CDC), falls are the most common workplace injuries suffered by office workers. There are many ways to slip and fall in the office, including unattended spills, exposed cords, snow or ice in walkways or steps, or a wide variety of other reasons.
Some of the most commonly reported causes of workplace trips and falls include:
Slipping on wet floors
Unsecured electrical cords or wires
Loose or worn carpeting
Objects in walkways,
Improper chair use such as using a chair in place of a ladder
Inadequate lighting.
You can avoid slips and falls in the office by doing the following:
Ensure your walkway is clear and being attentive to your surroundings
Close any open drawers or cabinets when you aren't using them
Avoiding stretching to reach something in your chair and stand instead
Report any loose carpeting or electrical cords to make sure they are fixed
Use a step-ladder or ask a co-worker to help you reach something
Contact a New York Workplace Accident Lawyer
Were you hurt in a workplace accident? Did you slip and fall and suffer severe injuries as a result? If so, contact an experienced workplace injury lawyer at Hach & Rose, LLP to discuss the legal options available to you. We'll be ready to help you understand your rights and take the necessary action to get the compensation you need to pay your bills, get the right medical treatment, and get back on your feet. Call us at (212) 779-0057 or reach out to us online today.