Posted on Friday, November 1st, 2019 at 7:12 pm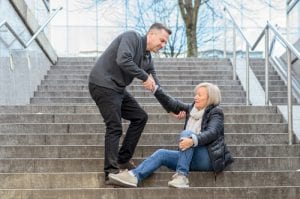 While many people think of slip-and-fall accidents as simple mishaps, these types of accidents can be very costly from both a physical and financial standpoint. According to data from the Centers for Disease Control and Prevention (CDC), millions of older people sustain serious — even fatal — injuries that often render them disabled. From 2007 to 2016, fatalities from slips and falls have steadily increased by 30 percent. Researchers have estimated that if rates continue to rise, then by 2030, there will be seven fall-related deaths every hour.
While it is impossible to reverse the impact of a slip and fall, you can receive financial compensation for your injuries, medical bills, and losses if your accident was the result of another party's negligent actions. If you or a loved one has been involved in a slip-and-fall accident, here are seven steps you can to protect yourself.
Get Medical Treatment
Taking care of your health should be your main priority after a serious slip-and-fall accident. Additionally, you will have your injuries documented by an experienced medical professional who knows what to look for.
Observe the Scene of the Accident
The best time to figure out the cause of the accident is to immediately after it takes place. Was the floor too slippery? Were there walkway obstructions? If you can understand the cause of the accident, then you can find out if there was anything a potentially liable party could have done to prevent it.
Take Photos
If possible, take photos of the accident scene to capture the details of what took place. Photos are incredibly valuable pieces of evidence. Even if you don't know exactly what you're looking for, take as many pictures as necessary. An attorney can help you understand what's important later.
Speak to Witnesses
Witnesses can be crucial in verifying your version of what happened. After the accidents, gather names, contact information, and even a brief statement. An attorney can contact the witnesses you spoke to, and collect an official written statement from each of them.
Write Down What You Remember
Be sure to write down everything you remember about the accident as soon as you possibly can. Over time, memories can fade, and details can become less vivid. Record your injuries, pain, and symptoms in a clear narrative that an attorney can follow later.
Make Official Reports
Making official reports is another way to keep documentation of the accident. In injury cases, it's essential to have as much documentation on hand as possible. Don't embellish or exaggerate, but write down as much detail as you can remember.
Seek Help From an Experienced Attorney
Personal injury cases can be extremely complex, even when they seem relatively clear-cut. An attorney can guide you through the legal processes, and ensure that you don't get taken advantage of. Remember: the defense's goal is to discredit your claim. An experienced personal injury lawyer will be on your side and take every action possible to prevent that from happening.
Contact a New York Personal Injury Lawyer
Hach & Rose, LLP has built a reputation as one of New York's premier injury firms over the past 15 years. We have a consistent history of results in personal injury cases, including getting $3,150,000 for a construction worker who slipped and fell on a construction site. If you or a loved one has been hurt in a slip-and-fall accident because of another party's negligence, our team of experienced attorneys will fight for you to receive the financial compensation you deserve.