Posted on Monday, October 14th, 2019 at 2:27 pm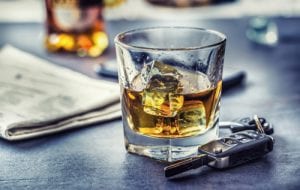 Driving while intoxicated in New York is not a minor crime. Individuals who are arrested and charged with driving while ability impaired by alcohol (DWAI) or driving under the influence (DUI) could face heavy fines, loss of driving privileges, and incarceration, depending on the specifics of their situation. If they cause a severe injury or fatal accident, they could be held civilly liable for the harm and property damage they cause due to their carelessness.
DWAI and DUI are two different crimes in New York, and they are distinguished by the amount of alcohol in the driver's blood. They are:
DWAI – Impairment due to alcohol consumption, but BAC is below .08 percent
DUI – Impairment due to alcohol consumption and BAC is above .08 percent
In New York, it is a crime to operate a motor vehicle while under the influence of any kind of substance or intoxicant that would impede safe driving behavior. This includes all forms of alcohol and drugs–even prescription drugs that are taken irresponsibly. Alcohol, of course, is what most people think about when they hear "DUI," but there are many ways for someone to be charged with a DUI offense. Unfortunately, there are also many ways for them to hurt innocent people before they're stopped.
Injuries Sustained in DWAI and DUI Crashes in New York
Some common injuries sustained in DUI accidents are:
Neck, back, and spine injuries
Internal injuries/bleeding
Whiplash
Cuts and lacerations
Broken bones and fractures
Sadly, accidents involving drivers under the influence of drugs or alcohol often prove to be fatal. These fatalities–when they're not the drivers themselves–can include passengers in the same car, other drivers or passengers, or pedestrians. Pedestrians are put in danger when drivers lose control of their vehicles and swerve onto sidewalks or into cyclists and joggers who are sharing the road.
Road conditions and time of day also affect the level of damage that is sustained in a DUI accident. According to the National Highway Traffic Safety Administration's National Center for Statistics and Analysis, in 2017, 70% of fatal alcohol-related accidents occurred in the dark, and 55% occurred in urban areas. These accidents happened on principal large city/suburban thoroughfares more often than highways. Additionally, certain holidays and times of the year have a higher percentage of fatal crashes in which alcohol or drugs were involved. The same report from the NHTSA shows that the percentage of alcohol-impaired drivers involved in fatal crashes is higher in the summer months than any other time of year, peaking in July.
Hurt in a DUI Crash? We Can Help
A personal injury claim for DUI-related damages operates on separate track from any criminal case against the driver, however. A conviction in the latter scenario is not always necessary to purse civil damages although it can provide decisive evidence for your case.
If you were hurt in a DUI accident because of the irresponsible decision made by another driver to drink and drive, you should be fairly compensated for the harm you've suffered. Hach & Rose, LLP is prepared to help you understand your rights and help you get the compensation you deserve, when you call us at (212) 779-0057 to schedule a free consultation.