Truck accidents are uniquely horrifying events. These accidents cause significant damage to smaller passenger vehicles, leaving victims with traumatic injuries. Large truck accidents can also throw victims into financial instability as they struggle to afford medical care. There are things you can do to avoid those horrors and prevent truck accidents
The Federal Motor Carrier Safety Administration estimates that in 2019 there were nearly 510,000 police-reported crashes involving large trucks. The agency also estimated that 4,479 crashes were fatal. Roadways can be dangerous, but there are things that you can do to help prevent truck accidents from happening in the first place.
At Hach & Rose, LLP, we don't want you to call us after a truck accident. We want to prevent an accident. When you venture onto New York roads, remember these four tips. They may save your life.
Stay Out of Blind Spots
Large trucks are shaped differently than conventional vehicles. Due to their enormous size and bulky shape, trucks have several blind spots. These blind spots and the lack of a rear-view mirror make it difficult for drivers to see their surroundings. One of the easiest ways to prevent a collision with a large truck is to stay out of a truck driver's blind spots, especially for extended periods. There are four major blind spots or "no-zones." They are:
Front no-zone – Despite being higher off the ground, truck drivers cannot see anything 20 to 25 feet directly in front of them.
Rear No-Zone – The rear blind spot of a large truck extends approximately 200 feet behind the vehicle. For this reason and others, it is important not to tailgate or follow a large truck too closely.
Side No-Zones – The left-side blind spot on a truck is significantly smaller than the right-side blind spot. The left no-zone covers approximately one lane, while the right no-zone covers two lanes. Always pass large trucks on the left as quickly and safely as possible.
Wide turns – Trucks also tend to need more room to negotiate turns. The trailer may need to extend into other lanes to complete a turn. Cars too close to a truck can be squeezed up against the curb by the cab or hit by the wide-swinging trailer.
Allow More Space to Prevent Truck Accidents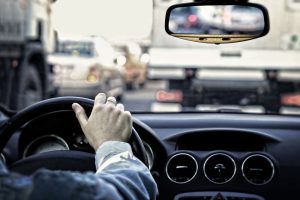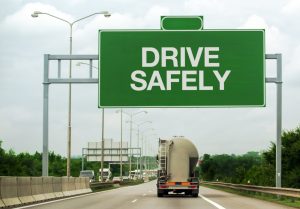 Trucks need more space not only due to blind spots but because of their weight as well. Trucks haul immensely heavy loads, meaning stopping a moving truck takes more time and force. Always leave plenty of space between you and a large truck. If one of you needs to stop suddenly due to construction or a change in traffic patterns, you and the truck driver will have ample time and distance to slow down and stop.
Use Caution When Merging and Passing
Since the left-side blind spot is smaller than the right-side blind spot, always pass a large vehicle on the left. Never try to pass a truck on the right. Chances are the driver will not be able to see you. Also, pass with care. Use turn signals to indicate your intentions and pass quickly but safely. If possible, avoid passing trucks on hills. Trucks need to adjust their speed more often when going up or downhill.
Don't Drive Distracted
One of the most common causes of truck accidents is distracted driving. Do not operate your vehicle while talking or texting on the phone. Use caution when eating or drinking, and avoid watching videos or using a GPS tool while you drive.
However, distracted driving is about more than just using a phone behind the wheel. Distracted driving can take a person's eyes or attention off the road. Focus your eyes and attention on the operation of your vehicle.
Contact a New York Truck Accident Attorney Right Away
Unfortunately, you can do everything right and still become the victim of a traumatic accident. While you follow the rules, a negligent truck driver may not. When a truck driver's actions cause a significant accident, you may be able to hold them or their company accountable.
If you are injured in a New York truck accident that wasn't your fault and you need compensation, turn to the New York personal injury lawyers of Hach & Rose, LLP. Before you accept any offer from the trucking company or their insurer, talk to an experienced attorney about the value of your claim. We can help you get the compensation you deserve while protecting your rights. Contact our office today at (212) 779-0057 to set up a free case evaluation.