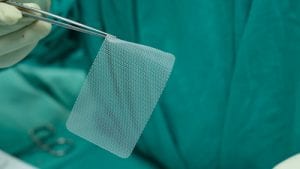 A hernia mesh is a surgical implant made of synthetic plastic fibers that support damaged tissue around hernias and helps it heal after surgery. In about 90% of hernia surgeries, doctors employ hernia mesh to aid the recovery process. But several allegations and lawsuits have surfaced which suggest that a mesh may cause more damage than it's worth. Oftentimes, if a patient experiences complications because of their hernia mesh implant, another surgery is required to correct the problem or remove the mesh.
How a Hernia Mesh is Used
The hernia mesh is implanted on and around the damaged hernia tissue with staples, stitches, or glue. The mesh quality of the medical device allows the tissue to grow in and around it as it heals and is meant to lower the risk of a recurring hernia.
According to the FDA, the most common complications associated with hernia mesh are pain, infection, hernia recurrence, adhesion, and bowel obstruction. Patients reported sepsis, punctured abdominal organs, peritonitis, abscesses, and abdominal wall tears in more severe cases.
The recalled mesh caused the majority of these mesh complications. Over the past 15 years, the FDA has recalled several manufacturers' meshes, and many have issued voluntary recalls.
Some examples of recalled meshes include:
Atrium Medical Corporation's C-QuR V-pack Mesh
Physiomesh Flexible Composite Mesh from Johnson & Johnson and Ethicon
Atrium Medical Corporation's ProLite Mesh
Sofradim Production's Versatex Monofilament Mesh
Parietex Composite Parastomal Mesh made by Covidien LLC
From the FDA: Information about the recalls.
Many patients have been adversely affected by hernia mesh. Several class-action lawsuits have been filed against the manufacturers. If your mesh was implanted after January 1, 2008, and you had or have scheduled a hernia mesh repair surgery, you are likely qualified to file a lawsuit.
Contact a New York defective medical device lawyer
You may be entitled to significant compensation if you or a loved one have experienced adverse side effects caused by a hernia mesh implant. The attorneys at Hach & Rose, LLP have the experience to hold medical device manufacturers accountable when their devices cause people harm. Our team will seek full and fair compensation to help you pay for your medical bills, lost wages, pain, suffering, and other losses. Call us at (347) 318-9604 to discuss your rights and legal options today.