How to Prevent Bedsores
Posted on Friday, January 31st, 2020 at 1:56 pm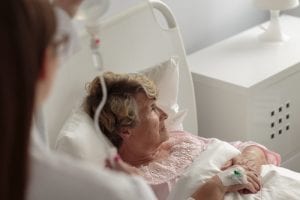 Bedsores are alarmingly common in American nursing homes. According to a National Nursing Home Survey performed by the CDC, about 11% of nursing home residents had a pressure ulcer or bedsore. Bedsores occur when a patient is immobile for an extended period and are therefore more common in people with a physical disability, the elderly, and those who use a wheelchair or are confined to bed for most of the day.
Bedsores can be classified into four categories, ranging from least to most severe. The most common type of bedsore is a level two pressure ulcer. These injuries occur on bony parts of the body that experience the most pressure from sitting or lying down, such as your heels, shoulder blades, ankles, hips, and tailbone.
The four stages of pressure ulcers
Level 1: Persistent skin redness
Level 2: Appearance of a blister or abrasion on the skin, indicating deeper tissue damage
Level 3: A deep crater in the skin resulting from a loss of tissue
Level 4: A total loss of skin thickness, revealing muscle or bone
How to prevent bedsores
Many people must stay in bed or a wheelchair for extended periods due to illness, disability, or other reasons. But there are ways to reposition your body to prevent bedsores.
If you are in a wheelchair, try distributing your weight differently every 15 minutes, and completely reposition your body every hour. Get help with repositioning if you need it.
Using your arms to lift yourself out of your wheelchair every once in a while will reduce your risk of developing bedsores on your tailbone.
Select special cushions and mattresses that better distribute your weight and relieve pressure.
Contact a New York nursing home abuse lawyer
If you or a loved one suffered from bedsores as a result of improper nursing home treatment, you might be entitled to compensation for this painful condition. The New York nursing home abuse lawyers at Hach & Rose, LLP represent nursing home residents and families across the state, so call our office at (212) 779-0057 to schedule your no-obligation consultation today.