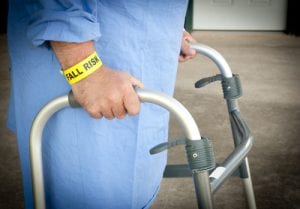 When we send a loved one to a nursing home, we expect that they will receive the highest quality of care and attention from their nurses and caretakers. This includes being vigilant of fall-risk residents and taking preventative measures to reduce the risk of residents falling and injuring themselves. A fall could be debilitating to an elderly resident, leaving them disabled or heavily dependent on others to perform daily tasks.
According to research from the University of Montana, between 50-75% of nursing home residents fall at least once per year, and people who fall usually fall at least twice a year.
The university's research shows that there are two types of risk factors when it comes to falls in nursing homes: internal and external. Internal risks refer to a resident's existing health condition, medications they are taking, mental state, etc. External factors are more physical, such as cluttered hallways.
Internal Risk Factors
Nursing home patients are more likely to fall if they exhibit any of these conditions:
A history of falls, specifically if they fell in the past couple of months
Increased age generally equals increased risk of falling
The use of many different prescription drugs to treat one condition
Tethers (oxygen machines, IVs, catheters) that could get caught on railing, bed posts, doorknobs, etc.
Diminished strength due to loss of muscle mass
Osteoporosis (decreased bone density) that could result in serious injury after a fall
How can nursing homes prevent falls?
Nursing homes can choose from a variety of fall-risk tools to assess their residents' likelihood of falling at some point. These tools can be helpful, especially when used in combination with an individual health assessment of each resident and a familiarity with their history of falls.
The two most effective tools for identifying a resident's fall risk are the Morse Fall Scale and the Mobility Interaction Fall Chart. The Morse Fall Scale rates a number of items such as a patient's history of falling, use of aids like a wheelchair, mental status, and gait, then assigns that patient a risk level. The risk level determines what action the staff needs to take to prevent a fall.
The Mobility Interaction Fall Chart includes a medical assessment, rating for cognition and depression, and observation of daily activities.
Contact a New York Nursing Home Attorney
If you or a loved one sustained a fall while living in a nursing home, you may be entitled to compensation. The attorneys at Hach & Rose, LLP are ready to help you navigate what can be a difficult and stressful litigation process. Call our office at (347) 318-9604 to discuss your rights today.