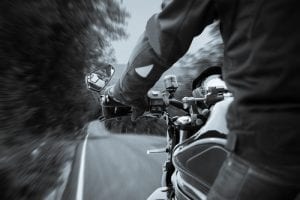 Driving a motorcycle in the cold, wind, ice, and snow requires a different set of riding habits than in good weather. You cannot ride your motorcycle the same way on a clear, sunny day as when it's foggy or drizzling. Look at the tips below to take your motorcycle out on the road during the winter. Knowing how to prepare for winter conditions best will reduce your risk of getting into an accident. 
Dress in layers
When it's freezing outside, and you're riding on your motorcycle at 60mph, exposed to the elements, you must know how to dress. This experienced motorcyclist recommends starting with a base layer for your arms and legs that will wick away sweat as you ride. Then add a zip-up fleece, outer jacket, neck warmer, and thick, water-resistant, insulated gloves. You need your hands to brake, so keep your hands warm while riding.
Also, wear your helmet and install its breath deflector if it came with one. It will help clear condensation so you can see the road clearly. 
Check your tires
When your tires get cold, they lose traction. Invest in a good pair of tires, especially for winter conditions, or find a pair with deep treads to navigate the snow and ice. Check your tire pressure before every ride and adjust as needed. 
Watch for dangerous roadway conditions
Winter conditions wreak havoc on roadways. Snowplows create new road cracks, and salt meant to melt the snow and ice could be deadly for unsuspecting motorcyclists because it robs tires of their traction. If you spot anything that looks like salt or ice on the road, steer clear. And if it starts snowing while you're riding, get off the road and wait until it stops. 
Contact a New York motorcycle accident lawyer
If you were hurt in a motorcycle accident, the New York motorcycle accident lawyers of Hach & Rose, LLP could help you get justice. Our lawyers have over 100 collective years of experience handling injury cases like yours, and we'll be ready to help you get the full and fair compensation you deserve. Call our office at (347) 318-9604 or contact us online to schedule a free consultation with us today.