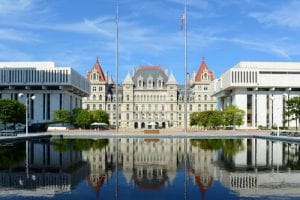 You have the right to sue the government the same way you would sue a private individual. Call us if you were injured due to a government employee's negligence or reckless actions or on New York government property. You can file a personal injury claim against the New York government.
The New York Court of Claims Act states that the government "waives its immunity from liability and action" and consents to be sued in court like an individual. So, individuals who suffered injuries at the hands of the government can file a claim for anything that an individual could be sued for. This includes auto accidents, slips and falls, premises liability, medical negligence in a state facility, and more.
As of 2011, people can sue New York municipal governments to prove that the municipality had a "special duty" to the injured individual. To prove "special duty," the plaintiff must prove that at least one of the following occurred:
The municipality violated a statutory duty enacted to protect a particular group of people. And the injured person was in that group.
The municipality assumed "positive direction and control" in the face of a "known, blatant, and dangerous" safety violation.
The municipality voluntarily took on a duty and communicated this by actions or promises to the injured individual. Who then relied on those actions or promises.
Statute of limitations
Whereas most New York personal injury claims have a statute of limitations of up to three years. Claims against the government abide by a different timeline.
For personal injury or injury to property, you have 90 days to file a claim.
For breach of contract, you have six months
For claims of state appropriation of land, you have three years
Contact a New York injury lawyer
If you were injured due to negligence by a New York government entity, know that you may have a right to compensation. The personal injury attorneys at Hach & Rose, LLP have the experience and determination to help you take on government entities and win. Call our office at (347) 318-9604 or contact us online to schedule your free consultation today.