Posted on Tuesday, January 14th, 2020 at 1:34 am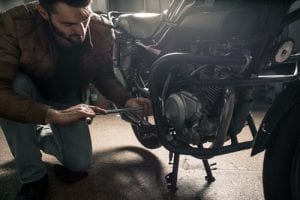 Making sure your bike is in its best condition will give you more peace of mind on the road and make accidents less likely. The seven most basic parts of your bike you need to check up on regularly are the oil, drive chain, tires, brakes, air filter, fuel, and battery. 
Oil 
When it comes to changing your motorcycle's oil, the general rule of thumb is to change it every 3,700 miles or so, or about once a year. But depending on your driving habits and the environment in which you ride, you may need to change your oil more or less often. For example, if you drive on exceptionally dusty roads, the oil will break down quicker. 
Drive chain
The drive chain is responsible for transferring energy from the engine into the rear wheel. You should inspect the drive chain for wear and tear before each ride and clean it every 750-1000 miles. You always need to clean it before lubricating it, which should be done every 300-600 miles.  
Tires
Michelin recommends that you inspect your tires weekly for signs of wear and the depth of the treads. Look for cracking, punctures, low pressure, or a weird feeling in your tires when you ride your bike. These could all be signs that it's time to change them. 
Brakes
To be sure that your brakes are in good working order, check the thickness of your brake pads before each ride. Check your manual to see how often to change the brake fluid, but it should be every one or two years. 
Air filter
To keep your engine running as smoothly and powerfully as possible, clean your air filter with compressed air regularly. Check it each time you change your oil and after a particularly dusty or muddy drive. 
Fuel
Similar to cleaning your air filter, cleaning a fuel filter regularly will keep your engine running at its optimal performance and prevent impurities from entering the engine. 
Battery
To get the longest life out of your battery, be sure to charge it to 100% when you're not using it. Monitor the electrolyte level, and if it gets too low, add distilled water to it. 
Contact a New York motorcycle accident attorney
Were you hurt in a motorcycle accident caused by someone else's negligence? Despite your best efforts to keep your motorcycle in proper working order, accidents can and do happen, particularly when other motorists are negligent. Call an experienced New York motorcycle attorney at Hach & Rose, LLP to schedule a free case evaluation to discuss the compensation you could be owed. Call us at (212) 779-0057 for help right away.