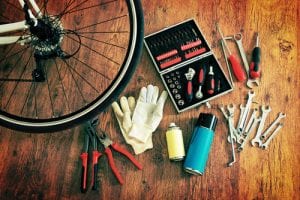 If you are one of the 48,800 daily bicycle commuters in New York City, you must know how to maintain your bike to keep riding safely. If there are undetected problems with your brake pads or gears, your risk of getting into an accident increases if these parts malfunction. There are bicycle maintenance tips you should know about.
Bicycle maintenance tips: how to best care for your bike.
The most basic rule of thumb for bicycle maintenance is to keep your bike clean. Riding through city streets can leave your bike covered in dirt, dust, grit, and other debris that could corrode it. Cleaning your road bike about once a month will prolong its lifetime and make maintenance less hassle.
Check your tire pressure before every ride. The tire pressure can change depending on the outside temperature, so you should test your tires before going out, especially during the colder months.
Check your brake pads for signs of wear and tear. If they scrape or stick when you brake, or if the grooves in the pads are worn out, it's time to get new ones.
Regularly clean and lubricate your drive chain to extend the life expectancy of your bike.
Learn how to fix a flat inner tube. Riding on city streets exposes your tires to glass, nails, and other harmful debris that could puncture your tires. Chances are you won't be able to repair your tire on the side of the road on your way to work, but every bicyclist needs to know how to fix a punctured tire.
Keep your tires inflated even if you know you won't ride your bike for months or years. This will help prevent cracks in the side of the tires and keep you from having to pay for new ones.
Contact a New York bicycle accident lawyer
If you were involved in an accident, contact the New York bike accident attorneys at Hach & Rose, LLP. Our team of dedicated injury lawyers will do everything in our power to get you the compensation you deserve. Call us at (347) 318-9604 to schedule your free consultation today.