Posted on Thursday, January 2nd, 2020 at 11:52 am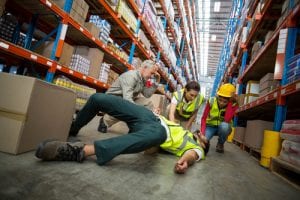 If you have been injured on the job, you are likely entitled to claim workers' compensation benefits from your employer's workers' comp policy. New York State requires employers to carry workers' compensation insurance, with limited exceptions. This coverage must be carried and maintained and must cover all employees, even part-time workers, and family members who are employed by the company.
What types of injuries qualify me for workers' compensation?
Any injury you sustain while on the job gives you the right to workers' compensation. This could be a slip and fall, a laceration, muscle strain, or getting hit by falling debris, such as on a construction site. However, workers' compensation is not afforded if you were injured outside the scope of the workplace, such as when you are driving to and from work, or driving between work sites. Additionally, occupational diseases that develop because of working conditions, such as mesothelioma and hearing loss, entitle you to workers' compensation.
What if I have already been injured on the job?
If you have been injured at your place of work, you must file a report to your employer in writing within 30 days of the accident. If you file after the 30-day window, you may lose your right to compensation. Regarding occupational disease, you must report it within two years of discovering that the illness arose from your working environment. Your employer will provide you with a C-3 form that you must fill out and mail to the Workers' Compensation Board. Your employer will fill out a C-2 form with information about your claim and send it to the Workers' Compensation Board and the employer's insurance carrier.
Can I see my regular doctor for treatment?
You may be able to receive treatment from your doctor, but you need to check that they are authorized by the Workers' Compensation Board to treat injured workers and that they are in your employer's Preferred Provider Organization (PPO). Otherwise, the employer's insurance carrier might not be able to cover the medical bill from that visit. You can visit this website to check if your doctor is authorized to treat injured workers by the Compensation Board.
When you need an attorney
You may need to consult an attorney if you need assistance with filing your worker's compensation claim or if you decide to appeal a decision that you disagree with that was made by your employer or their insurance carrier. For example, you can appeal the insurance's decision to deny your claim.
If you decide to make an appeal of any kind, call the experienced New York workers' compensation attorneys at Hach & Rose, LLP. Our team can help you navigate the workers' compensation process and get you the benefits you deserve. Call us at Hach & Rose, LLP to discuss your options today.