How to Identify a Defective Toy and File a Claim
Posted on Monday, December 30th, 2019 at 4:00 pm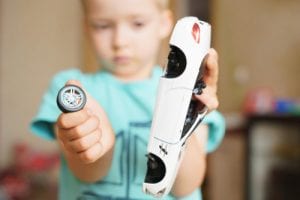 The holiday season is a magical time for children, filled with cookies, candy, and toys. But the last thing on any parent's mind during this time of year is the risk that toys can pose to their children. If you celebrated Christmas or Hanukkah this year, you probably gifted your child at least one toy. But what happens if that toy breaks and your child swallows a piece of it? Or if that specific toy was recalled? This post will give you the information you need to determine whether your children's toys are safe, and what to do if something goes wrong. 
How to know whether a toy was recalled
The Consumer Product Safety Commission (CPSC) publishes recalls on its website as soon as they discover a defect in a product. Some of the most recent recalled items are a Hallmark candle, a Toysmith light-up toy wand, and BCI Burke playground equipment. If you are concerned that your child's toy might be defective, check the CPSC website for updates and alerts. 
What to do if your child was injured by a toy
If your child was injured by a toy, even if it was a minor injury, you should report it to the CPSC. You can do this through an online form, found here. Toy companies have a responsibility to ensure that their products are safe for consumers, but oftentimes, they do not uphold this responsibility. By reporting a product's defect, you begin the process of getting that product recalled. This could save another child's life. 
After reporting the defect, you should get in touch with a personal injury attorney who can help you file a claim against the toy manufacturer. Your lawyer will help build your case to prove that your child wouldn't have been injured but for the toy's defect. In other words, they will help prove the manufacturer's liability in the matter, and that your child would be unharmed today if it weren't for the manufacturer's mistake. 
Contact a New York Product Defect Lawyer Today
If your child has been injured due to a defective toy, contact Hach & Rose, LLP right away for help. Our personal injury attorneys have years of experience dealing with defective product cases and will fight for you and earn you the compensation you deserve. Call our number at (212) 779-0057 to schedule your free consultation today.