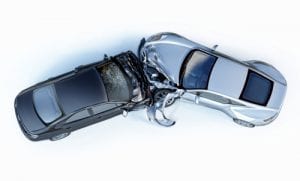 According to a report from the Centers for Disease Control and Prevention (CDC), approximately three million people suffer non-fatal injuries in car accidents yearly in the United States. Broken bones are the most common injuries after a serious car accident. Even with the proper usage of seatbelts and other kinds of protective gear, both drivers and occupants are still at-risk of sustaining broken bone injuries during a high-impact collision. People often suffer broken or fractured bones in car accidents due to:
 Bracing for impact during a collision
 Impact-related injuries to doors, the hood, the dashboard, or the steering wheel
Being ejected from a vehicle while not wearing a seatbelt
Broken bone injuries can range from mildly serious to life-altering.
The most common broken bones after a car accident include:
Fibula and Femur – Located respectively in the lower leg and upper leg, these bones can be broken if the leg area within a vehicle crumples or caves in during a car accident.
Facial Bones – Because an airbag only has a fraction of a second to inflate, it must expand with incredible force. This means striking an airbag can lead to broken noses, cheekbones, jaws, and eye-socket bones.
Clavicle – The clavicle is considered one of the most fragile bones in the human body. It is light, spongy, and is easily broken during any direct high-energy impact. Thus, this bone is one of the most commonly injured during car accidents.
Pelvic Bone – The pelvic area is a complex region that supports the legs and spine. Pelvic bones are most commonly fractured when an occupant lurches forward into their seatbelt during a high-impact collision.
Sternum – Otherwise known as the breastbone, the sternum joins the ribcage at the center and helps protect the heart, lungs, and other major organs from injury. Like the pelvis, the sternum is commonly fractured when an occupant lurches forward into their seatbelt during a collision.
Skull – A skull fracture is one of the most serious injuries in a car accident. The skull can be damaged during a collision if an occupant's head strikes a window, the dashboard, or an object. Skull injuries may not be immediately detectable, so seeking medical attention immediately after a car accident is important.
Spinal Vertebrae – Damage to the spinal vertebrae can lead to long-term injury, disability, or death. The vertebrae can break or fracture during a high-impact collision, as airbags and restraints can exert much force upon the body. This force can cause major damage to the delicate bones within the spine.
Broken bones can lead to significant medical bills, lost wages, and long-term health issues. If you or someone you love has broken a bone during a car accident because of a reckless or negligent driver, contact Hach & Rose, LLP at (212) 779-0057 to schedule a free, no-obligation consultation to discuss your case with us today.