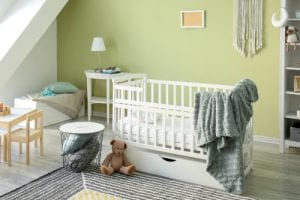 Many parents trust that the products they buy for their infants are thoroughly tested and regulated by government safety standards. However, this is not always the case. Each year, hundreds of dangerous products are purchased by consumers before being recalled from store shelves.
Safe Kids Worldwide tracks recalled child products. Among these recalled kids' products is the drop-side crib. Which has been responsible for causing numerous infant deaths and injuries since 2000.
Deadly Defects of Drop-Side Cribs
For drop-side cribs, one of the sides can easily side down, making it easier for a caretaker to reach the baby. However, these cribs are less structurally sound than traditional four-sided cribs. They carry several deadly defects.
Certain hardware failures can cause mattress gaps to form. That creates a suffocation hazard for young children. Additionally, other types of hardware failures can cause the drop-side to come loose, carrying the potential to entrap and suffocate children who have fallen through.
Over the past 20 years, drop-side cribs are linked to 32 confirmed infant fatalities. 14 suspected infant fatalities. And numerous more infant injuries. In 2011, the Consumer Product Safety Commission introduced crib regulations that would effectively ban the sale and manufacturing of drop-side cribs in the United States. Before then, several million types of drop-side cribs had been recalled from the market.
If you are a parent searching for a safe crib, it is always best to research before making any purchases. When shopping for a baby's crib or other sleeping equipment, always ensure that government safety standards and regulations have been followed. If your child was hurt due to a defective crib, contact an experienced injury lawyer for help immediately.
Contact a New York Product Liability Lawyer
Product manufacturers must ensure their products are safe for consumer use. If your child was hurt or killed due to a defective crib, contact the New York defective product lawyers of Hach & Rose, LLP immediately. We can be reached at (212) 779-0057 or through our online contact form. We'll be ready to fight for the fair compensation and justice your family deserves.