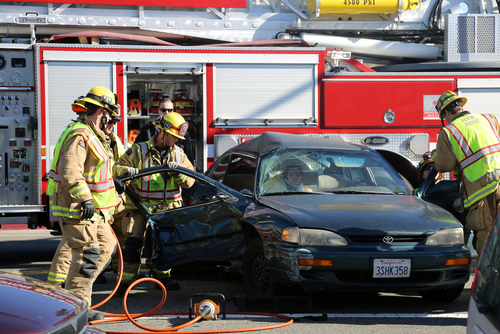 Otherwise known as side-impact or broadside collisions, T-bone car accidents occur when the front of a vehicle crashes into the side of another vehicle, forming a "T" shape. According to a report from the National Highway Traffic Safety Administration (NHTSA), researchers estimate these accidents result in the deaths of approximately 8 thousand Americans each year.
T-bone accidents most commonly occur at intersections, where the front of one vehicle crashes into the side of another vehicle.
Some of the most common injuries sustained during a T-Bone accident include:
Traumatic head or brain injuries (TBI) – traumatic brain injuries occur during a high-energy impact so strong that it causes the brain to collide with the skull. Symptoms include dizziness, nausea, confusion, vomiting, drowsiness, and changed behavior.
Chest trauma – according to a report from Medscape, researchers estimate that car accidents cause approximately 70 to 80 percent of blunt-force chest trauma. In severe cases, chest trauma can impede long-term health by resulting in lung damage and esophageal injuries.
Broken ribs – the rib cage protects most of the human body's vital organs. When ribs are broken during a car collision, organ damage is possible.
When determining liability in broadside collisions, either driver could be at fault. For example, if the driver is texting on their phone and fails to see that driver two missed a stop sign, both drivers could be liable if a T-bone collision occurs.
The most important factors in determining liability include:
Gathering evidence
Taking photos
Recording statements
Eyewitness accounts
Police involvement
Contact A New York Car Accident Attorney
T-bone accidents can be especially devastating because a thin door and window often only protect drivers from collisions. If you or someone you love has suffered an injury in a T-bone collision caused by a negligent motorist, you have the right to seek full and fair compensation. Contact Hach & Rose, LLP at (212) 779-0057 to immediately discuss your case with a New York car accident attorney.