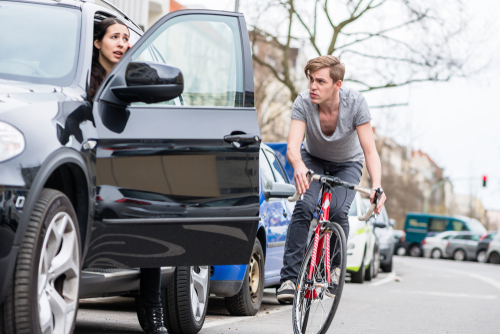 "Dooring" accidents are a type of traffic collision that takes place when a bicyclist or other road user crashes into a motor vehicle's open door. In some cases, these accidents are caused by a vehicle occupant failing to check for oncoming traffic before opening the car door. The occupant may have negligently left the car door open in other cases. To avoid colliding with the door, bicyclists or motorists will sometimes quickly swerve to move out of the way. This sudden swerve may cause a secondary collision. The bicyclist or motorist could collide with another vehicle in the next lane.
New York Laws on Dooring
In New York, dooring accidents have become so prevalent that policymakers have developed laws to prevent them. According to the New York Vehicle and Traffic Law, Sec. 1214:
No one can open the door of a motor vehicle that faces moving traffic until it is reasonably safe to do so, and that door can be opened without interfering with the movement of other traffic.
No one can leave the door of a motor vehicle that faces moving traffic open for a period of time longer than necessary to load or unload passengers.
Statistics show that dooring accidents accounted for almost a fifth of all bicyclist injuries in 2011. Additionally, eight bicyclists were killed in dooring accidents between 2006 and 2016 in New York City. Although laws have been written to reduce the incidence of dooring accidents, they are still a major concern for bicyclists within New York. Whether you are a motorist or a bicyclist, there are safety measures you can take to help reduce your risk of being involved in a dooring accident:
The Dutch Reach Can Prevent Dooring Accidents
Drivers are encouraged to practice the "Dutch Reach," a special way of opening a car door. All you have to do is reach with the hand furthest from the door to open it. By reaching with your far hand to open your vehicle door, you move your body in a way that causes you to turn your head back and observe the traffic behind you. Of course, checking your rear and side-view mirrors for oncoming traffic before exiting a vehicle is always prudent. But practicing the Dutch Reach is a good way to ensure that you absolutely do so.
Passengers are always advised to exit curbside only. Never exit from a vehicle that is paused in a travel lane. Ensure the vehicle is parked in the appropriate lane before opening the door to exit.
Bicyclists – it is generally advised that cyclists maintain a safe distance from vehicles, ideally enough to accommodate an open door. A distance of 1.5 meters is usually enough to avoid a collision.
Contact a New York Dooring Accident Attorney
In areas where traffic volumes are high, being involved in a dooring accident can be devastating for a bicyclist. It can even be fatal. If you or someone you love has been hurt in a dooring accident, contact Hach & Rose, LLP to speak with an experienced New York bike accident lawyer at (212) 779-0057 today.