Mold can be a serious concern for several reasons. Not only can it cause extensive property damage. It can also lead to severe and chronic health issues. Certain types of mold may cause long-term health issues due to their toxigenic nature.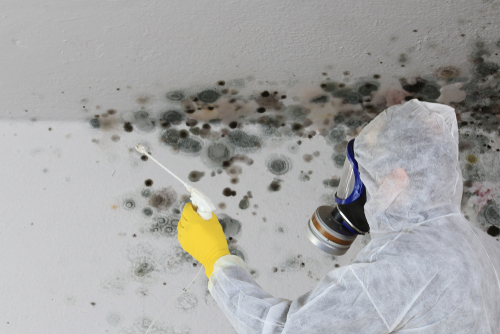 According to data from the New York State Department of Health (DOH), mold can grow wherever there is an issue with moisture control. This includes several spaces within a household. These include bathrooms, windows, kitchens, refrigerators, and air conditioning units. While mold spores can be found almost everywhere, they flourish in warmer environments with sufficient moisture. Within households and other properties, some common sources of moisture can include leaks, drainage issues, condensation on cool surfaces, and improper ventilation.
Dangers of Mold Exposure
Some types of mold can also cause various illnesses because of the toxins they release. In a 2014 study from the Institute of Medicine (IOM), researchers found sufficient evidence linking indoor mold exposure to respiratory illness in individuals who were otherwise healthy. Researchers also found that people with asthma and compromised immune systems can experience exacerbated symptoms.
Early mold exposure may also be linked to the development of childhood asthma. According to a report from the Centers for Disease Control and Prevention (CDC), "recent studies have suggested a potential link of early mold exposure to [the] development of asthma in some children, particularly among children who may be genetically susceptible to asthma development." Asthma is a chronic, long-term respiratory condition particularly dangerous for children, as their airways are smaller than adults.
While removing mold is often time-consuming and costly, it is completely necessary for health and safety reasons.
Contact a New York Mold Illness Attorney
If you or someone you know has developed severe health issues due to the presence of mold, don't hesitate to discuss your rights and legal options with an experienced New York premises liability attorney right away. Hach & Rose, LLP will be ready to discuss your rights and legal options when you call (212) 779-0057 or contact us online today.