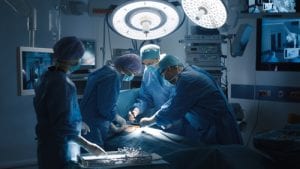 For many people, the prospect of getting surgery is already terrifying. However, this prospect is made much more sinister when factoring in a 2015 study from Johns Hopkins Medicine. It suggests that surgical errors are estimated to cause more than 200 thousand deaths in the United States annually.
According to Hopkins Medicine, these surgical errors are called "never" events. They are named so because they are deemed so egregious that they should "never" happen during surgery. "Never" events characterize surgical errors such as operating on the wrong organ, operating on the wrong patient, or administering dangerous anesthesia.
"Never" Surgical Error Events are Preventable
Because these events are largely the result of a healthcare provider's negligent actions. These events are entirely unnecessary and preventable. Alarmingly, "never" events occur with "troubling frequency." They are responsible for up to $29 billion in extra expenses within the United States each year, according to researchers at Hopkins.
Even more disturbing is the nationwide lack of official regulation standards and definitions that would help some states identify key weaknesses and challenges in their healthcare facilities. While federal lawmakers have created and enforced penalties for facilities that fail to meet certain standards. Some states do not require their facilities to report incidents publicly where a "never" event has occurred.
According to researchers J. Matthew Austin, Ph.D., and Peter Pronovost, M.D., Ph.D., "The nonsystematic collection of data on . . . never events . . . at the national level in the United States [makes] it difficult to understand how hospitals are performing over time."
Austin and Pronovost both conclude that to reduce the occurrence of "never" events, "we need to change the decadelong decentralized approach of 'collect, report and improve' to an approach that entails standardized definitions of events. Greater transparency of performance, and collective learning and accountability to drive performance forward."
Contact a New York Surgical Error Attorney
Trained healthcare professionals work under a sworn oath to "do no harm" to their patients, intentional or not. Indeed, patients place great trust in their healthcare provider's hands during surgery. They are vulnerable, frightened, and often confused. When that trust is broken, it can be a very traumatizing experience for a patient and a very costly one.
If you or a loved one has been the victim of surgical error at the hands of a negligent healthcare provider, you have the right to pursue legal action. At Hach & Rose, LLP, we will aggressively seek justice on your behalf and obtain the financial compensation you deserve.