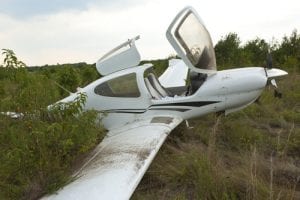 When it comes to traveling long distances over a short period of time, airplanes are typically the most convenient means of transportation. In addition to this, they're also one of the most common. According to data from the International Air Transport Association (IATA), an average of more than 8 million people travel by airplane daily.
Not only do airplanes transport people, but they also transport cargo- about 140 thousand tons daily, to be exact. This means that at any given moment, there's always a plane in the sky making its way from point A to point B. In fact, according to research from Flightradar24, the number of airplanes in the sky can range from 8 thousand to 20 thousand, depending on the time of day and year.
With such a staggering amount of planes circulating at any moment, it's easy to wonder: just how common are airplane accidents? According to an Aviation Safety Network (ASN) report, they're still relatively rare. In 2018, a total of only 15 fatal airline accidents were recorded. However, because airplane accidents carry the potential to be much more devastating in nature, the total number of fatalities was much higher — in 2018, 556 people were killed in crashes.
Several factors could cause airplane accidents. Even a small misstep or minor malfunction can lead to disastrous consequences.
Some of the most common causes of airplane crashes include:
Pilot error or negligence
Mechanical defects or malfunctions
Extreme weather
Air traffic controller error
Poor runway maintenance
Bird strikes
Contact a New York Aviation Accident Attorney
While aviation accidents are rare, they carry the potential to be so much more devastating than a typical vehicle collision. These accidents can result in serious injury, life-long pain and suffering, and even fatality. At Hach & Rose, LLP, we understand that aviation accidents are no small matter and will take every action necessary to obtain justice on your behalf. Contact our New York airplane accident attorneys at (212) 779-0057 to speak with a qualified legal team member about your case details.