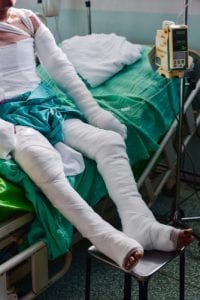 Although fire prevention and extinguishing techniques have vastly improved over the years, residential and commercial fires still occur frequently and can cause serious damages, including property damage, pain and suffering, medical expenses, and, in extreme cases, even death. Many common causes of burn injuries result from careless actions or poor maintenance.
Causes of Fires That Cause Burn Injuries
Fires can occur for several reasons. However, severe damage may be avoided if proper fire detection and protection devices are in place. Common causes of fires include:
Cooking accidents — Grease fires, objects near the stove catching on fire, unattended food
Improperly disposed of cigarettes — Lit cigarettes can start a fire that may not be detectable until hours later
Electrical problems — Old electrical wiring and plugs can cause electrical fires that can be difficult to detect
Heater accidents — Unattended heaters may ignite nearby objects (such as bedding or furniture) on fire
With working smoke detectors and fire extinguishers, most accidents can be controlled before severe damages occur. Make sure to replace the batteries in your smoke detectors and have your fire extinguishers serviced regularly.
Types of Burn Injuries
Burn injuries caused by fires are typically classified by degrees. The three most common degrees include:
First-Degree Burns — A superficial burn involving damage to the upper epidermis, the outermost layer of skin. First-degree burns cause mild pain and often heal on their own in a matter of days, with sunburn being the most common example of a first-degree burn.
Second-Degree Burns — A superficial partial-thickness burn that involves damage to the epidermis and the dermis, the upper and lower layers of skin. A second-degree burn can cause blisters and possible scarring. Skin grafting could be required in certain cases, and recovery often lasts several weeks.
Third-Degree Burns — A deep partial-thickness burn in which damage extends into the sweat glands and underlying tissues. Skin grafting is always required for third-degree burns, but certain injuries could require surgery.
Three additional degrees of burn injuries are less common and often fatal: fourth-degree burns that extend into the fat, fifth-degree burns that extend into the muscle, and sixth-degree burns that extend into the bone.
Burn injuries may cause several health issues for people in daily life. Additionally, burn injuries can also lead to severe scarring. In such cases, it can be difficult for burn survivors to regain confidence and feel comfortable being in public again. Treatment of these injuries can also be very expensive. Oftentimes, burn survivors struggle to pay their medical bills for long-term care.
Many burn survivors will file premises liability claims against negligent property owners. Insurance companies for these negligent owners will often try to limit their losses by dealing with the claimant directly. Because of this factor, claimants must be very cautious with everything they say to an insurance agent. Insurance companies are eager to find reasons to deny claims and award nothing.
Contact a New York City Fire and Explosion Injury Lawyer
You have the right to pursue legal action if you or someone you know has suffered from burn injuries or losses because of a fire or explosion. Burn injuries can result in years of life-long pain and suffering, loss of quality of life, and long-term medical care. You do not have to navigate through this challenging time alone. Our skilled team of attorneys at Hach & Rose, LLP will guide you through the necessary steps to get the compensation you deserve. To discuss your rights and legal options, call us today at (212) 779-0057 and speak with a legal representative.