Common Hazards on New York Subways
Posted on Wednesday, October 30th, 2019 at 1:11 am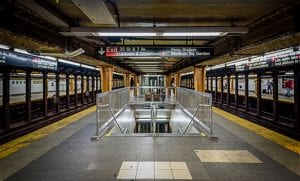 New York City is home to one of the most extensive public transportation networks in North America. In an annual report from the Metropolitan Transit Authority (MTA), researchers estimated that the total ridership on New York City subways, buses, and railroads was approximately 2.56 billion in 2018.
Unfortunately, this vast transit network also has an alarming number of fatal incidents. "In New York, we have more incidents of people on the tracks than anywhere else I've worked," said Andy Byford, the Chief Executive Officer of the New York City Transit Authority in a 2018 interview with the New York Times (NYT). Byford has served as a chief transit official in cities such as London, Sydney, and Toronto.
According to the NYT report, the number of incidents where someone was caught on the tracks or hit by a train amounted to roughly 900 in 2017. "It's a real challenge, and it's one of the many factors we need to tackle in this all-out push to improve the reliability of our service," Byford added.
Accidents involving New York City's public transportation systems are not to be taken lightly. Even minor incidents or malfunctions can result in devastating consequences for both travelers and laborers. Additionally, New York City subways can be incredibly dangerous environments, where passengers are vulnerable to robbery, health hazards, harassment, and even fatal assault.
Personal injury cases involving public transport systems can be extremely complex. However, depending on the nature of the case, injured parties may be entitled to financial compensation. Some potential cases of personal injury include:
Obstructed pathways
Smoke inhalation and burns from track fires
Malfunctioning subway cars
Malfunctioning elevators and escalators
Insufficient security, resulting in assault
Contact a New York Subway Accident Attorney
If you or a loved one has been hurt or fatally injured in a subway accident, the attorneys at Hach & Rose, LLP, will be here to help you take immediate action to hold the responsible parties accountable. Schedule a free, no-obligation consultation with one of our New York subway accident lawyers at  (347) 318-9604 or reach out to us online. We represent those who've been hurt in subway accidents on a contingency fee basis, which means you won't owe us anything until we win money for you.