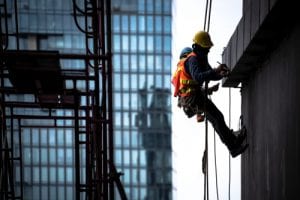 According to the United States Department of Labor (USDL), construction work was named one of the most physically demanding types of labor in 2018. Workers are exposed to many on-site risks. These include fall hazards, dangerous machinery, and chemical exposure. These risks are so common that construction workers have some of the highest rates of illness and injury out of every occupation in America, according to the USDL.
While New York City has experienced a 23% decrease in fatal injury rates for construction workers, the overall rate in New York State has increased by 39% within the past five years. This information was revealed in a 2019 report by the New York Committee for Occupational Safety and Health. It also states that OSHA fines against negligent employers for fatality cases remain low.
Gary Labarbera, NYTC Building & Construction Trades Council president, stated in a recent interview with CBS2, "The past several years have been [a] very busy, very robust construction market, but there shouldn't be anywhere near this many fatalities."
The Bureau of Labor Statistics estimates that there are approximately 150,000 on-site construction accidents each year. Falls are the most common cause of fatal construction injuries.
Masonry restoration specialist Christine Azzoli told CBS2 that "deadlines and pressures" from contractors can sometimes cause construction workers to take risks. "It's always been a dangerous profession," said Azzoli, "but If you're given the time and proper equipment, you have a better chance of working safely."
There are many different ways a fatal construction accident in New York can occur, including:
Falling Hazards
Unsafe Work Sites
Respiratory Diseases
Heat Stroke and Overexertion
Were you hurt in a construction accident? The attorneys at Hach & Rose, LLP are committed to representing workers hurt in New York. We're ready to stand up and fight for you. Our experienced legal team has a history of results, including a $13 million verdict for an injured union painter who fell from a ladder and sustained a traumatic brain injury. A $12.8 million verdict for a worker who suffered a neck injury due to a construction company's negligence.
Schedule a free, no-obligation consultation with an experienced New York construction accident lawyer to discuss your rights and legal options. We're here to support you, so call us at Hach & Rose, LLP or reach out to us online right away.