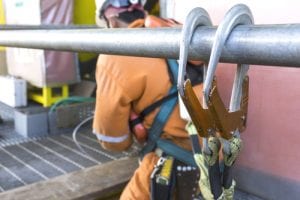 Safety on the job site should be job #1. Construction company owners, managers, and employees must focus on safety to protect themselves, other employees, and potentially passersby from harm. When companies fail to focus on safety, severe injuries, accidents, or fatal incidents can and do occur. While equipment and protective gear can help, safety starts with the company's culture.
Six vital initiatives that construction company managers should not ignore:
Make Safety a Primary Priority
The Occupational Safety and Health Administration (OSHA) notes that possible hazards for workers in the construction industry include:
Falls from heights
Trench collapses
Scaffold collapses
Electric shock,
Failure to use personal protective equipment
Repetitive motion injuries.
Employers must ensure scaffolding is erected properly. Fall protection is in place. Protective systems are in place for trenches. And all workers are equipped with necessary personal protective equipment.
Invest in Training
When you want your workers to operate safely, it will be in your best interest to provide the training necessary for them to learn exactly how things should be done. You should treat training as an ongoing aspect of employment that applies to all employees for the safety of everyone, and the training can help reinforce certain safety aspects that are important to an employer.
Involve Your Employees
Instead of making safety concerns a top-down mandate, try to involve some of your employees in your efforts. Employees with active roles in safety programs will be more likely to get their co-workers to appreciate their efforts. Involving employees in safety plans can also help avoid conflicting instructions or other issues that can make some plans difficult. You also want to seek input from your employees as to what other areas of safety should be addressed.
Enforce Accountability
When you enact specific safety measures, you will want to ensure they are followed, and you should not hesitate to discipline employees who commit unsafe practices. By demonstrating that unsafe actions can have consequences, the employees will know that following safety rules are important to you. You will also want employees to report unsafe practices to you and feel you are committed to their protection.
Reward Employees
You should reward employees who adhere to safety standards and are willing to attend safety meetings, wear personal protective equipment, and offer suggestions to improve safety. You should avoid incentive programs that reward workers for going a certain number of days without accidents or injuries because such programs risk possible underreporting of injuries.
Begin Daily Inspections and Safety Meetings
Inspect your job site before and after every workday to identify possible safety concerns and then discuss all issues at daily safety meetings. When you begin to make this a routine, you can quickly correct many issues.
If proper safety training is not conducted or rules and protocols are not followed, catastrophic or fatal injuries can occur. Construction companies that fail to consider safety initiatives like those listed above do so at their own risk, and they could be held liable if the worst happens and someone is injured or killed.
Contact a New York Construction Injury Lawyer
If you suffered serious injuries or your loved one was killed in a construction accident in the greater New York City area, you will want to ensure that you quickly get an experienced personal injury attorney. You will want to speak to Hach & Rose, LLP for the qualified legal assistance you deserve.
Our firm has a record of success that includes more than $500 million in verdicts and settlements on behalf of our clients. We have extensive experience helping injured workers in New York, and our team will be ready to stand up and fight for you. Call (212) 779-0057, or contact us online to take advantage of a free consultation immediately.