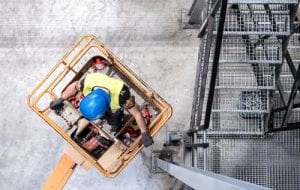 Aerial lifts are used frequently by workers in New York. Often on construction sites, by municipal workers, maintenance crews, etc. These machines come in many different types and sizes. They are quite useful for projects requiring workers to operate at elevated heights. But these large, heavy machines can also cause severe or fatal injuries in the event of an accident.
Some of the most common types of aerial lifts in New York include:
Cherry pickers
Scissor lifts
Articulating boom lifts
Telescopic boom lifts
Telehandlers
Accidents can be caused by the recklessness of third parties (like distracted drivers who crash into lifts on busy streets). Or they could be caused by operator error. To prevent operator error accidents, employers and supervisors should train operators to:
Inspect the conditions around the job site
Identify hazards and avoid them
Inspect the equipment before use
Safely operate the equipment
Accidents can still happen even if workers operate the equipment safely and to the best of their ability.
Commonly Reported Aerial Lift Accidents
Some of the most commonly reported types of aerial lift accidents include:
Vehicle accidents – A worker fixing a traffic light died in an accident caused by a driver who crashed into the cherry picker he was working from. Workers could be hurt or killed in an accident when drivers fail to observe aerial lifts in the roadway or exercise caution when driving around them.
Electrocution – Accidental contact with overhead power lines can result in serious or fatal injuries. This can happen if the lift is not on stable ground. The employees are not wearing the right protective gear. Or if the lift tips over and comes in contact with power lines. These accidents could be devastating.
Falls from lifts often occur when the vehicle is on unstable ground. When inclement weather strikes. Or if a vehicle or object strikes the lift. Workers can prevent some falls by ensuring all cables and harnesses are secure, and access gates are closed.
Tip-overs – High winds, unstable ground, exceeding load capacity limits, and other issues can cause the lift to tip over.
Caught-betweens – When a lift worker is caught between the lift and another object, their injuries could be severe or catastrophic. Workers nearby can also be crushed or caught when a lift tips over, so it is crucial for workers both in and around the lift to exercise caution and be alert at all times.
Struck by objects outside the bucket – Workers can be hurt by objects, debris, or equipment that falls out of the bucket onto unsuspecting workers below or debris that falls onto the worker in the bucket.
Safety training can help
Thorough safety training can help workers identify these common hazards and hopefully avoid them. While safety training goes a long way toward preventing injury accidents, it cannot prevent them from ever happening. When a worker is injured on the job, they have the right to seek worker's compensation benefits or might have a third-party injury claim for compensation.
Contact a New York Aerial Lift Accident Lawyer
The New York aerial lift accident lawyers of Hach & Rose, LLP have extensive experience helping workers in our community get compensation if they were injured in an accident. We've helped workers hurt on aerial lifts, scaffolding, and other elevated heights get justice when an unexpected accident occurs. Let us put our experience to work for you. Call us at (212) 779-0057. Chat live, or fill out a contact form today and schedule your free consultation.