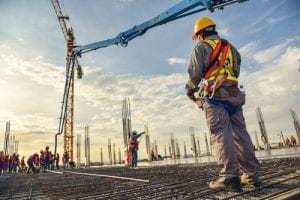 New York construction accidents are increasing, which is bad news for workers. But a recently-passed bill, Local Law 196, aims to change that. It requires all New York City construction workers to attend an additional 40 hours of safety training and supervisors to attend an additional 62 hours to comply with the bill.
This renewed focus on safety training is vital, especially since a new study shows that construction accidents increased by 17%, and eight workers died in the first half of 2018, more than double the number of fatalities over the same period in 2017.
In fact, according to the U.S. Department of Labor, in 2016, over 37% of all work-related deaths in NYC were construction workers. When workers are not provided the right equipment and safety training, severe injury or fatal accidents can and will happen.
Most Common Accidents
There are many construction accidents, many of which can result in severe or fatal injuries. Some of the most commonly-reported job site accidents include:
Falls from height
Falling objects
Equipment-related accidents
Burns
Chemical spills/exposure
Backovers and crushed-betweens
Structural collapses and trench collapse
Heatstroke
Overexertion
Loud noise/hearing loss
Explosions
Repetitive motion injuries
Statistics indicate that throughout a 45-year career in construction, a worker has a 1 in 200 chance of being fatally injured on the job. The U.S. Bureau of Labor Statistics (BLS) says 150,000 construction accidents are reported yearly.
In far too many cases, construction accidents could have been prevented if supervisors had been more responsible. Employers and managers are responsible for ensuring that all employees have adequate safety training and that all protocols are followed at all times. The regulations established by OSHA exist to keep workers safe, but if not followed, workers could become severely injured or may not survive an accident.
Contact a New York Construction Accident Lawyer
For over a decade, workers across New York have turned to Hach & Rose, LLP for help getting the compensation they deserve when they're hurt in an accident on the job site. We know how crucial recovering compensation is to you and your family, and we're committed to helping you get every penny you're owed. Schedule a free, confidential consultation with us by calling (212) 779-0057, or contact us online to schedule your free, no-obligation consultation with our experienced New York construction accident attorneys today.