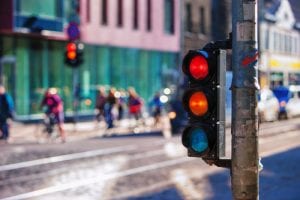 Running red lights is a careless and dangerous driving offense that can cost the lives of innocent people on and near the road. According to the AAA Foundation for Traffic Safety report, 939 people were killed in accidents caused by running red lights in 2017. This figure represents a 28% increase since 2012. And a 10-year high for red-light accident deaths. Almost half of those killed were people in other vehicles or passengers, and over 5% were cyclists or pedestrians.
Red Light Running is Especially Dangerous
The AAA Foundation's most recent Traffic Safety Culture Index raised questions about red light running. According to the index, over 80% of people surveyed believed it was a seriously dangerous driving offense. However, the report showed that one-third of the responders admitted to running a red light within the past month. This careless driving act, often committed to saving a few minutes on one's commute, needlessly endangers those around all of these drivers.
Fortunately, implementing red light cameras has decreased the number of fatal red light-running accidents in large cities by as much as 21%. Red light cameras increase the chances of reckless drivers getting caught in the act. A well-publicized camera implementation can dissuade people from zooming through stale yellow lights at intersections. Thus decreasing the odds of fatal accidents. As of August 2019, more than 20 states reportedly utilized red light cameras. These include Arizona, Colorado, Louisiana, California, Oregon, Florida, and Alabama.
How To Prevent Red Light Running
The AAA Foundation recommends that drivers examine their driving behaviors and take measures to make the roads safer. The following tips can help drivers avoid running red lights and getting hit by red light-runners:
Prepare to stop by lifting your foot off the gas and hovering over the break when approaching lights at intersections.
Tap your breaks to alert drivers behind you that may not be paying attention that you will need to come to a stop.
Drive defensively to protect yourself from others who may run red lights by looking both ways after the light has turned green before proceeding.
The AAA Foundation also recommends these tips for pedestrians and cyclists to avoid getting hit by red light-runners:
Wait for cars to come to a complete stop from all directions before proceeding across an intersection, even if the walk sign is on.
Stay visible by wearing reflective clothing if possible, and avoid walking at night when you can.
Make eye contact with drivers approaching intersections to ensure they see you.
Hurt By a Negligent Driver? Hach & Rose, LLP Can Help 
Call our car accident attorneys if you or a loved one have been injured in a red light-running accident caused by someone else's careless disregard for your safety. We want to help you seek the compensation you deserve for your injuries. We have a demonstrated history of successfully representing injured individuals and can help you through this trying time. Contact Hach & Rose, LLP at (212) 779-0057 for a free consultation today.